4. juli 2022
Mouser Electronics and Diotec Semiconductor Announce Global Distribution Agreement
Mouser Electronics, Inc., the authorised global distributor with the newest semiconductors and electronic components, announces a global distribution agreement with Diotec Semiconductor, designers and manufacturers of discrete semiconductor components. According to the agreement, Mouser will offer customers Diotec Semiconductor's range of diodes, rectifiers, FETs, and voltage regulators for commercial- and industrial-grade applications.
The CL15M45/CL20M/CL40M45 SMD current-limiting diodes deliver parallel operation for higher current intensity (IP), providing a durable, high-performance solution for applications such as low-power LED drivers and battery chargers. Offering 1 W power dissipation, 0.5 V reverse voltage, and an operating junction temperature of -50°C to +150°C, the current limiting diodes provide commercial-grade performance in an SMB package.
The MMBT7002K N-channel enhancement mode FETs deliver exceptional performance for signal processing, logic level converter, and driver applications. The FETs offer ESD-protected gate fast switching times, as well as an operating junction temperature of -55°C to +150°C. The MMBT7002K FETs feature 350 mW power dissipation, 20 V gate-source voltage, and 60 V drain-source voltage.
Diotec Semiconductor's BAV99x small-signal diodes deliver high switching speeds with low junction capacitance and low leakage current. The BAV99x diodes are built with UL 94V-0 case materials, and devices with an -AQ suffix in the product number have achieved AEC-Q101 qualification. The diodes support a range of applications, including signal processing, rectifying, and high-speed switching.
The EGL1x superfast recovery rectifiers feature an impressive reverse voltage (VR) range of 50 V to 400 V and 50 V to 400 V peak repetitive reverse voltage (VRRM). These high-performance diodes offer high power dissipation and enable rectification of high frequencies.
To learn more about Diotec Semiconductor products available from Mouser, visit https://eu.mouser.com/manufacturer/diotec-semiconductor/.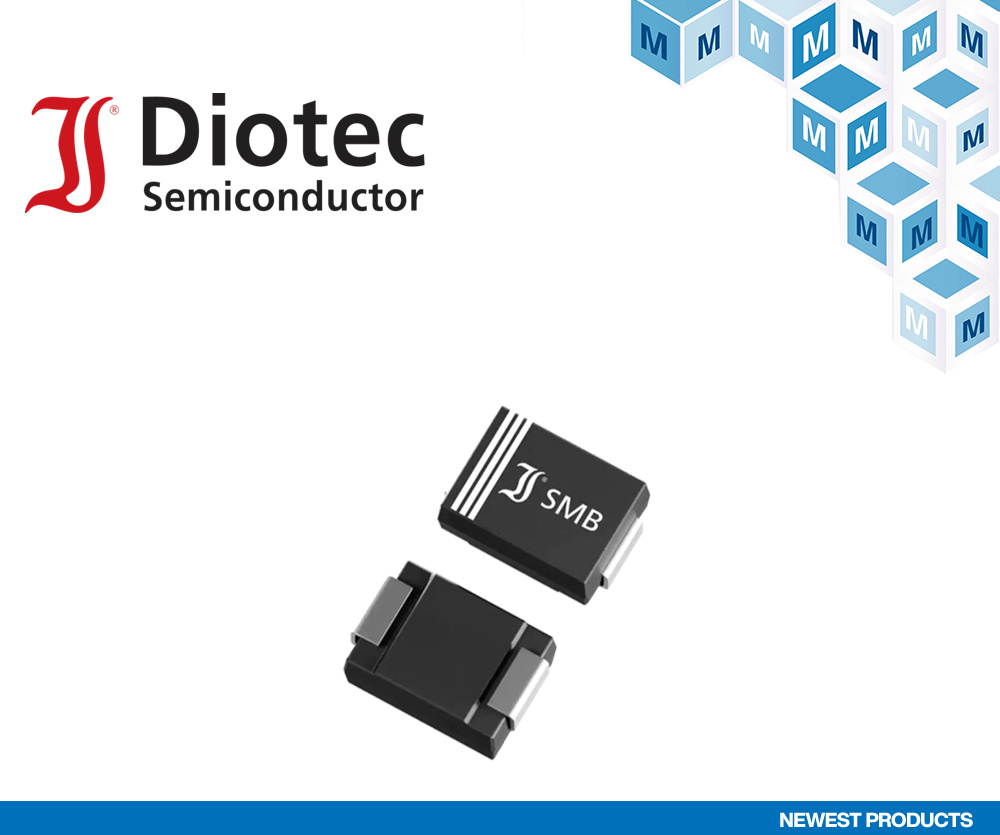 About Mouser Electronics
Mouser Electronics, a Berkshire Hathaway company, is an authorised semiconductor and electronic component distributor focused on New Product Introductions from its leading manufacturer partners. Serving the global electronic design engineer and buyer community, the global distributor's website, mouser.com, is available in multiple languages and currencies and features more than 6,8 million products from over 1.200 manufacturer brands. Mouser offers 27 support locations worldwide to provide best-in-class customer service in local language, currency and time zone. The distributor ships to over 650.000 customers in 223 countries/territories from its 93.000 square-meter, state-of-the-art facilities in the Dallas, Texas, metro area. For more information, visit https://www.mouser.com/.
About Diotec Semiconductor
Diotec Semiconductor specialises in the design and manufacturing of discrete semiconductor components. Diotec diodes, rectifiers, bipolar junction transistors, MOSFETs, and linear voltage regulators address a wide diversity of applications, ranging from industrial and automotive to consumer electronics. Founded in 1973 in Heitersheim, Germany, Diotec has since expanded to four manufacturing locations on three continents.