19. oktober 2017
Mouser Electronics and Auvidea Sign Global Distribution Agreement
Mouser Electronics and Auvidea Sign Global Distribution Agreement
October 19, 2017 – Mouser Electronics, Inc., the industry's leading New Product Introduction (NPI) distributor with the widest selection of semiconductors and electronic components, announces a global distribution agreement with Auvidea, a designer and manufacturer of products for embedded systems.
Through the distribution agreement, Mouser stocks Auvidea's J1xx family carrier boards for the NVIDIA® Jetson™ TX1 and TX2 compute modules. The J100 board matches the Jetson TX1 module's 50 × 87 mm footprint and connects to form a very compact processing unit to meet the compact size requirements of target applications such as drones and industrial embedded applications. The J106 board provides six CSI-2 camera interfaces, two Micro-USB 3 connectors, mini HDMI, UART, and I2S digital audio to realize 360-degree surround-view camera systems with built-in video processing and encoding.
The compact J120 carrier board turns the Jetson TX1/TX2 compute module into a super-mini-computer for desktop usage and for applications like deep learning, 3D computer vision with stereo cameras, HD H.264/H.265 video encoding/decoding, object and feature tracking, and flight control. The J120 board matches the Jetson TX1/TX2 module's width but extends the length to 111 mm to make space for a Gigabit Ethernet port, two USB 3 type A connectors, and a mini HDMI receptacle. The board integrates a 9-axis inertial measurement unit (IMU) and features an M.2 type M slot connected via four PCIe lanes to achieve a read and write performance up to 2500 MBytes per second.
To learn more about Auvidea and the J1xx family carrier boards, visit http://www.mouser.com/auvidea.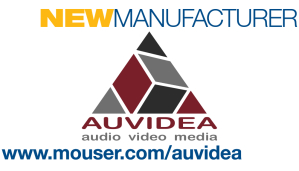 Mouser / Auvidea New Supplier Announcement
With its broad product line and unsurpassed customer service, Mouser strives to empower innovation among design engineers and buyers by delivering advanced technologies. Mouser stocks the world's widest selection of the latest semiconductors and electronic components for the newest design projects. Mouser Electronics' website is continually updated and offers advanced search methods to help customers quickly locate inventory. Mouser.com also houses data sheets, supplier-specific reference designs, application notes, technical design information, and engineering tools.
About Mouser Electronics
Mouser Electronics, a Berkshire Hathaway company, is an award-winning, authorized semiconductor and electronic component distributor focused on rapid New Product Introductions from its manufacturing partners for electronic design engineers and buyers. The global distributor's website, Mouser.com, is available in multiple languages and currencies and features more than 4 million products from over 600 manufacturers. Mouser offers 22 support locations around the world to provide best-in-class customer service and ships globally to over 550,000 customers in 170 countries from its 750,000 sq. ft. state-of-the-art facility south of Dallas, Texas. For more information, visit http://www.mouser.com/.
About Auvidea
Auvidea designs, manufactures and markets products for embedded systems such as HD video capture and encoding, and CAN-centric peripherals and sensors. Auvidea is a leading manufacturer of carrier boards and supporting products for the NVIDIA Jetson TX1/TX2 platform, which brings GPU acceleration to embedded Linux systems, autonomous drones and autopilot systems.
Trademarks
Mouser and Mouser Electronics are registered trademarks of Mouser Electronics, Inc. All other products, logos, and company names mentioned herein may be trademarks of their respective owners.
Further information, contact:
Kevin Hess, Mouser Electronics
Senior Vice President of Marketing
(817) 804-3833
Kevin.Hess@mouser.com
For press inquiries, contact:
Nick Foot, BWW Communications
PR Director
+44 (0) 1491 636393
Nick.Foot@bwwcomms.com