13. juni 2017
Mouser Electronics and Amphenol SGX Sensortech Sign Global Agreement to Distribute Gas Sensors
Mouser Electronics and Amphenol SGX Sensortech Sign Global Agreement to Distribute Gas Sensors
June 13, 2017 – Mouser Electronics, Inc., the authorized global distributor with the newest semiconductors and electronic components, announces a global distribution agreement with Amphenol SGX Sensortech, a market leader in innovative sensor and detector devices. Through the agreement, Mouser will add SGX Sensortech's robust environmental sensors to its sensor linecard.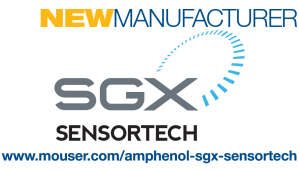 The Amphenol SGX Sensortech product line available at Mouser Electronics includes four series of gas sensors. The MiCS-VZ-89TE indoor air quality sensor combines state-of-the-art MOS sensor technology with intelligent detection algorithms to monitor total volatile organic compounds (tVOCs) and CO2 equivalent variations in confined spaces, such as rooms or vehicle cabins. The Integrated IR (INIR) devices are user-friendly digital gas sensors that use the latest SGX Sensortech infrared (IR) technology. The triple-range sensors, available for sensing either CO2 or methane gas, provide temperature-compensated data through both digital and analog outputs.
SGX Sensortech's IR gas sensors are available in three series: IR1xxx/IR2xxx, IRx5TT, and IR600. IR1xxx and IR2xxx devices are compact, low-power, robust gas diffusion sensors that use proven Non-Dispersive Infrared (NDIR) methods for detecting CO2 and many hydrocarbon gases in hazardous environments and mining applications. The IR15TT (and the humidity-optimized IR15TT-M) each offer two active channels to sense CO2, methane and other hydrocarbons simultaneously while running on the power equivalent of only one sensor. The IR25TT sensor is identical to the IR15TT except that it is designed specifically for detecting methane gas in mining environments. The IR600 Series heads are ATEX- and CSA-certified and meet FM standards. The temperature-compensated sensors include an embedded preamplifier and buffer to amplify the channel outputs before linking into the transmitter electronics.
The VQ Series combustible gas sensors (or pellistors) are available in catalytic — that is, detecting combustible gases in concentrations that are approaching the explosive range — and thermal conductivity — detecting gasses with lower weight than that of air, such as hydrogen and helium — options. Engineers can choose from metric, 0.5-inch, and 0.75-inch head units that detect a range of gasses, including CO2, ammonia, broad hydrocarbons, and high hydrocarbons. Other options include poison resistance, low voltage, and shock resistance.
For more information on Amphenol SGX Sensortech products available from Mouser, go to http://www.mouser.com/amphenol-sgx-sensortech/.
Mouser / Amphenol SGX Sensortech New Supplier Announcement
Page Two
With its broad product line and unsurpassed customer service, Mouser strives to empower innovation among design engineers and buyers by delivering advanced technologies. Mouser stocks the world's widest selection of the latest semiconductors and electronic components for the newest design projects. Mouser Electronics' website is continually updated and offers advanced search methods to help customers quickly locate inventory. Mouser.com also houses data sheets, supplier-specific reference designs, application notes, technical design information, and engineering tools.
About Mouser Electronics
Mouser Electronics, a Berkshire Hathaway company, is an award-winning, authorized semiconductor and electronic component distributor focused on rapid New Product Introductions from its manufacturing partners for electronic design engineers and buyers. The global distributor's website, Mouser.com, is available in multiple languages and currencies and features more than 4 million products from over 600 manufacturers. Mouser offers 22 support locations around the world to provide best-in-class customer service and ships globally to over 550,000 customers in 170 countries from its 750,000 sq. ft. state-of-the-art facility south of Dallas, Texas. For more information, visit http://www.mouser.com.
About Amphenol SGX Sensortech
Amphenol SGX Sensortech is a market leader in innovative sensor and detector devices that offer high performance, robustness and cost-effectiveness. Serving customers worldwide that require sensing technology for environmental, health and safety air quality applications, SGX Sensortech has expertise in a wide range of sectors, including automotive and industrial OEMs, utilities and scientific research institutions. SGX Sensortech provides quality sensors and electronic modules to meet the highest industry performance and safety standards for applications such as industrial safety gas detection, automotive cabin air quality, university research, forensic science, and mining.
Trademarks
Mouser and Mouser Electronics are registered trademarks of Mouser Electronics, Inc. All other products, logos, and company names mentioned herein may be trademarks of their respective owners.
– 30 –
Further information, contact:

Nick Foot, BWW Communications

PR Director

+44 (0)1491 636393

For press inquiries, contact:

Kelly DeGarmo, Mouser Electronics

Manager, Corporate Communications and Media Relations

(817) 804-7764