20. oktober 2017
Mouser-Backed Vaillante Rebellion Car Victorious at Fuji
Mouser-Backed Vaillante Rebellion Car Victorious at Fuji
October 20, 2017 – The Mouser-sponsored Vaillante Rebellion racing team scored a stunning victory in Sunday's weather-shortened 6 Hours of Fuji round of the World Endurance Championship. It was the sixth podium finish in the seven races so far this season for the Rebellion No. 31 car driven by Bruno Senna, Nicolas Prost and Julien Canal. With the race called due to weather after four and a half hours, the team was declared LMP2 winners even before Canal could take the wheel. With only two races to go in the LMP2 championship, the victory puts the No. 31 car a mere 10 points behind the leader, the Jackie Chan No. 38 car, which placed third at Fuji.
The Mouser-backed No. 31 car led the majority of the Fuji race and was a full 15 seconds ahead of the second-place car when the race was called. The Vaillante Rebellion No. 13 car, driven by Nelson Piquet, Jr., Mathias Beche and David Heinemeier Hansson, had to drop from the race at Lap 85, but held onto seventh place in the overall standings.
"This season has been incredible and just gets better with each race," said Todd McAtee, Mouser's Vice President of Americas Business Development. "The Vaillante Rebellion No. 31 car has the title in sight. With another win like we had at Fuji, and we'll be on top of the standings."
Mouser is proud to partner with valued supplier LEMO, a global leader in the design and production of precision custom connection solutions, to sponsor Vaillante Rebellion for the entire 2017 FIA World Endurance Championship season. Mouser distributes the full line of quality LEMO connector solutions including their original push-pull connectors.
Now the attention shifts to the 6 Hours of Shanghai, set for Nov. 5 on a very challenging 3.4-mile track with 16 tough turns. After Shanghai, the action travels to the season finale at Sakhir, Bahrain, on Nov. 18. Racing is all about speed and endurance, and Mouser sees racing sponsorships as an innovative way to communicate its performance-driven business model and promote the newest technologies from its manufacturer partners. The Mouser-backed Rebellion team ran away with the crown in the LMP1 Privateer Class in 2016. To learn more about Vaillante Rebellion racing, visit http://www.mouser.com/rebellion-racing.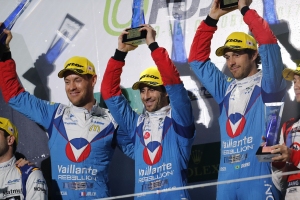 The Mouser-sponsored Vaillante Rebellion No. 31 team celebrates its win in the LMP2 class at the 6 Hours of Fuji.
Mouser / Vaillante Rebellion Victory
With its broad product line and unsurpassed customer service, Mouser strives to empower innovation among design engineers and buyers by delivering advanced technologies. Mouser stocks the world's widest selection of the latest semiconductors and electronic components for the newest design projects. Mouser Electronics' website is continually updated and offers advanced search methods to help customers quickly locate inventory. Mouser.com also houses data sheets, supplier-specific reference designs, application notes, technical design information, and engineering tools.
About Mouser Electronics
Mouser Electronics, a Berkshire Hathaway company, is an award-winning, authorized semiconductor and electronic component distributor focused on rapid New Product Introductions from its manufacturing partners for electronic design engineers and buyers. The global distributor's website, Mouser.com, is available in multiple languages and currencies and features more than 4 million products from over 600 manufacturers. Mouser offers 22 support locations around the world to provide best-in-class customer service and ships globally to over 550,000 customers in 170 countries from its 750,000 sq. ft. state-of-the-art facility south of Dallas, Texas. For more information, visit http://www.mouser.com/.
About LEMO
Lemo, a Swiss owned company, is a global leader in the design and manufacture of high quality precision custom connection solutions. LEMO connectors are exceptionally reliable and robust owing to the "Push-Pull" self-latching system. Known for quality and reliability, LEMO connectors can be found in many challenging and life saving applications including: medical, broadcast, test & measurement, aerospace, automotive and industrial.
Trademarks
Mouser and Mouser Electronics are registered trademarks of Mouser Electronics, Inc. All other products, logos, and company names mentioned herein may be trademarks of their respective owners.
Further information, contact:
Kevin Hess, Mouser Electronics
Senior Vice President of Marketing
(817) 804-3833
Kevin.Hess@mouser.com
For press inquiries, contact:
Nick Foot, BWW Communications
PR Director
+44 (0) 1491 636393
Nick.Foot@bwwcomms.com