12. januar 2018
Mouser- and Molex-Sponsored Formula E Team Preps for Marrakesh E-Prix
Mouser- and Molex-Sponsored Formula E Team Preps for Marrakesh E-Prix
TTI Joins Molex and Mouser in Supporting Electric Car Tech for Fourth Consecutive Year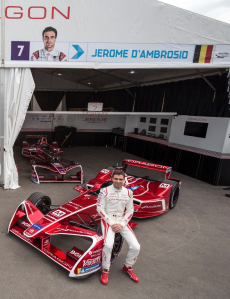 January 12, 2018 – In the third race of the 2017–18 FIA Formula E racing season, the Mouser Electronics-sponsored Dragon Racing team heads to Morocco for the Marrakesh E-Prix on Jan. 13 after kicking off the season in a double header last month in Hong Kong.
The 1.86-mile Marrakesh circuit will follow Circuit International Automobile Moulay El Hassan before spilling out onto the streets of the city's modern hotel district, located alongside the ancient Marrakesh Wall. Jose Maria Lopez, the 2016 World Touring Car Champion who joined Formula E that same year, and Dragon Racing alumnus Jerome D'Ambrosio will be piloting the Dragon entry this season.
The 2017–2018 season marks the fourth edition of Formula E racing and the fourth-straight year that Mouser Electronics will be a team sponsor along with valued supplier Molex. Formula E features cars powered solely by electric power and represents a vision for the future of the motor sports industry, serving as a framework for research and development around zero-emission motoring. Mouser and Molex will sponsor Dragon Racing team throughout the season in collaboration with TTI, Inc.
"Lopez had a fantastic debut season in Formula E, and we look forward to seeing what he and the veteran D'Ambrosio can do on the unique Marrakesh street circuit," said Todd McAtee, Vice President, Americas Business Development for Mouser Electronics.
Racing is all about speed and endurance, and racing sponsorships are an innovative way for Mouser to communicate its performance-driven business model and promote the newest technologies from its manufacturer partners.
"All of us at TTI are proud to once again partner with Mouser to support this exciting team and the sustainable automotive technologies of the future," said Mike Morton, President, TTI Global Sales and Marketing.
"This is very much a pioneering venture," said Fred Bell, Vice President of Global Distribution for Molex. "We welcome the opportunity to once again collaborate with Mouser and TTI as a sponsor of the Dragon team, supporting such an important, innovative technology."
"Formula E cars are employing the very latest sustainable and high-performance components to gain the competitive edge. By teaming up with TTI and Molex to sponsor Dragon Racing, Mouser shows its commitment to keeping engineers up to date with these innovative technologies," McAtee added.
Following the race in Marrakesh, the series travels to Santiago, Chile, Feb. 3; Mexico City, March 3; São Paulo, March 17; Rome, April 14; Paris, April 28; Berlin, May 19; Zurich, June 10; and New York City, July 14 and 15.
To learn more, visit http://www.mouser.com/formula-e.
Mouser/Dragon Racing Marrakesh
Page 2
With its broad product line and unsurpassed customer service, Mouser strives to empower innovation among design engineers and buyers by delivering advanced technologies. Mouser stocks the world's widest selection of the latest semiconductors and electronic components for the newest design projects. Mouser Electronics' website is continually updated and offers advanced search methods to help customers quickly locate inventory. Mouser.com also houses data sheets, supplier-specific reference designs, application notes, technical design information, and engineering tools.
About Mouser Electronics
Mouser Electronics, a Berkshire Hathaway company, is an award-winning, authorized semiconductor and electronic component distributor focused on rapid New Product Introductions from its manufacturing partners for electronic design engineers and buyers. The global distributor's website, Mouser.com, is available in multiple languages and currencies and features more than 4 million products from over 700 manufacturers. Mouser offers 22 support locations around the world to provide best-in-class customer service and ships globally to over 550,000 customers in 170 countries from its 750,000 sq. ft. state-of-the-art facility south of Dallas, Texas. For more information, visit http://www.mouser.com.
Trademarks
Mouser and Mouser Electronics are registered trademarks of Mouser Electronics, Inc. All other products, logos, and company names mentioned herein may be trademarks of their respective owners.
– 30 –
Further information, contact:

Kevin Hess, Mouser Electronics

Senior Vice President of Marketing

(817) 804-3833

For press inquiries, contact:

Nick Foot, BWW Communications

PR Director

+44 (0) 1491 636393