20. august 2021
Mouser and Microchip Present Embedded IoT Made Easy Webinar
Discover scalable and system-wide approach to creating smart, connected and secure IoT applications with Microchip Technology
Mouser Electronics, Inc., the authorised global distributor with the newest semiconductors and electronic components, has teamed up with Microchip Technology to bring the engineering community a brand new webinar. The Embedded IoT Made Easy webinar will demonstrate the ease of developing a smart, connected and secure Internet of Things (IoT) application using Microchip Technology's wide portfolio of products. The free live webinar will occur at 11 a.m. CEST on Tuesday, 7 September 2021.
The Embedded IoT Made Easy webinar will explore a range of solutions for how to efficiently design smart and secure IoT solutions using products like the PIC32 WFI32E Curiosity Board. With advanced features that include pre-provisioning for cloud platforms such as Amazon AWS, Microsoft Azure and Google Cloud, Microchip is also supporting easier on-boarding and off-boarding. The webinar will draw on Microchip's total system solution comprising microcontrollers, microprocessors, FPGAs, RF modules, analogue, timing and power.
Smart connected devices are now getting even smarter, thanks to artificial intelligence (AI) and machine learning. These enabling technologies are moving closer to the edge and can now be more easily embedded into the most resource-constrained IoT endpoints. The webinar will explain how to securely access these important technological developments. The Microchip Technology solutions covered in the webinar include the SAM-IoT WG development board, which features the Arm® Cortex®-M0+ based SAMD21G18, the ATECC608A CryptoAuthentication™ secure element IC and the fully certified ATWINC1510 Wi-Fi® network controller.
The webinar will also cover fast prototyping using Microchip's latest IoT-focused development kits, which support over 1,000 Mikroe Click boards. Attendees will learn how quick and simple it can be to get to a proof-of-concept stage, even when using AI and machine learning, by leveraging the power of Microchip's advanced development environment.
IoT is synonymous with connectivity. As the popularity of low-power wide-area networking (LPWAN) grows, it will support more devices over longer distances. This webinar will explore the WLR089U0 LoRa® Sub-GHz Module – based on the ATSAMR34J18 LoRa IC. This standalone module includes a 32-bit Arm® Cortex®-M0+ processor and offers system power as low as 790 nA.  Local wireless connectivity is increasingly provided using Bluetooth® Low Energy, so attendees will also learn about the evaluation board using RN4870 Bluetooth Low Energy module, with integrated transceiver, RF amplifier and power management unit.
Delivering the webinar are Johan Pauvert, Microchip EMEA Wireless Marketing Manager, and Markus Austermayer, Microchip EU Sales Leader IoT Ecosystem, who offer more than 40 years of industry experience between them.
To learn more and to reserve attendance at the webinar for free, visit https://emea.info.mouser.com/embedded-iot-design/.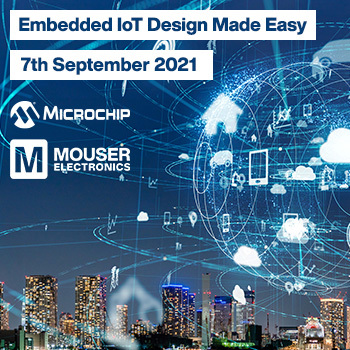 About Mouser Electronics
Mouser Electronics, a Berkshire Hathaway company, is an authorised semiconductor and electronic component distributor focused on New Product Introductions from its leading manufacturer partners. Serving the global electronic design engineer and buyer community, the global distributor's website, mouser.com, is available in multiple languages and currencies and features more than 5 million products from over 1.100 manufacturer brands. Mouser offers 27 support locations worldwide to provide best-in-class customer service in local language, currency and time zone. The distributor ships to over 630.000 customers in 223 countries/territories from its 93.000 square-meter, state-of-the-art facilities in the Dallas, Texas, metro area. For more information, visit https://eu.mouser.com/.