9. januar 2019
Molex's Coeur CST Interconnect System, Now at Mouser, Provides Crucial Float to Avoid Damage
Molex's Coeur CST Interconnect System, Now at Mouser, Provides Crucial Float to Avoid Damage
January 9, 2019 – Mouser Electronics, Inc., the industry's leading New Product Introduction (NPI) distributor with the widest selection of semiconductors and electronic components, is now stocking the Coeur CST High-Current Interconnect System from Molex. The interconnects' unique design provides up to 1 mm of float to prevent overstress damage to contacts and ensure easy mating between high-current power pins and sockets in industrial, data center, telecommunications, and power supplies applications.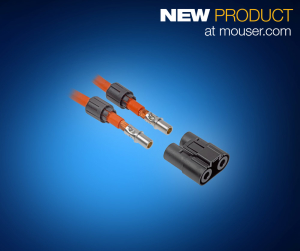 The Molex Coeur CST High-Current Interconnect System, available from Mouser Electronics, features wave springs that allow the entire core socket assembly to move within its housing, preventing pin-to-socket axial-mating misalignment when mating rigid busbars or PCBs. The system offers a current range of 30 to 200 A, with a scalable design that supports a variety of high-current applications.
The system's multiple contact beams ensure optimal electrical performance, and a wide range of configurations connects cables, busbars, PCBs, and wire. Terminal retention housings lock in contacts and ensure reliable performance, and the system's fully shrouded male and female contacts are touch-safe.
The Coeur CST High-Current Interconnect System offers design flexibility for a range of high-current applications, including servers, switches, circuit breakers, data storage, and instrumentation.
To learn more, visit http://www.mouser.com/molex-coeur-cst-system.
Mouser / Molex Coeur CST Interconnect System
Page Two
With its broad product line and unsurpassed customer service, Mouser strives to empower innovation among design engineers and buyers by delivering advanced technologies. Mouser stocks the world's widest selection of the latest semiconductors and electronic components for the newest design projects. Mouser Electronics' website is continually updated and offers advanced search methods to help customers quickly locate inventory. Mouser.com also houses data sheets, supplier-specific reference designs, application notes, technical design information, and engineering tools.
About Mouser Electronics
Mouser Electronics, a Berkshire Hathaway company, is an award-winning, authorized semiconductor and electronic component distributor focused on rapid New Product Introductions from its manufacturing partners for electronic design engineers and buyers. The global distributor's website, Mouser.com, is available in multiple languages and currencies and features more than 5 million products from over 750 manufacturers. Mouser offers 23 support locations around the world to provide best-in-class customer service and ships globally to over 600,000 customers in more than 220 countries/territories from its 750,000 sq. ft. state-of-the-art facility south of Dallas, Texas. For more information, visit http://www.mouser.com.
About Molex
Molex brings together innovation and technology to deliver electronic solutions to customers worldwide. With a presence in more than 40 countries, Molex offers a full suite of solutions and services for many markets, including data communications, consumer electronics, industrial, automotive, commercial vehicle and medical.
Trademarks
Mouser and Mouser Electronics are registered trademarks of Mouser Electronics, Inc. All other products, logos, and company names mentioned herein may be trademarks of their respective owners.
– 30 –
Further information, contact:

Kevin Hess, Mouser Electronics

Senior Vice President of Marketing

(817) 804-3833

For press inquiries, contact:

Nick Foot, BWW Communications

PR Director

+44 (0)1491 636393