23. august 2018
Microchip MPLAB Snap Dev Tool, Now at Mouser, Streamlines In-Circuit Debug/Program for MCUs and DSCs
Microchip MPLAB Snap Dev Tool, Now at Mouser, Streamlines
In-Circuit Debug/Program for MCUs and DSCs
August 23, 2018 – Mouser Electronics, Inc., the authorized global distributor with the newest semiconductors and electronic components, is now stocking the MPLAB Snap in-circuit debugger and programmer from Microchip Technology. The MPLAB Snap provides affordable, fast, and easy debugging and programming of most PIC®, AVR® and SAM flash microcontrollers and dsPIC® digital signal controllers (DSCs), using the powerful graphical user interface of MPLAB X integrated development environment (IDE).
The Microchip MPLAB Snap board, available from Mouser Electronics, features a powerful 32-bit 300 MHz SAM E70 Arm® Cortex®-M7 based microcontroller for quicker debug iterations. The debugger system executes code, like an actual device, because it uses the target device's built-in emulation circuitry, instead of a special debugger chip. All available features of the device are accessible interactively and can be set and modified by the MPLAB X IDE interface. Additionally, the board matches the silicon clocking speed of the target device, allowing engineers to run programs at the device's maximum speed.
The board connects to a computer via high-speed USB 2.0 interface and can be connected to the target device through an 8-pin single in-line (SIL) header. The connector uses two device input/output (I/O) pins and the reset line to implement in-circuit debugging and In-Circuit Serial Programming™ (ICSP™) capability. Along with its support for a wide target voltage range of 1.20V to 5.5V, the MPLAB Snap supports advanced interfaces such as 4-wire JTAG and Serial Wire Debug with streaming data gateway. It is also backward compatible for demo boards, headers and target systems using 2-wire JTAG and ICSP.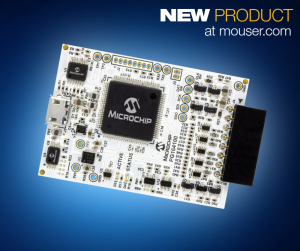 To learn more about the Microchip MPLAB Snap, visit http://www.mouser.com/microchip-mplab-snap.
Mouser / Microchip MPLAB Snap
With its broad product line and unsurpassed customer service, Mouser strives to empower innovation among design engineers and buyers by delivering advanced technologies. Mouser stocks the world's widest selection of the latest semiconductors and electronic components for the newest design projects. Mouser Electronics' website is continually updated and offers advanced search methods to help customers quickly locate inventory. Mouser.com also houses data sheets, supplier-specific reference designs, application notes, technical design information, and engineering tools.
About Mouser Electronics
Mouser Electronics, a Berkshire Hathaway company, is an award-winning, authorized semiconductor and electronic component distributor focused on rapid New Product Introductions from its manufacturing partners for electronic design engineers and buyers. The global distributor's website, Mouser.com, is available in multiple languages and currencies and features more than 5 million products from over 700 manufacturers. Mouser offers 23 support locations around the world to provide best-in-class customer service and ships globally to over 600,000 customers in more than 220 countries/territories from its 750,000 sq. ft. state-of-the-art facility south of Dallas, Texas. For more information, visit http://www.mouser.com.
Trademarks
Mouser and Mouser Electronics are registered trademarks of Mouser Electronics, Inc. All other products, logos, and company names mentioned herein may be trademarks of their respective owners.
Further information, contact:

Kevin Hess, Mouser Electronics

Senior Vice President of Marketing

(817) 804-3833

For press inquiries, contact:

Nick Foot, BWW Communications

PR Director

+44 (0) 1491 636393