10. august 2017
Maxim's MAXQ1061 DeepCover Controller, Now at Mouser, Offers Turnkey Crypto Security for IoT Applications
Maxim's MAXQ1061 DeepCover Controller, Now at Mouser, Offers Turnkey Crypto Security for IoT Applications
August 10, 2017 – Mouser Electronics, Inc., the industry's leading New Product Introduction (NPI) distributor with the widest selection of semiconductors and electronic components, is now stocking the MAXQ1061 DeepCover® cryptographic controller from Maxim Integrated. Designed to protect the confidentiality, authenticity and integrity of software IP, communication and revenue models, the MAXQ1061 is a turnkey security solution that enables engineers to add an extra layer of protection to Industrial Internet of Things (IIoT), smart metering, network appliances and other connected embedded systems.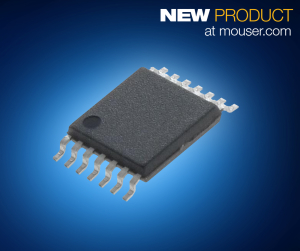 The Maxim MAXQ1061 cryptographic controller, available from Mouser Electronics, incorporates DeepCover embedded security technology, which applies multiple layers of advanced physical security to provide the most protected key storage possible. The device's embedded cryptographic toolbox provides key generation and storage by offering a high level of abstraction including TLS/DTLS key negotiation, ECDSA-based TLS/DTLS authentication, digital signature generation and verification, SSL/TLS/DTLS packet encryption and MAC algorithms. The device can also serve as a secure bootloader for an external microcontroller.
To help in storing certificates, public keys, private and secret keys and arbitrary user data, Maxim's MAXQ1061 embeds 32 Kbytes of user-programmable secure EEPROM, which is managed through a flexible file system that enables custom security policy enforcement. The device also features a separate hardware AES engine over SPI, which allows it to function as a co-processor for stream encryption. The physical, environmental and logical protections built into the MAXQ1061 enable the device to meet the stringent requirements of FIPS and Common Criteria EAL4+ certifications. For development, the device is supported by an evaluation kit, a credit card-sized socketed board also available from Mouser.
To learn more about Maxim's MAXQ1061 DeepCover Cryptographic Controller and evaluation kit, visit http://www.mouser.com/new/maxim-integrated/maxim-integrated-maxq1061-controller/.
Mouser / Maxim MAXQ1061 DeepCover Cryptographic Controller
Page Two
With its broad product line and unsurpassed customer service, Mouser strives to empower innovation among design engineers and buyers by delivering advanced technologies. Mouser stocks the world's widest selection of the latest semiconductors and electronic components for the newest design projects. Mouser Electronics' website is continually updated and offers advanced search methods to help customers quickly locate inventory. Mouser.com also houses data sheets, supplier-specific reference designs, application notes, technical design information, and engineering tools.
About Mouser Electronics
Mouser Electronics, a Berkshire Hathaway company, is an award-winning, authorized semiconductor and electronic component distributor focused on rapid New Product Introductions from its manufacturing partners for electronic design engineers and buyers. The global distributor's website, Mouser.com, is available in multiple languages and currencies and features more than 4 million products from over 600 manufacturers. Mouser offers 22 support locations around the world to provide best-in-class customer service and ships globally to over 550,000 customers in 170 countries from its 750,000 sq. ft. state-of-the-art facility south of Dallas, Texas. For more information, visit http://www.mouser.com.
About Maxim Integrated
Maxim is the leader in analog integration. From mobile to industrial solutions, Maxim is making analog smaller, smarter and more energy efficient.
Trademarks
Mouser and Mouser Electronics are registered trademarks of Mouser Electronics, Inc. All other products, logos, and company names mentioned herein may be trademarks of their respective owners.
– 30 –
Further information, contact:

Kevin Hess, Mouser Electronics

Senior Vice President of Marketing

(817) 804-3833

For press inquiries, contact:

Nick Foot, BWW Communications

PR Director

+44 (0)1491 636393