9. juli 2019
MACOM's 10W GaN-on-Si Power Amp Module, Now at Mouser, Offers Design Flexibility for Tactical Broadband Communications
MACOM's 10W GaN-on-Si Power Amp Module, Now at Mouser, Offers Design Flexibility for Tactical Broadband Communications
July 9, 2019 – Mouser Electronics, Inc., the industry's leading New Product Introduction (NPI) distributor with the widest selection of semiconductors and electronic components, is now stocking the MAMG-100227-010C0L broadband power amplifier module from MACOM. The module offers outstanding design flexibility for a broad selection of radio and communications applications, including military tactical communications and electronic countermeasures, wireless public safety communications, and land mobile radio systems.
The MACOM MAMG-100227-010C0L, available from Mouser Electronics, is a fully matched 10 W power amplifier module based on gallium nitride-on-silicon (GaN-on-Si) technology. Operating in the broadband 225 MHz to 2600 MHz range, the module offers up to 40 percent power added efficiency (PAE) and 22 dB power gain.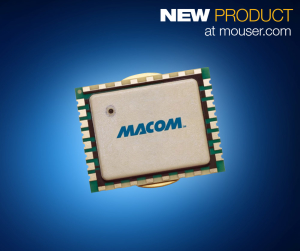 The module supports up to 36 V operation (28 V typical) in a robust operating temperature range of minus 40 to 85 degrees Celsius. With flexible top-side and bottom-side mounting configurability and a 14 mm × 18 mm package, the module supports radio designs with strict size, weight, and power (SWaP) specifications. The module boasts integrated gold-plated copper heatsink and a laminated air cavity package, eliminating the need for PCB space and componentry associated with unmatched PA modules.
To learn more, visit http://www.mouser.com/macom-2-stage-hybrid-module.
Mouser / MACOM 2-Stage Hybrid GaN Module
Page Two
With its broad product line and unsurpassed customer service, Mouser strives to empower innovation among design engineers and buyers by delivering advanced technologies. Mouser stocks the world's widest selection of the latest semiconductors and electronic components for the newest design projects. Mouser Electronics' website is continually updated and offers advanced search methods to help customers quickly locate inventory. Mouser.com also houses data sheets, supplier-specific reference designs, application notes, technical design information, and engineering tools.
About Mouser Electronics
Mouser Electronics, a Berkshire Hathaway company, is an award-winning, authorized semiconductor and electronic component distributor focused on rapid New Product Introductions from its manufacturing partners for electronic design engineers and buyers. The global distributor's website, Mouser.com, is available in multiple languages and currencies and features more than 5 million products from over 750 manufacturers. Mouser offers 25 support locations around the world to provide best-in-class customer service and ships globally to over 600,000 customers in more than 220 countries/territories from its 750,000 sq. ft. state-of-the-art facility south of Dallas, Texas. For more information, visit http://www.mouser.com.
About MACOM
MACOM is a leading supplier of high-performance analog RF, microwave, millimeterwave and photonic semiconductor products that enable next-generation internet and modern battlefield applications. Recognized for its broad catalog portfolio of technologies and products, MACOM serves diverse markets, including high speed optical, satellite, radar, wired & wireless networks, automotive, industrial, medical, and mobile devices. A pillar of the semiconductor industry, the company thrives on more than 60 years of solving complex problems, serving as a true partner for applications ranging from RF to Light.
Trademarks
Mouser and Mouser Electronics are registered trademarks of Mouser Electronics, Inc. All other products, logos, and company names mentioned herein may be trademarks of their respective owners.
– 30 –
For further information, contact:

Kevin Hess, Mouser Electronics

Senior Vice President of Marketing

(817) 804-3833

For press inquiries, contact:

Nick Foot, BWW Communications

PR Director

+44 (0)1491 636393