21. juni 2018
IDT's 9FGV100x PhiClock Generators, Now at Mouser, Offer PCIe Gen4/Gen5 Support with Excellent Ethernet Performance
IDT's 9FGV100x PhiClock Generators, Now at Mouser, Offer PCIe Gen4/Gen5 Support with Excellent Ethernet Performance
June 21, 2018 – Mouser Electronics, Inc., the authorized global distributor with the newest semiconductors and electronic components, is now stocking the 9FGV100x programmable PhiClock™ generator family of devices from Integrated Device Technology (IDT). The 9FGV100x devices combine space savings, high performance and low power in a single, easy-to-use solution for next-generation data center and networking designs based on PCIe Gen4 and future Gen5 requirements.
IDT's 9FGV100x PhiClock generator family devices, available from Mouser Electronics, integrate crystal load capacitors and offer an optional integrated crystal to simplify designs and save board space. The 9FGV100x family provides outstanding PCIe Gen4 performance along with exceptional Ethernet performance with phase jitter as low as 225 fs RMS at 156.25 MHz (12 kHz–20 MHz). The extremely low power consumption of the devices (as low as 100 mW at 1.8V) also allows placement closer to high-power components, enabling further board space savings. Additionally, all devices within the 9FGV100x family support the upcoming 25G Extended Data Rate Cache Coherent Interconnect for Accelerators (CCIX®) clocking standard.
The 9FGV100x family devices are supported by the 9FGV100x PhiClock PCIe evaluation boards, which enable engineers to conveniently configure and program blank parts of the clock generators for design prototyping. Each PhiClock PCIe evaluation board is USB powered and comes with a USB cable and IDT's free Timing Commander™ software. After connecting the board to a PC, engineers can use the software to communicate to the board for configuration and frequency validation. The evaluation boards come equipped with an onboard 25 MHz crystal as a reference frequency, two SMA connectors, an I2C interface, and three differential outputs.
To learn more about the 9FGV100x programmable PhiClock generator family, go to http://www.mouser.com/idt-9fgv100x-phiclock-generators. For more information on the 9FGV100x PhiClock PCIe evaluation boards, visit http://www.mouser.com/idt-9fgv100x-eval-boards.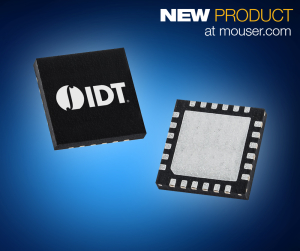 Mouser / IDT 9FGV100x PhiClocks
With its broad product line and unsurpassed customer service, Mouser strives to empower innovation among design engineers and buyers by delivering advanced technologies. Mouser stocks the world's widest selection of the latest semiconductors and electronic components for the newest design projects. Mouser Electronics' website is continually updated and offers advanced search methods to help customers quickly locate inventory. Mouser.com also houses data sheets, supplier-specific reference designs, application notes, technical design information, and engineering tools.
About Mouser Electronics
Mouser Electronics, a Berkshire Hathaway company, is an award-winning, authorized semiconductor and electronic component distributor focused on rapid New Product Introductions from its manufacturing partners for electronic design engineers and buyers. The global distributor's website, Mouser.com, is available in multiple languages and currencies and features more than 5 million products from over 700 manufacturers. Mouser offers 23 support locations around the world to provide best-in-class customer service and ships globally to over 600,000 customers in more than 220 countries/territories from its 750,000 sq. ft. state-of-the-art facility south of Dallas, Texas. For more information, visit http://www.mouser.com.
About IDT
Integrated Device Technology, Inc. develops system-level solutions that optimize its customers' applications. IDT's market-leading products in RF, timing, wireless power transfer, serial switching, interfaces, automotive ASICs, battery management ICs, sensor signal conditioner ICs and environmental sensors are among the company's broad array of complete mixed-signal solutions for the communications, computing, consumer, automotive and industrial segments.
Trademarks
Mouser and Mouser Electronics are registered trademarks of Mouser Electronics, Inc. All other products, logos, and company names mentioned herein may be trademarks of their respective owners.
Further information, contact:

Kevin Hess, Mouser Electronics

Senior Vice President of Marketing

(817) 804-3833

For press inquiries, contact:

Nick Foot, BWW Communications

PR Director

+44 (0) 1491636393