4. september 2019
Glenn Smith of Mouser Electronics Named Top CEO
Glenn Smith of Mouser Electronics Named Top CEO
September 04, 2019 – Glenn Smith, President and CEO of Mouser Electronics, has been named 2019's Top Public CEO by Fort Worth Business Press. The prestigious award was presented at a luncheon August 28 at Fort Worth's River Crest Country Club.
Smith has been a recognized leader in the North Texas business community since 2004, when he was elevated to his position as President and Chief Executive Officer of Mouser Electronics, a global industry leader that inspires innovation by offering the widest and newest selection of semiconductors and electronic components.
While still a college student, Smith joined the company as a part-time warehouse employee in 1973 when Mouser was essentially a startup operation in San Diego, Calif. Smith rose through the ranks, working in nearly all departments in multiple management roles. Smith's leadership and tenure has seen Mouser grow from a small distribution company to one of the world's largest electronic component distributors, with more than 2,500 employees in 26 offices worldwide and nearly $2 billion in annual sales. Acquired in 2000 by Fort Worth-based TTI, Inc., Mouser is one of the TTI family of companies and an industry leader in the successful portfolio of Berkshire Hathaway companies.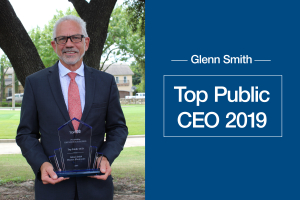 Smith learned early on about the importance of hard work, attention to detail and giving the customer a great experience. That focus remains key to the company's mission.
"It is a great honor to receive this award, and I thank the Fort Worth Business Press as well as all of the Mouser employees who contribute every day to give our customers a best-in-class experience," Smith stated. "I'd also like to acknowledge our wonderful customers and suppliers. Stocking the widest selection of the newest products from our supplier partners reinforces our commitment to our customers to be a single source for all the components and tools necessary for the electronic design process. There's a lot of teamwork involved in our business success."
Smith has served for years as a member of the Board of Directors of the Electronic Components Industry Association (ECIA), working to protect the authorized supply chain of electronic components. In 2011, he received the Distinguished Service Award from the ECIA for leading the rapid launch of the ECIA inventory search website, http://www.eciaauthorized.com. Smith currently serves on the Distribution Council for ECIA.
Mouser / Glenn Smith of Mouser Electronics Named Top CEO
Page Two
With its broad product line and unsurpassed customer service, Mouser strives to empower innovation among design engineers and buyers by delivering advanced technologies. Mouser stocks the world's widest selection of the latest semiconductors and electronic components for the newest design projects. Mouser Electronics' website is continually updated and offers advanced search methods to help customers quickly locate inventory. Mouser.com also houses data sheets, supplier-specific reference designs, application notes, technical design information, and engineering tools.
About Mouser Electronics
Mouser Electronics, a subsidiary of TTI, Inc., is part of Warren Buffett's Berkshire Hathaway family of companies. Mouser is an award-winning, authorized semiconductor and electronic component distributor focused on rapid New Product Introductions from its manufacturing partners for electronic design engineers and buyers. The global distributor's website, Mouser.com, is available in multiple languages and currencies and features more than 5 million products from nearly 800 manufacturers. Mouser offers 26 support locations around the world to provide best-in-class customer service and ships globally to over 630,000 customers in 223 countries/territories from its 750,000 sq. ft. state-of-the-art facility south of Dallas, Texas. For more information, visit http://www.mouser.com.
Trademarks
Mouser and Mouser Electronics are registered trademarks of Mouser Electronics, Inc. All other products, logos, and company names mentioned herein may be trademarks of their respective owners.
– 30 –
For further information, contact:

Kevin Hess, Mouser Electronics

Senior Vice President of Marketing

(817) 804-3833

For press inquiries, contact:

Nick Foot, BWW Communications

PR Director

+44 (0)1491 636393