7. december 2017
GaN Systems' IMS-Based Eval Platform Now Available from Mouser for Developing High-Efficiency Power Systems
GaN Systems' IMS-Based Eval Platform Now Available from Mouser for Developing High-Efficiency Power Systems
December 6, 2017 – Mouser Electronics, Inc., the industry's leading New Product Introduction (NPI) distributor with the widest selection of semiconductors and electronic components, is now offering the GSP65RxxHB-EVB insulated metal substrate (IMS)-based evaluation platform from GaN Systems. The IMS evaluation platform demonstrates an inexpensive way to improve heat transfer, increase power density, and reduce system cost of power systems in automotive, consumer, industrial, and server or data center applications.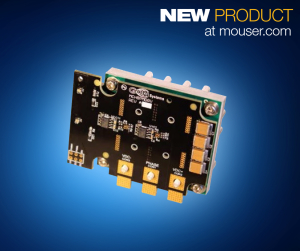 GaN Systems' GSP65RxxHB-EVB IMS-based evaluation platform, available from Mouser Electronics, consists of the GSP65MB-EVB motherboard and two IMS evaluation modules that each includes a high-power, bottom-side-cooled GaN Systems GS66516B enhancement mode high electron mobility transistor (E-HEMT). The 650 V IMS evaluation modules are configured as a half bridge and are available in 13 milliohm, 2–4 kW and 25 milliohm, 4–7 kW variants. Together, the motherboard and IMS evaluation modules enable 10 different configurations, with two additional configurations when using a second motherboard. Designers can also use the IMS evaluation modules independently as a high-power gallium nitride (GaN) intelligent power module (IPM) with their own boards for in-system prototyping.
The evaluation modules offer very low inductance and feature an optimized driver board that minimizes both the power and gate driver loops. Typical applications include onboard chargers, DC/DC converters and three-phase inverters for electric and hybrid vehicles, industrial photovoltaic inverters and motor drives, switch mode power supplies for server/data centers and residential energy storage systems.
To learn more about GaN Systems' IMS-based evaluation platform, visit http://www.mouser.com/gan-ims-3rd-gen-eval-boards.
Mouser / GaN Systems' GSP65RxxHB-EVB IMS-based Evaluation Platform
Page Two
With its broad product line and unsurpassed customer service, Mouser strives to empower innovation among design engineers and buyers by delivering advanced technologies. Mouser stocks the world's widest selection of the latest semiconductors and electronic components for the newest design projects. Mouser Electronics' website is continually updated and offers advanced search methods to help customers quickly locate inventory. Mouser.com also houses data sheets, supplier-specific reference designs, application notes, technical design information, and engineering tools.
About Mouser Electronics
Mouser Electronics, a Berkshire Hathaway company, is an award-winning, authorized semiconductor and electronic component distributor focused on rapid New Product Introductions from its manufacturing partners for electronic design engineers and buyers. The global distributor's website, Mouser.com, is available in multiple languages and currencies and features more than 4 million products from over 600 manufacturers. Mouser offers 22 support locations around the world to provide best-in-class customer service and ships globally to over 550,000 customers in 170 countries from its 750,000 sq. ft. state-of-the-art facility south of Dallas, Texas. For more information, visit http://www.mouser.com.
About GaN Systems
GaN Systems provides a range of Gallium Nitride high power transistors for consumer, datacenter, industrial and transportation power conversion applications. Featuring exceptionally low on-resistance and negligible charge storage, these devices enable switching efficiencies well in excess of current silicon based solutions and offer dramatic benefits to switching power supply designs, inverters, hybrid and electric vehicles, battery management and power factor correction.
Trademarks
Mouser and Mouser Electronics are registered trademarks of Mouser Electronics, Inc. All other products, logos, and company names mentioned herein may be trademarks of their respective owners.
– 30 –
Further information, contact:

Kevin Hess, Mouser Electronics

Senior Vice President of Marketing

(817) 804-3833

For press inquiries, contact:

Nick Foot, BWW Communications

PR Director

+44 (0)1491 636393