20. april 2017
Gain More Functionality with Fewer Components with Power Integrations' SCALE-2 IGBT Gate Drivers, Now at Mouser
Gain More Functionality with Fewer Components with
Power Integrations' SCALE-2 IGBT Gate Drivers, Now at Mouser
April 20, 2017 – Mouser Electronics, Inc., the industry's leading New Product Introduction (NPI) distributor with the widest selection of semiconductors and electronic components, is now stocking the SCALE-2 IGBT gate drivers from Power Integrations. These extremely flexible insulated gate bipolar transistor (IGBT) gate driver cores integrate commonly required driver functions — including galvanic isolation, protection, and DC/DC conversion — in a single module. The SCALE-2 IGBT gate drivers are suitable for driving power MOSFETs and devices based on new materials such as silicon carbide (SiC) operating at switching frequencies up to 500 kHz.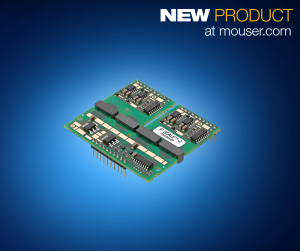 The Power Integrations SCALE-2 IGBT gate drivers, available from Mouser Electronics, are each based on an advanced ASIC chipset that integrates the full functionality of a dual-channel gate driver core in a primary-side chip logic-to-driver interface (LDI) and a secondary-side chip intelligent gate driver (IGD). The highly integrated level of the ASIC chipset enables the number of discrete components to be drastically reduced, resulting in cost and reliability advantages for designers. The modules are available with blocking voltage capabilities from 600V to 6500V and from 1W to 20W per channel. To ensure optimum performance for direct driving of external N-type DMOS elements, the pre-driver stages of each of the modules incorporate separate gate resistors for independent control of on/off functionality.
Each module offers designers product flexibility and functionality through optimal dynamic switching performance and accuracy, delivering high reliability and analog performance while also providing a reduced digital feature size that optimizes their cost and performance. Offered in single- and dual-channel options, the modules provide all the common driver functions necessary to operate a broad array of industrial, motor control, power transmission, traction, solar, wind and automotive applications.
To learn more, visit http://www.mouser.com/new/Power-Integrations/power-integrations-scale-2-igbt/.
Mouser / Power Integrations SCALE-2 IGBT Gate Drivers
Page Two
With its broad product line and unsurpassed customer service, Mouser strives to empower innovation among design engineers and buyers by delivering advanced technologies. Mouser stocks the world's widest selection of the latest semiconductors and electronic components for the newest design projects. Mouser Electronics' website is continually updated and offers advanced search methods to help customers quickly locate inventory. Mouser.com also houses data sheets, supplier-specific reference designs, application notes, technical design information, and engineering tools.
About Mouser Electronics
Mouser Electronics, a subsidiary of TTI, Inc., is part of Warren Buffett's Berkshire Hathaway family of companies. Mouser is an award-winning, authorized semiconductor and electronic component distributor focused on rapid New Product Introductions from its manufacturing partners for electronic design engineers and buyers. The global distributor's website, Mouser.com, is available in multiple languages and currencies and features more than 4 million products from over 600 manufacturers. Mouser offers 22 support locations around the world to provide best-in-class customer service and ships globally to over 500,000 customers in 170 countries from its 750,000 sq. ft. state-of-the-art facility south of Dallas, Texas. For more information, visit http://www.mouser.com.
About Power Integrations
Power Integrations, Inc. is a leading innovator in semiconductor technologies for high-voltage power conversion. The company's products are key building blocks in the clean-power ecosystem, enabling the generation of renewable energy as well as the efficient transmission and consumption of power in applications ranging from milliwatts to megawatts.
Trademarks
Mouser and Mouser Electronics are registered trademarks of Mouser Electronics, Inc. All other products, logos, and company names mentioned herein may be trademarks of their respective owners.
– 30 –
Further information, contact:

Nick Foot, BWW Communications

PR Director

+44 (0) 1491 636393

For press inquiries, contact:

Kelly DeGarmo, Mouser Electronics

Manager, Corporate Communications and Media Relations

(817) 804-7764