29. maj 2019
Free Inventory Management Tool from Mouser Electronics Simplifies Parts Management and Ordering
Free Inventory Management Tool from Mouser Electronics Simplifies Parts Management and Ordering
May 28, 2019 – Mouser Electronics, Inc., as part of its goal to provide best-in-class service and the most robust resources to customers, proudly offers a free, innovative Inventory Management Tool and new companion mobile app for iOS and Android devices.
The free, easy-to-use, web-based inventory system helps organizations and individuals around the world to effortlessly manage and track their stock of electronic components and related supplies. The integrated iOS and Android apps enable users to scan barcodes as well as print bin labels directly from the application. Customers can take advantage of this free tool by logging into their My Mouser accounts. To create a My Mouser account, go to http://www.mouser.com/MyMouser. To learn more about the Inventory Management tool's many features, visit http://www.mouser.com/Inventory-Management.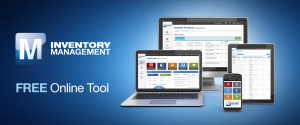 Mouser's university-based customers requested a tool to help them manage their in-house inventories. This tool was created with them in mind but can be used by any organization or company that needs to manage small to medium size inventories. The new mobile app allows customers to manage bins of parts without being tethered to the desktop.
Mouser customers can access the new Inventory Management tool at http://www.mouser.com/Inventory-Management from any web browser or through the new mobile app for both iOS and Android devices. With the tool, users can easily manage part numbers and inventory levels, generate inventory reports, and import current product inventory data from spreadsheets. The tool also provides check-in/check-out functionality, which helps organizations track shared tools such as scopes or soldering equipment. To help ease of use, the tool comes with a simple online dashboard and a quick, step-by-step setup wizard.
Customers using the tool on a web browser can take advantage of the advanced Mouser Match feature, which links products in their inventories to Mouser part numbers. With Mouser Match, customers can:
Automatically synchronize product data, such as manufacturer, description, and life cycle.
Automatically import product images from Mouser.com for recognition on sight.
Quickly reorder products from Mouser.
Mouser's Inventory Management tool is available to all My Mouser account holders in more than 220 countries and territories. To learn more, visit http://www.mouser.com/Inventory-Management.
Mouser / Inventory Management Tool
Page Two
With its broad product line and unsurpassed customer service, Mouser strives to empower innovation among design engineers and buyers by delivering advanced technologies. Mouser stocks the world's widest selection of the latest semiconductors and electronic components for the newest design projects. Mouser Electronics' website is continually updated and offers advanced search methods to help customers quickly locate inventory. Mouser.com also houses data sheets, supplier-specific reference designs, application notes, technical design information, and engineering tools.
About Mouser Electronics
Mouser Electronics, a Berkshire Hathaway company, is an award-winning, authorized semiconductor and electronic component distributor focused on rapid New Product Introductions from its manufacturing partners for electronic design engineers and buyers. The global distributor's website, Mouser.com, is available in multiple languages and currencies and features more than 5 million products from over 750 manufacturers. Mouser offers 25 support locations around the world to provide best-in-class customer service and ships globally to over 600,000 customers in more than 220 countries/territories from its 750,000 sq. ft. state-of-the-art facility south of Dallas, Texas. For more information, visit http://www.mouser.com.
Trademarks
Mouser and Mouser Electronics are registered trademarks of Mouser Electronics, Inc. All other products, logos, and company names mentioned herein may be trademarks of their respective owners.
– 30 –
For further information, contact:

Kevin Hess, Mouser Electronics

Senior Vice President of Marketing

(817) 804-3833

For press inquiries, contact:

Nick Foot, BWW Communications

PR Director

+44 (0)1491 636393