31. marts 2017
Enable Supply Chain Transparency with Bosch's TDL110 Transport Data Logger, now at Mouser
Enable Supply Chain Transparency with Bosch's TDL110 Transport Data Logger, Now at Mouser
March 30, 2017 – Mouser Electronics, Inc., the authorized global distributor with the newest semiconductors and electronic components, is now stocking the TDL110 Transport Data Logger (TDL) from Bosch Connected Devices. The TDL110 is individually configurable, intuitive and easy to use, enabling engineers to integrate the device with little effort and without prior knowledge of the processes of a logistics chain. Once attached to a shipment, the TDL110 measures and records temperature, humidity, tilt, and shock, and engineers can view the data through a mobile application. The limits of each parameter can be individually configured, and any violation is traceable and clearly assignable throughout the entire supply chain.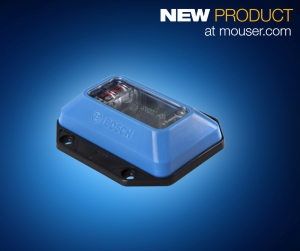 The Bosch Connected Devices TDL110 Transport Data Logger, available from Mouser Electronics, attaches to shipments and records parameters to help make the delivery process more visible and traceable. The device houses precise, Bosch-developed MEMS technology in an IP54-rated enclosure and safely stores data thanks to a 1400 mAh battery with a lifetime of up to two years. The TDL110 provides proof of possible damage or evidence of failure-free transport chain, enabling trust between shipping partners as well as important data for optimizing logistics processes.
The TDL110 delivers high accuracy of ±0.5 degrees Celsius over a wide temperature range of 0 degrees Celsius to 60 degrees Celsius and ±1.0 degree over the full temperature range of minus 25 to 80 degrees Celsius. The device offers a typical relative humidity accuracy of ±5 percent and a shock and acceleration accuracy of ±0.1 g over a three-dimensional range of ±13.8g. The TDL110 supports Bluetooth® low energy communication and transmits over a range of up to 40 meters.
For more information, visit http://www.mouser.com/new/bosch/bosch-tdl110-data-logger/.
Mouser / Bosch Connected Devices TDL110 Transport Data Logger
Page Two
With its broad product line and unsurpassed customer service, Mouser strives to empower innovation among design engineers and buyers by delivering advanced technologies. Mouser stocks the world's widest selection of the latest semiconductors and electronic components for the newest design projects. Mouser Electronics' website is continually updated and offers advanced search methods to help customers quickly locate inventory. Mouser.com also houses data sheets, supplier-specific reference designs, application notes, technical design information, and engineering tools.
About Mouser Electronics
Mouser Electronics, a subsidiary of TTI, Inc., is part of Warren Buffett's Berkshire Hathaway family of companies. Mouser is an award-winning, authorized semiconductor and electronic component distributor focused on rapid New Product Introductions from its manufacturing partners for electronic design engineers and buyers. The global distributor's website, Mouser.com, is available in multiple languages and currencies and features more than 4 million products from over 600 manufacturers. Mouser offers 22 support locations around the world to provide best-in-class customer service and ships globally to over 500,000 customers in 170 countries from its 750,000 sq. ft. state-of-the-art facility south of Dallas, Texas. For more information, visit http://www.mouser.com.
About Bosch Connected Devices and Solutions
Bosch Connected Devices and Solutions, a fully owned subsidiary of Robert Bosch GmbH, develops and markets innovative connected devices and tailor-made solutions for the Internet of Things (IoT). Bosch Connected Devices and Solutions supplies compact electronic products and software expertise that make devices and objects intelligent and web-enabled.
Trademarks
Mouser and Mouser Electronics are registered trademarks of Mouser Electronics, Inc. All other products, logos, and company names mentioned herein may be trademarks of their respective owners.
– 30 –
Further information, contact:

Nick Foot, BWW Communications

PR Director

+44 (0) 1491 696393

For press inquiries, contact:

Kelly DeGarmo, Mouser Electronics

Manager, Corporate Communications and Media Relations

(817) 804-7764