7. april 2021
Driving Towards an Electric Future with New Motor Control Products Available from Mouser Electronics
Mouser Electronics, Inc., the New Product Introduction (NPI) leader empowering innovation, continues to increase its extensive range of motor drive and control systems, helping to meet demand for new motor control solutions brought on by electrification advancements across the industry.
The global distributor stocks a wide range of new motor control solutions from leading manufacturers such as STMicroelectronics and has recently added new modulators from Analog Devices, Inc., which enable innovative ways of providing isolated feedback to the control circuitry. Further additions to the motor drive and control portfolio include new modules from Trinamic — part of Maxim Integrated — which use the proprietary Trinamic Motor Control Language (TMCL) to provide fine-grain control.
New motor control product highlights available from Mouser include:
The TMCM-0930-TMCL is a slot-type microcontroller module from Trinamic, designed to control up to four of its slot-type stepper and/or BLDC motor drive modules. It achieves this using TMCL commands, stored onboard or passed to the microcontroller module through CAN, RS484 or USB ports. It can also support additional GPIO and control features, depending on the connected driver module. The TMCL language comprises structured program flow and motion control commands and provides an easy way of controlling almost every parameter in a motor drive module.
Motor control solutions from STMicroelectronics cover low-, medium- and high-voltage motor control applications, from under 100 V up to 1200 V. The portfolio includes driver ICs, power MOSFETs, IGBTs, gate drivers, power modules and dedicated microcontrollers. It is supported by a range of reference designs and evaluation/development boards, addressing all types of motors.
A large part of motor drive is the control, which relies heavily on good feedback. In many applications, this may need to include galvanic isolation, which is where the ADuM7704 sigma-delta modulators from Analog Devices, Inc. could help. These convert an analogue input into a high-speed bitstream and use Analog Devices' iCoupler® technology to provide the isolation. They can be used to accurately measure the voltage and current being used by a motor, to improve efficiency and extend operating lifetime.
Along with offering the newest technologies in motor control, Mouser supports innovation by sponsoring motorsports programs, such as Formula E racing, where, in collaboration with Molex, AVX and TTI, Inc., the global distributor is partnering with the DRAGON / PENSKE AUTOSPORT team for the 2020–21 season. Molex and AVX each offer a broad variety of products and resources specifically for automotive designs, available on mouser.com. Formula E racing is a catalyst for innovation in electric vehicle technology, and Mouser is proud to partner with the team for the seventh year in a row.
Last month, Mouser launched more than 521 new products ready for same-day shipment. To see more new innovative products, visit https://info.mouser.com/new_Products/.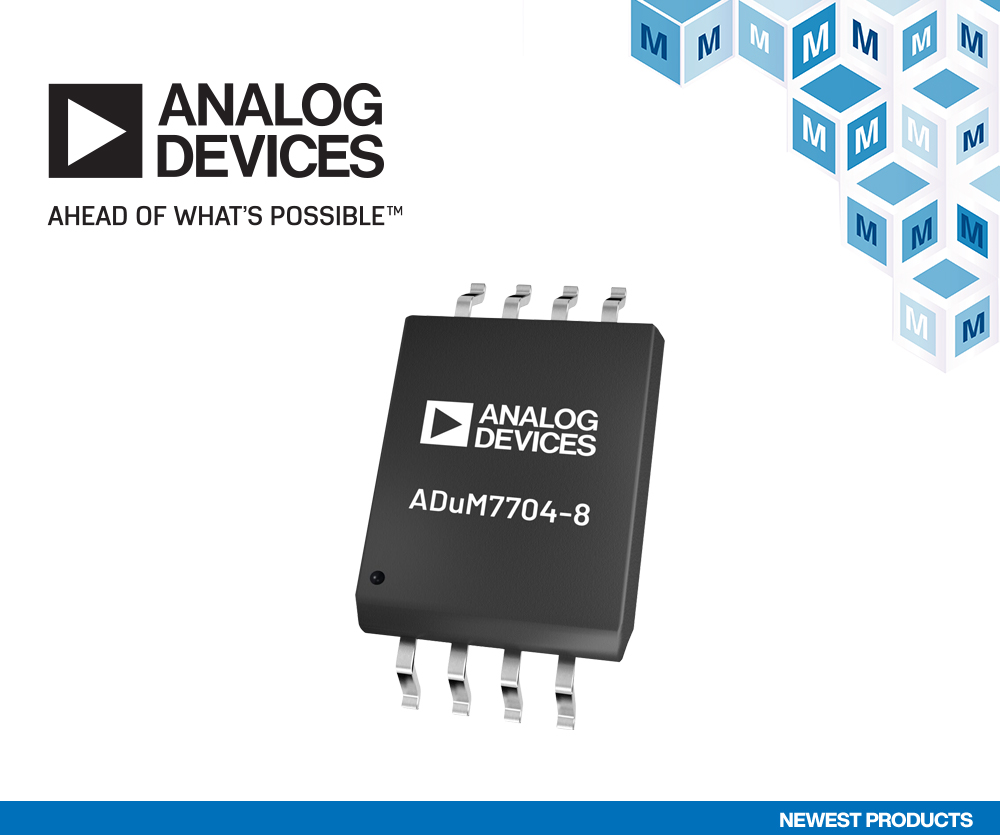 About Mouser Electronics
Mouser Electronics, a Berkshire Hathaway company, is an authorised semiconductor and electronic component distributor focused on New Product Introductions from its leading manufacturer partners. Serving the global electronic design engineer and buyer community, the global distributor's website, mouser.com, is available in multiple languages and currencies and features more than 5 million products from over 1,100 manufacturer brands. Mouser offers 27 support locations worldwide to provide best-in-class customer service in local language, currency and time zone. The distributor ships to over 630,000 customers in 223 countries/territories from its 1 million-square-foot, state-of-the-art distribution facilities in the Dallas, Texas, metro area. For more information, visit https://eu.mouser.com/.