18. december 2018
Dive Deep into Op Amps with Mouser Electronics'
Dive Deep into Op Amps with Mouser Electronics'
and Texas Instruments' New E-Book
December 18, 2018 – Mouser Electronics, Inc. and Texas Instruments (TI) announce a new e-book dedicated to the versatility and design power of operational amplifiers (op amps). In the e-book, titled Amplifier Solutions that Answer a Range of Design Needs, Mouser and TI experts delve into the many uses for the chips in the analog signal chain.
Operational amplifiers are alive, well, and thriving with ever-increasing performance and ever-decreasing size, power, and cost. The devices are integral to every major market segment, from industrial, personal electronics, and communications equipment to enterprise systems and automotive applications. Whether engineers are measuring temperature, pressure, flow, or light, real-world monitor functions require the low-power precious of an op amp.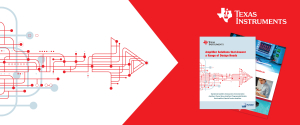 The new e-book explores several important topics — including the benefits of zero-drift amplifiers,  nanopower amplifiers in Internet of Things (IoT) applications, and Class D audio amplifiers in automotive infotainment systems — all delivering key insights into the many types and uses of op amps.
Texas Instruments amplifier solutions span a range of devices, including op amps, comparators, instrumental amplifiers, difference amplifiers, current sense amplifiers, programmable and variable gain amplifiers, plus special-function amplifiers. These products feature low offset, low noise, low power, wide bandwidth, small footprint and even optimized cost.
To read the new e-book, go to http://www.mouser.com/news/ti-amplifiers-ebook/mobile/index.html.
Mouser / TI Op Amp E-book
Page Two
With its broad product line and unsurpassed customer service, Mouser strives to empower innovation among design engineers and buyers by delivering advanced technologies. Mouser stocks the world's widest selection of the latest semiconductors and electronic components for the newest design projects. Mouser Electronics' website is continually updated and offers advanced search methods to help customers quickly locate inventory. Mouser.com also houses data sheets, supplier-specific reference designs, application notes, technical design information, and engineering tools.
About Mouser Electronics
Mouser Electronics, a Berkshire Hathaway company, is an award-winning, authorized semiconductor and electronic component distributor focused on rapid New Product Introductions from its manufacturing partners for electronic design engineers and buyers. The global distributor's website, Mouser.com, is available in multiple languages and currencies and features more than 5 million products from over 750 manufacturers. Mouser offers 23 support locations around the world to provide best-in-class customer service and ships globally to over 600,000 customers in more than 220 countries/territories from its 750,000 sq. ft. state-of-the-art facility south of Dallas, Texas. For more information, visit http://www.mouser.com.
Trademarks
Mouser and Mouser Electronics are registered trademarks of Mouser Electronics, Inc. All other products, logos, and company names mentioned herein may be trademarks of their respective owners.
– 30 –
Further information, contact:

Kevin Hess, Mouser Electronics

Senior Vice President of Marketing

(817) 804-3833

For press inquiries, contact:

Nick Foot, BWW Communications

PR Director

+44 (0)1491 636393