23. august 2017
Digilent's Zynq-Based Arty Z7 Dev Board, Now at Mouser, Offers Maker-Focused Processor-Plus-FPGA Performance
Digilent's Zynq-Based Arty Z7 Dev Board, Now at Mouser, Offers Maker-Focused Processor-Plus-FPGA Performance
August 23, 2017 – Mouser Electronics, Inc., the industry's leading New Product Introduction (NPI) distributor with the widest selection of semiconductors and electronic components, is now stocking the Arty Z7 development board from Digilent. The Arty Z7 helps designers build a range of motor control and embedded vision systems on a ready-to-use development platform with Arduino Uno– and Digilent chipKIT-compatible headers, Digilent Pmod connectors, and USB and HDMI ports.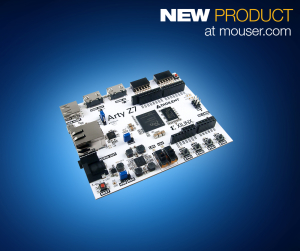 The Digilent Arty Z7 development board, available from Mouser Electronics, is designed around the Xilinx Zynq-7000 All Programmable system-on-chip (AP SoC), which integrates a dual-core 650 MHz ARM® Cortex®-A9 processor with Xilinx's 7-series field programmable gate array (FPGA) logic to offer to a powerful processor with a unique set of software-defined peripherals and controllers.
The Arty Z7 features a 1 Msps analog-to-digital converter (ADC), DDR3 memory controller with eight direct-memory access (DMA) channels, high-bandwidth peripheral controllers via 1-gigabit Ethernet, a USB 2.0, and a serial/digital input/output (SDIO). Low-bandwidth peripheral controllers are also available for SPI, UART, CAN, and I2C protocols.
The board ships with 512 Mbytes of DDR3 memory with a 16-bit bus operating at 1050 Mbits per second and 16 Mbytes of Quad-SPI flash memory with factory-programmed 48-bit globally unique EUI-48/64 identifier. The board also offers 53,200 lookup tables, 106,400 flip-flops, 630 Kbytes of block RAM, four clock management tiles, and 49 inputs/outputs (I/Os). The processor is programmable from JTAG, Quad-SPI flash, and microSD card.
To learn more about the Digilent Arty Z7, visit http://www.mouser.com/new/digilent/digilent-artyz7-board/.
Mouser / Digilent Arty Z7
Page Two
With its broad product line and unsurpassed customer service, Mouser strives to empower innovation among design engineers and buyers by delivering advanced technologies. Mouser stocks the world's widest selection of the latest semiconductors and electronic components for the newest design projects. Mouser Electronics' website is continually updated and offers advanced search methods to help customers quickly locate inventory. Mouser.com also houses data sheets, supplier-specific reference designs, application notes, technical design information, and engineering tools.
About Mouser Electronics
Mouser Electronics, a Berkshire Hathaway company, is an award-winning, authorized semiconductor and electronic component distributor focused on rapid New Product Introductions from its manufacturing partners for electronic design engineers and buyers. The global distributor's website, Mouser.com, is available in multiple languages and currencies and features more than 4 million products from over 600 manufacturers. Mouser offers 22 support locations around the world to provide best-in-class customer service and ships globally to over 550,000 customers in 170 countries from its 750,000 sq. ft. state-of-the-art facility south of Dallas, Texas. For more information, visit http://www.mouser.com.
About Digilent
Digilent Inc., a National Instruments company, is the world leader in academic and research technology solutions. The company manufactures embedded development tools and test and measurement devices for rapid prototyping and training, enabling engineers and makers to accelerate hardware and system development. Since its founding in 2000, Digilent has partnered with different leading semiconductor companies including Xilinx, Microchip, Analog Devices, Texas Instruments, and Imagination Technologies to provide products with the latest embedded and electronics technology. Digilent also offers resources including teaching material, sample labs, and shared curriculums that enable educators in over 1000 universities in more than 70 countries to teach the latest technology.
Trademarks
Mouser and Mouser Electronics are registered trademarks of Mouser Electronics, Inc. All other products, logos, and company names mentioned herein may be trademarks of their respective owners.
– 30 –
Further information, contact:

Kevin Hess, Mouser Electronics

Senior Vice President of Marketing

(817) 804-3833

For press inquiries, contact:

Nick Foot, BWW Communications

PR Director

+44 (0)1491 636393

nick.foot@bwwcomms,com