24. juli 2018
Dial Down the Noise: Mouser Now Shipping Analog Devices and Coilcraft Solutions That Limit EMI in Automotive and Industrial Designs
Dial Down the Noise: Mouser Now Shipping Analog Devices and Coilcraft Solutions That Limit EMI in Automotive and Industrial Designs
July 24, 2018 – Mouser Electronics, Inc. announces a new solutions page from Analog Devices and Coilcraft, developed to help designers address electromagnetic interference (EMI) concerns in automotive and industrial applications. The new page hosts a variety of reference material and paired electronic components to aid designers in achieving lower EMI using a combination of Analog Devices' Silent Switcher® 2 LT8640S/LT8643S/LT8650S synchronous step-down regulators and Coilcraft's power inductors.
Featuring Analog Devices' second-generation Silent Switcher architecture designed to minimize EMI emissions, Analog Devices' Silent Switcher 2 LT8640S, LT8643S, and LT8650S synchronous step-down regulators deliver high efficiency at high switching frequencies using a combination of bypass capacitors, a ground plane, copper pillars, and other components to optimize all the fast current loops. The 42 V, 6 A regulators offer a 2.5 µA quiescent current and up to 96 percent efficiency at 1 MHz, and provide fast, clean, and low-overshoot switching edges that enable high-efficiency operation and step-down ratios even at high switching frequencies.
When paired with the LT8640S, LT8643S, LT8650S regulators, Coilcraft's power inductors can further reduce EMI in harsh and noisy environments. The Coilcraft XFL5030 series shielded power inductor features an exceptionally low DC resistance of only 2.15 milliohms. With excellent current handling up to 11.5 A, soft saturation, and a composite construction to minimize audible noise, the XFL5030 devices are ideal for high-frequency applications. The Coilcraft XEL6030 series high-current shielded power inductors offer exceptionally low DC resistance and ultra-low AC losses for high switching frequencies of 2 to 5 MHz. They provide excellent current handling with soft saturation characteristics to withstand high current spikes and deliver an inductance range from 0.15 µH – 3.3 µH. Both the XFL5030 and the XEL6030 series of devices meet the AEC-Q200 Grade 1 automotive specification and are RoHS-compliant and halogen-free.
For a detailed look at the technology behind the EMI-limiting solutions, Mouser offers a free white paper, "How to Dial Down the Noise: Limiting EMI." In the white paper, Mouser's Senior Technical Content Specialist, Paul Golata, illustrates how the Analog Devices and Coilcraft products can work together to deliver a low-EMI solution needed for today's demanding applications.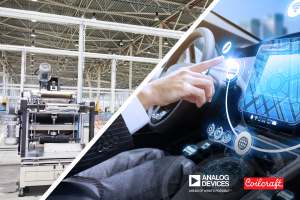 To learn more about the solutions from Analog Devices and Coilcraft and to download the white paper, visit eng.info.mouser.com/adi-coilcraft-low-emi.
Mouser / Dial Down the Noise: Analog Devices and Coilcraft EMI-Limiting Solutions
With its broad product line and unsurpassed customer service, Mouser strives to empower innovation among design engineers and buyers by delivering advanced technologies. Mouser stocks the world's widest selection of the latest semiconductors and electronic components for the newest design projects. Mouser Electronics' website is continually updated and offers advanced search methods to help customers quickly locate inventory. Mouser.com also houses data sheets, supplier-specific reference designs, application notes, technical design information, and engineering tools.
About Mouser Electronics
Mouser Electronics, a Berkshire Hathaway company, is an award-winning, authorized semiconductor and electronic component distributor focused on rapid New Product Introductions from its manufacturing partners for electronic design engineers and buyers. The global distributor's website, Mouser.com, is available in multiple languages and currencies and features more than 5 million products from over 700 manufacturers. Mouser offers 23 support locations around the world to provide best-in-class customer service and ships globally to over 600,000 customers in more than 220 countries/territories from its 750,000 sq. ft. state-of-the-art facility south of Dallas, Texas. For more information, visit http://www.mouser.com.
About Analog Devices, Inc.
Analog Devices is the leading global high-performance analog technology company dedicated to solving the toughest engineering challenges. We enable our customers to interpret the world around us by intelligently bridging the physical and digital with unmatched technologies that sense, measure, power, connect and interpret. Visit http://www.analog.com.
Trademarks
Mouser and Mouser Electronics are registered trademarks of Mouser Electronics, Inc. All other products, logos, and company names mentioned herein may be trademarks of their respective owners.
Further information, contact:

Kevin Hess, Mouser Electronics

Senior Vice President of Marketing

(817) 804-3833

For press inquiries, contact:

Nick Foot, BWW Communications

PR Director

+44 (0) 1491 636393