21. august 2017
Cypress' S71KL512SC0 HyperFlash and HyperRAM Multi-Chip Package Now at Mouser
Cypress' S71KL512SC0 HyperFlash and HyperRAM Multi-Chip Package Now at Mouser
August 21, 2017 – Mouser Electronics, Inc., the authorized global distributor with the newest semiconductors and electronic components, is now stocking the S71KL512SC0 HyperFlash™ and HyperRAM™ Multi-Chip Package (MCP) from Cypress Semiconductor. This memory subsystem solution combines high-speed NOR flash memory for fast-boot and instant-on with a self-refresh DRAM for expanded scratchpad memory — all in a reduced footprint, low-pin-count package that is ideal for space-constrained and cost-optimized embedded designs.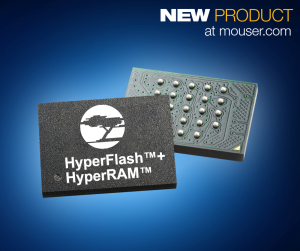 The Cypress Semiconductor S71KL512SC0 HyperFlash and HyperRAM MCP, available from Mouser Electronics, is based on Cypress' HyperBus™ interface, which enables faster systems with quicker response times and a richer user experience. The device features 512 Mbits of HyperFlash and 64 Mbits of HyperRAM, and is the optimum multi-package solution for designers looking to get a full high-performance memory subsystem with 70 percent fewer pins and a 77 percent smaller footprint compared to existing SDRAM and Quad SPI solutions.
The S71KL512SC0 device is housed in a 24-ball, FBGA package that shares a common footprint with discrete HyperFlash and HyperRAM products. The single-pad layout and common footprint enables engineers to support either a discrete device or the HyperFlash and HyperRAM MCP, offering the flexibility to change the design at any point in the product lifecycle without affecting the overall board layout, which saves valuable development time and minimizes cost.
Target applications of the S71KL512SC0 device include communications equipment, industrial applications, and other high-performance Internet of Things (IoT) products.
To learn more about the S71KL512SC0 HyperFlash and HyperRAM MCP and the HyperBus Interface, visit http://www.mouser.com/new/Cypress-Semiconductor/cypress-s71kl512sco-mcp/.
Mouser / Cypress S71KL512SC0 HyperFlash and HyperRAM
Page Two
With its broad product line and unsurpassed customer service, Mouser strives to empower innovation among design engineers and buyers by delivering advanced technologies. Mouser stocks the world's widest selection of the latest semiconductors and electronic components for the newest design projects. Mouser Electronics' website is continually updated and offers advanced search methods to help customers quickly locate inventory. Mouser.com also houses data sheets, supplier-specific reference designs, application notes, technical design information, and engineering tools.
About Mouser Electronics
Mouser Electronics, a Berkshire Hathaway company, is an award-winning, authorized semiconductor and electronic component distributor focused on rapid New Product Introductions from its manufacturing partners for electronic design engineers and buyers. The global distributor's website, Mouser.com, is available in multiple languages and currencies and features more than 4 million products from over 600 manufacturers. Mouser offers 22 support locations around the world to provide best-in-class customer service and ships globally to over 550,000 customers in 170 countries from its 750,000 sq. ft. state-of-the-art facility south of Dallas, Texas. For more information, visit http://www.mouser.com.
About Cypress
Cypress is the leader in advanced embedded system solutions for the world's most innovative automotive, industrial, home automation and appliances, consumer electronics and medical products. Cypress' programmable systems-on-chip, general-purpose microcontrollers, analog ICs, wireless and USB-based connectivity solutions and reliable, high-performance memories help engineers design differentiated products and get them to market first. Cypress is committed to providing customers with the best support and engineering resources on the planet enabling innovators and out-of-the-box thinkers to disrupt markets and create new product categories in record time.
Trademarks
Mouser and Mouser Electronics are registered trademarks of Mouser Electronics, Inc. All other products, logos, and company names mentioned herein may be trademarks of their respective owners.
– 30 –
Further information, contact:

Kevin Hess, Mouser Electronics

Senior Vice President of Marketing

(817) 804-3833

For press inquiries, contact:

Nick Foot, BWW Communications

PR Director

+44 (0)1491 636393