9. maj 2018
Cree's XLamp XD16 LEDs, Now at Mouser, Deliver 5x Higher Lumen Density with Low Cross Talk
Cree's XLamp XD16 LEDs, Now at Mouser, Deliver 5x Higher Lumen Density with Low Cross Talk
May 9, 2018 – Mouser Electronics, Inc., the industry's leading New Product Introduction (NPI) distributor with the widest selection of semiconductors and electronic components, is now stocking XLamp® XD16 Extreme Density LEDs from Cree. Based on Cree's NX Technology Platform, the XD16 LEDs deliver up to 5½ times higher lumen density than Cree's previous generation of high-power LEDs. Specifically designed for applications requiring high light output and high lumens-per-watt, the high-performance XD16 LEDs enable improved output and efficacy in lighting applications such as directional lighting, low-bay and high-bay applications, color tuning, and industrial lighting.
Cree's XLamp XD16 Extreme Density LEDs, available from Mouser Electronics, provide the industry's highest lumen density for commercial lighting-class LEDs (284 lumens per square millimeter (lm/mm2)). The LEDs draw a maximum drive current of 2 A with a forward voltage of 2.73 V, and offer maximum power of 6 W and maximum output of 726 lumens. Housed in a space-saving 1.6 mm × 1.6 mm ceramic-based package, the XD16 LEDs offer low thermal resistance of 6 degrees Celsius per Watt, low optical cross-talk, and a wide viewing angle of 135 degrees.
The XD16 LEDs are available from Mouser Electronics in ANSI White and Cree's 3-step and 5-step EasyWhite® correlated color temperatures (CCTs) ranging from 2700K to 6000K with color rendering index (CRI) ratings options of 70, 80 and 90. The durable LEDs have an unlimited floor life at less than 30 degrees Celsius and 85 percent relative humidity, and are UL-recognized and RoHS and REACH compliant.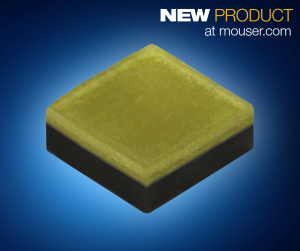 To learn more, visit http://www.mouser.com/cree-xlamp-xd16-led.
Mouser / Cree XLamp XD16 Extreme Density LEDs
Page Two
With its broad product line and unsurpassed customer service, Mouser strives to empower innovation among design engineers and buyers by delivering advanced technologies. Mouser stocks the world's widest selection of the latest semiconductors and electronic components for the newest design projects. Mouser Electronics' website is continually updated and offers advanced search methods to help customers quickly locate inventory. Mouser.com also houses data sheets, supplier-specific reference designs, application notes, technical design information, and engineering tools.
About Mouser Electronics
Mouser Electronics, a Berkshire Hathaway company, is an award-winning, authorized semiconductor and electronic component distributor focused on rapid New Product Introductions from its manufacturing partners for electronic design engineers and buyers. The global distributor's website, Mouser.com, is available in multiple languages and currencies and features more than 5 million products from over 700 manufacturers. Mouser offers 22 support locations around the world to provide best-in-class customer service and ships globally to over 600,000 customers in 170 countries from its 750,000 sq. ft. state-of-the-art facility south of Dallas, Texas. For more information, visit http://www.mouser.com.
Trademarks
Mouser and Mouser Electronics are registered trademarks of Mouser Electronics, Inc. All other products, logos, and company names mentioned herein may be trademarks of their respective owners.
– 30 –
Further information, contact:

Kevin Hess, Mouser Electronics

Senior Vice President of Marketing

(817) 804-3833

For press inquiries, contact:

Nick Foot, BWW Communications

PR Director

+44 (0)1491 636393