15. september 2017
Bourdais Returns to Mouser/Molex-Sponsored IndyCar, Looks to Finish Season Strong at Sonoma
Bourdais Returns to Mouser/Molex-Sponsored IndyCar, Looks to Finish Season Strong at Sonoma
September 15, 2017 – The Mouser-sponsored No. 18 car will take on the road course at Sonoma Raceway in California on September 17. Sebastien Bourdais returns to pilot the car through the 2.38-mile course. Bourdais was sidelined for much of the season by injuries he sustained in day one of the qualifying round of the Indianapolis 500, but has made an inspiring recovery to finish out the season.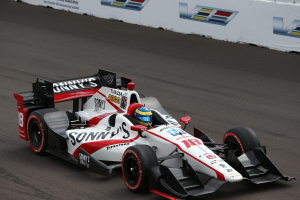 Bourdais was off to a great start this year, winning the opening race behind the wheel of the No. 18 car at the Firestone Grand Prix of St. Petersburg on March 12. Driver James Davison, called to fill in for the injured Bourdais, put in an exciting performance at the Indy 500, where he became the first driver since 1980 to lead the race after starting in last position.
Esteban Gutierrez took over for Bourdais at the Detroit Grand Prix and then again at Wisconsin's Road America track. Gutierrez put in valiant efforts in four subsequent races, including at the Iowa Corn 300, where he climbed into the top 10 before a yellow flag and pit stop slowed his momentum to grab an impressive 13th-place finish in his first IndyCar oval race.
Bourdais returned to the No. 18 car at the Bommarito Automotive Group 500, finishing in 10th place after leading laps 61–65. At the September 3 Grand Prix at the Glen, Bourdais got as high as sixth position but lost time after damaging the car's front wing in an incident coming out of the pit in lap 45. After the repair, Bourdais managed to capture the fastest lap of the race, averaging 144.5 mph on lap 59.
"Mouser is proud to team up with Molex to support such a dedicated team," said Todd McAtee, Mouser Electronics' Vice President, Americas Business Development. "We're glad to see Sebastien back behind the wheel, and we're very impressed with the way Esteban stepped up. We've had a challenging but great year, and we look forward to watching Sebastien on the track in Sonoma."
Mouser Electronics and valued supplier Molex sponsored the No. 18 car of Dale Coyne Racing team in this 22nd year of the Verizon IndyCar Series. Mouser first sponsored IndyCar racing in 2011 as an inventive way to communicate its performance-driven business model and promote the newest technologies and how they affect the high-tech world of IndyCar racing. The Mouser- and Molex-sponsored car won the Indianapolis 500 in 2013.
"Molex is proud to team up with Mouser to sponsor the No. 18 car," said Fred Bell, Vice President of Global Distribution for Molex. "Bourdais is a fantastic driver, and we're very happy to see him back from his injuries."
The GoPro Grand Prix Sonoma is the final race of the 2017 IndyCar season.
Mouser/IndyCar Sonoma Grand Prix
Page Two
With its broad product line and unsurpassed customer service, Mouser strives to empower innovation among design engineers and buyers by delivering advanced technologies. Mouser stocks the world's widest selection of the latest semiconductors and electronic components for the newest design projects. Mouser Electronics' website is continually updated and offers advanced search methods to help customers quickly locate inventory. Mouser.com also houses data sheets, supplier-specific reference designs, application notes, technical design information, and engineering tools.
About Mouser Electronics
Mouser Electronics, a Berkshire Hathaway company, is an award-winning, authorized semiconductor and electronic component distributor focused on rapid New Product Introductions from its manufacturing partners for electronic design engineers and buyers. The global distributor's website, Mouser.com, is available in multiple languages and currencies and features more than 4 million products from over 600 manufacturers. Mouser offers 22 support locations around the world to provide best-in-class customer service and ships globally to over 550,000 customers in 170 countries from its 750,000 sq. ft. state-of-the-art facility south of Dallas, Texas. For more information, visit http://www.mouser.com.
About Molex
Molex brings together innovation and technology to deliver electronic solutions to customers worldwide. With a presence in more than 40 countries, Molex offers a full suite of solutions and services for many markets, including data communications, consumer electronics, industrial, automotive, commercial vehicle and medical.
Trademarks
Mouser and Mouser Electronics are registered trademarks of Mouser Electronics, Inc. All other products, logos, and company names mentioned herein may be trademarks of their respective owners.
– 30 –
Further information, contact:

Kevin Hess, Mouser Electronics

Senior Vice President of Marketing

(817) 804-3833

For press inquiries, contact:

Nick Foot, BWW Communications

PR Director

+44 (0)1491 636393