31. maj 2018
Bosch's Low-Power BMP388 Digital Pressure Sensor Now Available from Mouser for Drones and AR/VR Applications
Bosch's Low-Power BMP388 Digital Pressure Sensor Now Available from Mouser for Drones and AR/VR Applications
May 31, 2018 – Mouser Electronics, Inc., the industry's leading New Product Introduction (NPI) distributor with the widest selection of semiconductors and electronic components, is now stocking the BMP388 digital barometric pressure sensor from Bosch. Featuring a best-in-class temperature coefficient offset (TCO) between 20 and 65 degrees Celsius, the small, low-power, low-noise BMP388 sensor delivers accurate altitude measurement over a broad temperature range.
The Bosch BMP388 digital barometric pressure sensor, available from Mouser Electronics, uses proven sensing principles to provide pressure and temperature measurements. The 24-bit device covers a measurement range of 300 hPa to 1250 hPa while consuming just 3.4 µA at 1 Hz. The BMP388 sensor features a raw interrupt functionality for easy access to storage and data, while a built-in infinite impulse response (IIR) filter minimizes short-term disturbances like those caused by slamming doors or windows.
Bosch's BMP388 digital barometric pressure sensor is housed in a 10-pin, 2 mm × 2 mm × 0.75 mm LGA metal-lid package and offers FIFO functionality that reduces power consumption while improving ease of use. The compact device is ideal for altitude stabilization in consumer drones, Internet of Things applications, vertical velocity indication, weather forecasting, health care applications, augmented reality (AR) and virtual reality (VR) devices, and enhanced GPS accuracy.
To learn more, visit http://www.mouser.com/bosch-sensortec-bmp388-sensor.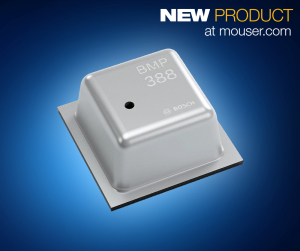 Mouser / Bosch BMP388 Digital Barometric Pressure Sensor
Page Two
With its broad product line and unsurpassed customer service, Mouser strives to empower innovation among design engineers and buyers by delivering advanced technologies. Mouser stocks the world's widest selection of the latest semiconductors and electronic components for the newest design projects. Mouser Electronics' website is continually updated and offers advanced search methods to help customers quickly locate inventory. Mouser.com also houses data sheets, supplier-specific reference designs, application notes, technical design information, and engineering tools.
About Mouser Electronics
Mouser Electronics, a Berkshire Hathaway company, is an award-winning, authorized semiconductor and electronic component distributor focused on rapid New Product Introductions from its manufacturing partners for electronic design engineers and buyers. The global distributor's website, Mouser.com, is available in multiple languages and currencies and features more than 5 million products from over 700 manufacturers. Mouser offers 23 support locations around the world to provide best-in-class customer service and ships globally to over 600,000 customers in more than 220 countries/territories from its 750,000 sq. ft. state-of-the-art facility south of Dallas, Texas. For more information, visit http://www.mouser.com.
About The Bosch Group
The Bosch Group, a leading global supplier of technology and services, is designed to improve quality of life worldwide with products and services that are innovative and spark enthusiasm.
Trademarks
Mouser and Mouser Electronics are registered trademarks of Mouser Electronics, Inc. All other products, logos, and company names mentioned herein may be trademarks of their respective owners.
– 30 –
Further information, contact:

Kevin Hess, Mouser Electronics

Senior Vice President of Marketing

(817) 804-3833

For press inquiries, contact:

Nick Foot, BWW Communications

PR Director

+44 (0)1491 636393