30. august 2018
Bosch's Connected Industrial Sensor Solution, Now at Mouser, Provides Environmental Sensing in Industry 4.0 Applications
Bosch's Connected Industrial Sensor Solution, Now at Mouser, Provides Environmental Sensing in Industry 4.0 Applications
August 30, 2018 – Mouser Electronics, Inc., the authorized global distributor with the newest semiconductors and electronic components, is now stocking the Connected Industrial Sensor Solution (CISS) from Bosch. The Bosch CISS is a robust, multi-sensor device designed to enable Internet of Things (IoT) applications in harsh environments, using MEMS technology to detect vibration and acceleration and other environmental conditions.
The Bosch Connected Industrial Sensor Solution, available from Mouser Electronics, integrates a gyroscope, accelerometer, magnetometer, temperature/humidity/air pressure sensor, microphone, and light sensor. Engineers can activate or deactivate each sensor individually and configure the sensors' sampling rates and thresholds to suit a variety of applications. The CISS features a 32-bit Arm® Cortex®-M3 microcontroller with 1 MByte of internal flash, as well as a Bluetooth® low energy (BLE) radio and USB connectivity for data transmission.
The CISS provides valuable data to optimize maintenance processes and enhance productivity, and can be integrated to wide range of hardware-agnostic gateways and clouds. The device allows for monitoring of multiple conditions simultaneously to provide improved predictive maintenance, while both live and historic data can be supplied over the Virtual CISS app or the cloud.
The compact, IP54-rated device offers an operating temperature range of minus 20 degrees to 80 degrees C, making it suitable for Industry 4.0 applications, including preventative maintenance, industrial retrofitting, digital twinning, and condition monitoring.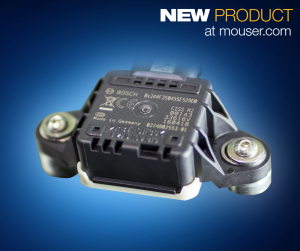 To learn more, visit http://www.mouser.com/bosch-ciss.
Mouser / Bosch Connected Industrial Sensor Solution (CISS)
With its broad product line and unsurpassed customer service, Mouser strives to empower innovation among design engineers and buyers by delivering advanced technologies. Mouser stocks the world's widest selection of the latest semiconductors and electronic components for the newest design projects. Mouser Electronics' website is continually updated and offers advanced search methods to help customers quickly locate inventory. Mouser.com also houses data sheets, supplier-specific reference designs, application notes, technical design information, and engineering tools.
About Mouser Electronics
Mouser Electronics, a Berkshire Hathaway company, is an award-winning, authorized semiconductor and electronic component distributor focused on rapid New Product Introductions from its manufacturing partners for electronic design engineers and buyers. The global distributor's website, Mouser.com, is available in multiple languages and currencies and features more than 5 million products from over 700 manufacturers. Mouser offers 23 support locations around the world to provide best-in-class customer service and ships globally to over 600,000 customers in more than 220 countries/territories from its 750,000 sq. ft. state-of-the-art facility south of Dallas, Texas. For more information, visit http://www.mouser.com.
About The Bosch Group
The Bosch Group, a leading global supplier of technology and services, is designed to improve quality of life worldwide with products and services that are innovative and spark enthusiasm.
Trademarks
Mouser and Mouser Electronics are registered trademarks of Mouser Electronics, Inc. All other products, logos, and company names mentioned herein may be trademarks of their respective owners.
Further information, contact:

Kevin Hess, Mouser Electronics

Senior Vice President of Marketing

(817) 804-3833

For press inquiries, contact:

Nick Foot, BWW Communications

PR Director

+44 (0) 1491 636393