Power Integrations™ is reimagining motor drive technology with its new BridgeSwitch™ family of integrated half-bridge (IHB) motor driver ICs. This innovative solution for Brushless DC (BLDC) motor drives saves energy and space while reducing system BOM.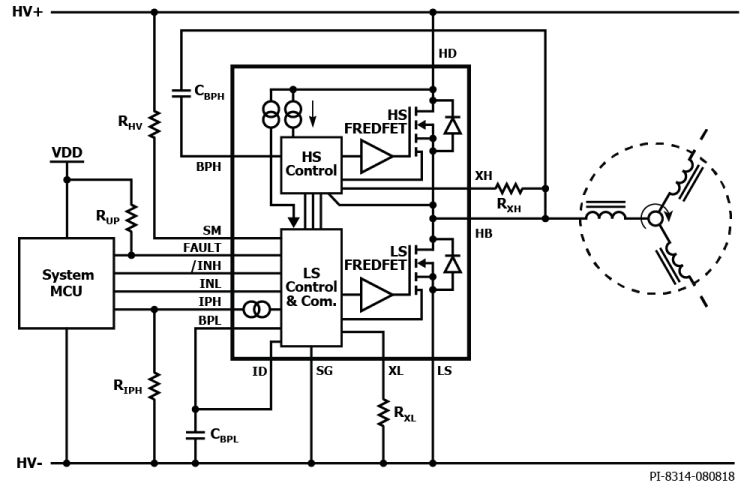 Targeted at refrigerator compressors, HVAC fans and other residential and light commercial pumps, fans and blower applications, BridgeSwitch ICs feature high- and low-side advanced FREDFETs (Fast Recovery Diode Field Effect Transistors) to deliver up to 98.5% efficiency in BLDC motor applications up to 300 W. Combined with its distributed thermal architecture, BridgeSwitch eliminates the need for heatsinks.
Other key features include:
Built-in device protection and system monitoring
Robust single-wire status update interface
Integrated loss-less current monitoring
Compatibility with all common control algorithms – field oriented control (FOC), sinusoidal, and trapezoidal modes with sensor and sensorless detection.
Learn more about BridgeSwitch, download the Data Sheet, and view these new motor driver reference designs:
DER-653 – 300 W 3-phase inverter using BridgeSwitch and LinkSwitch-TN2 with Toshiba Vector Engine Microcontroller (VEMCU) in FOC operation
DER-654 – 300 W 3-phase inverter using BridgeSwitch
DER-749 – 40 W 3-phase inverter using BridgeSwitch and LinkSwitch-TN2 in a sinusoidal control scheme