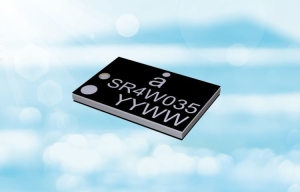 Atlantik Elektronik, provider of innovative wireless solutions, offers with the Serica from Antenova a brand new surface mount antenna. The SR4W035 (Serica) is a small antenna for Bluetooth, Wi-Fi, ZigBee and ISM applications that operates from 2.4 to 2.5 GHz such as for wearable devices, tablets, MIMO systems, medical equipment, network devices, IP cameras and access points.
The Serica antenna only requires a small ground plane and is ideal for single and MIMO antenna systems. She operates over a -40°C to +140°C operating temperature range and features 50Ω impedance with matching. It delivers a gain of 3.5 dBi with an efficiency of up to 65%.
The antenna has been designed for integration and maintains high performance when embedded. This linear polarized antenna is available in a SMD package that measures 6 x 4 x 4 mm and is ideal for Bluetooth®, Wi-Fi™, ZigBee, and ISM applications within all kinds of small electronic devices.
The Serica antenna is supplied in tape and reel for ease in high-volume manufacturing applications. Antenova's antenna design team has adopted a philosophy of Design for Integration (DFI) where the design approach is to create an antenna that a product designer can place on a PCB and integrate with the other circuits in a convenient way, rather than designing a product to fit around the antenna.
Atlantik Elektronik GmbH
http://www.atlantikelektronik.com