11. april 2023
The Latest News from Mouser Electronics
Mouser Electronics, Inc. is focused on supplying 100% certified, genuine products from its manufacturing partners for electronic design engineers and buyers. Mouser introduces hundreds of new products each month and supports innovation by supplying engineers with the newest products, technologies and resources.
The news highlights from Mouser this week are:
New Award – Mouser's Jeff Newell and Krystal Jackson Named Winners of 2023 Pros to Know Awards from Supply & Demand Chain Executive
Mouser proudly announces that its Vice Presidents, Jeff Newell and Krystal Jackson, are recipients of the 2023 Pros to Know awards from Supply & Demand Chain Executive, a publication covering the global supply chain. The annual Pros to Know award recognises outstanding executives whose accomplishments offer a roadmap for other leaders looking to leverage supply chain for competitive advantage. The publication received close to 400 nominations this year, the highest number of nominations ever for this award, proving that today's supply chain professionals are doing great things for the supply chain. Jeff Newell and Krystal Jackson thanked Supply & Demand Chain Executive for its recognition of Mouser's dedication to engaging with its manufacturer partners, allowing Mouser to stock the industry's broadest portfolio of electronic components.
Full press release here: https://eu.mouser.com/newsroom/publicrelations-pros-to-know-awards-2023final/
Renewed Sponsorship – Mouser Supports FIRST Robotics Competition, Nurtures Future Engineers and Innovators
Mouser is excited to announce its continued sponsorship of FIRST® Robotics Competition, which inspires innovation and fosters well-rounded life capabilities in tens of thousands of young people every year. During the 2022-23 FIRST® Robotics Competition season, nearly 100,000 high-school students on more than 3,400 teams from across the world are learning, discovering, and solving engineering challenges through a series of robotics events. Joining Mouser in the sponsorship is valued manufacturer partner Analog Devices, Inc. Since 2014, Mouser has been a major supporter of FIRST® (For Inspiration and Recognition of Science and Technology), a leading youth-serving non-profit advancing science, technology, engineering, and math (STEM) education through hands-on robotics programs. Mouser sponsors FIRST® virtual and live competitions at the local, regional, state, and international levels. Mouser will be a major presenting co-sponsor of the FIRST® in Texas/UIL State Robotics Championships, planned for 6-8 April at the George R. Brown Convention Centre in Houston, Texas. Additionally, Mouser will continue its exclusive sponsorship of the Hall of Fame at the 2023 FIRST® Championship, 19-21 April in Houston.
Full press release here: https://eu.mouser.com/newsroom/publicrelations-first-robotics-competition-2023final/
New Product – Mouser Now Stocking EliteSiC Silicon Carbide Solutions from onsemi
Mouser is now stocking the EliteSiC silicon carbide (SiC) family of solutions from onsemi. The EliteSiC portfolio includes diodes, MOSFETs, IGBT and SiC diode Power Integrated Modules (PIMs), and AEC-Q100-qualified devices. These devices are optimised to provide reliable, high-efficiency performance for energy infrastructure and industrial drive applications. The 1700 V NTH4L028N170M1 EliteSiC MOSFET provides a high breakdown voltage (BV) for renewable energy and high-power industrial applications. This product offers a maximum gate-to-source voltage (VGS) range of -15 V to +25 V, making it suitable for fast switching applications where gate voltages are increasing to -10 V, delivering improved system reliability. With a BV rating of 1700 V, the NDSH25170A and NDSH10170A EliteSiC Schottky diodes provide an improved margin between the maximum reverse voltage (VRRM) and the peak repetitive reverse voltage of the diode. These devices also allow designers to achieve stable high-voltage operation at elevated temperatures while offering high efficiency enabled by SiC. Whether it's an EV charging station, a power grid utilising renewable energy or high-voltage/high-current industrial drive applications, the onsemi EliteSiC solutions deliver efficiency with reduced power losses.
Full press release here: https://eu.mouser.com/newsroom/publicrelations-omsemi-elitesic-devices-2023final/
New Fixture – Mouser-Backed DS PENSKE Team Readies for First-Ever Formula E Race in Brazil
Mouser was excited to cheer on the DS PENSKE Formula E race team in Sao Paulo, Brazil, for round 6 of the 2022-2023 ABB FIA Formula E World Championship. The race took place on 25 March and marked the first time the series has made a stop in Brazil. The track in Sao Paulo consisted of three long straights connected by tricky chicanes with a total of 14 turns and a total distance of 2.96 KM. Team drivers for the Sao Paulo race were Season 8 Champion Stoffel Vandoorne and two-time Formula E Champion Jean-Éric Vergne, fresh off his second-place finish in Cape Town, South Africa. Mouser is supporting the DS PENSKE team for the globe-trekking 2022–23 season, in collaboration with TTI, Inc. and valued manufacturers Molex and KYOCERA AVX. Mouser and Molex have been partnering to sponsor Formula E racing since 2015. This racing sponsorship is an innovative way for Mouser to communicate its performance-driven business model and promote the newest technologies from its manufacturer partners.
Full press release here: https://eu.mouser.com/newsroom/publicrelations-formula-e-brazil-2023final/
To see more new products and Mouser news, go to https://eu.mouser.com/pressroom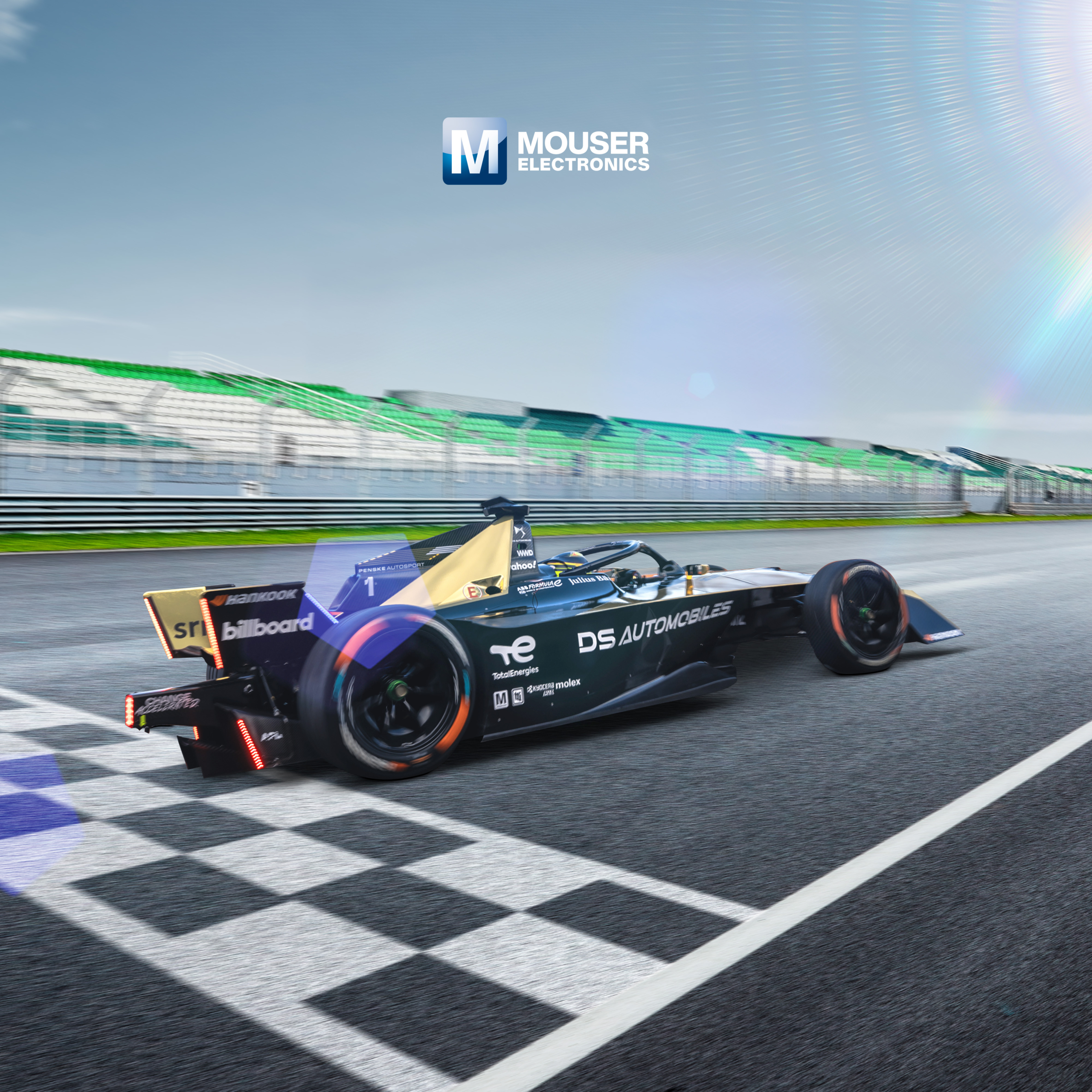 About Mouser Electronics
Mouser Electronics, a Berkshire Hathaway company, is an authorised semiconductor and electronic component distributor focused on New Product Introductions from its leading manufacturer partners. Serving the global electronic design engineer and buyer community, the global distributor's website, mouser.com, is available in multiple languages and currencies and features more than 6,8 million products from over 1.200 manufacturer brands. Mouser offers 27 support locations worldwide to provide best-in-class customer service in local language, currency and time zone. The distributor ships to over 650.000 customers in 223 countries/territories from its 93.000 square-meter, state-of-the-art facilities in the Dallas, Texas, metro area. For more information, visit https://www.mouser.com/.