27. marts 2023
The Latest News from Mouser Electronics
Mouser Electronics, Inc. is focused on supplying 100% certified, genuine products from its manufacturing partners for electronic design engineers and buyers. Mouser introduces hundreds of new products each month and supports innovation by supplying engineers with the newest products, technologies and resources.
The news highlights from Mouser this week are:
New Resource Site – Mouser's Resource Site for Development Kits and Engineering Tools Helps Jumpstart Product Design
Mouser provides a wealth of services and tools to help engineers and purchasing professionals find the right products for their designs, including a resource site for development kits and a page devoted to the latest engineering tools. The development kit resource site offers a diverse collection of resources to inform the development of applications ranging from Internet of Things (IoT) devices to Bluetooth® mesh networks to wearable medical devices. This site also includes articles addressing challenges and use cases for specific components, such as home automation using the Microchip Technology SAM E51 Integrated Graphics and Touch (IGaT) Curiosity evaluation kit or device monitoring using the Arduino Portenta H7 development board. The resource site also includes convenient product information for a variety of evaluation boards and development kits, allowing engineers to find components for their new designs easily. The engineering tools page features a constantly updating list of new tools for evaluating semiconductors and other electronic components. With tools for embedded processors, RF wireless, sensors, and more, the rolling catalogue makes it possible for engineers to find the newest solution to their complex design challenges.
Full press release here: https://eu.mouser.com/newsroom/publicrelations-development-kit-resource-site-2023final/
New Product – Mouser Now Shipping TE Connectivity's Dynamic D8000 Pluggable Connectors, Offering High Current Capacity for Factory Automation and Robotics
Mouser is now stocking the Dynamic D8000 pluggable connectors from TE Connectivity. The Dynamic D8000 pluggable connectors feature high current capacity, including 1000 VDC rated voltage, 3000 VAC withstand voltage, and 100 A current per pin. These connectors are available as both wire-to-wire (WTW) and wire-to-board (WTB) modules with two-position construction. The pluggable connectors employ an audible lock design to ensure safe and reliable locking, while crimping contacts save valuable assembly time for device designers. Boasting 58 N per-pin mating and unmating forces, the connectors feature silver plating on the mating surface with a polybutylene terephthalate (PBT) and high-temperature nylon housing. These reliable, high-performance connectors support a range of applications, including battery management systems, battery test equipment, factory automation and robotics.
Full press release here: https://eu.mouser.com/newsroom/publicrelations-te-dynamic-d8000-connectors-2023final/
Distribution Agreement Expansion – Mouser and Kingston Technology Expand North American Distribution Deal to Europe
Mouser announces an expansion to the distribution agreement with Kingston Technology Europe Co LLP, a world leader in memory products and technology solutions. The expanded distribution agreement will enable Mouser to offer Kingston Technology's high-performance memory devices in North America and Europe. From embedded flash to solid-state drives (SSDs), Kingston products can be found in homes, offices, data centres, and industrial environments. Through this agreement, Mouser can now offer many of Kingston's Design-In product line of SATA and PCIe Gen 4 NVMe SSDs. Mouser also offers Kingston's eMMC™ devices, the embedded DRAM and the industrial microSD memory cards. Kingston's extensive portfolio of products available from Mouser delivers performance and reliability for design engineering technologies such as robotics and industrial automation, smart city and smart home, medical, and communications.
Full press release here: https://eu.mouser.com/newsroom/publicrelations-kingston-emea-expansion-2023final/
New Product – Mouser Now Shipping Nordic Semiconductor's Thingy:53 Platform, Enabling Rapid Prototyping of Wireless Devices with ML Capabilities
Mouser is now stocking the Thingy:53 rapid prototyping platform from Nordic Semiconductor. Integrating a range of sensors for light, motion, sound, and environmental factors, the Thingy:53 platform provides an ideal solution for building prototypes and proofs-of-concept. This product is based on the nRF5340 dual-core Arm® Cortex® M-33 system-on-chip (SoC), and the nRF Edge Impulse mobile app enables embedded machine learning (ML) for prototype devices. The platform's ML capabilities support a range of applications, including voice recognition and movement pattern detection. This product features a complete range of sensors and peripherals to support Internet of Things (IoT) application development. The platform's environmental sensor measures air pressure, air quality, humidity, and temperature in real time, while the low-power accelerometer supports a broad range of motion detection functions. The Thingy:53 platform boasts power management features provided by the nPM1100 power management IC (PMIC), an onboard nRF21540 front-end module (FEM) for wireless connectivity and an integrated power amplifier/low noise amplifier (PA/LNA) range extender. The platform's ML capabilities enable exceptional low-power performance. The platform includes a debug and current measurement board, allowing engineers to monitor power consumption and troubleshoot application code quickly.
Full press release here: https://eu.mouser.com/newsroom/publicrelations-nordic-thingy-53-2023final/
New Product – Mouser Now Shipping NXP's Edge-Ready SLN-VIZNAS-IOT Solution, Providing Facial Recognition with 3D Liveness Detection
Mouser is now stocking the SLN-VIZN3D-IOT development kit for facial recognition from NXP Semiconductors. The SLN-VIZNAS-IOT enables developers to quickly and easily add facial recognition with 3D liveness detection to their products, particularly in the smart home and security markets. The development kit leverages a high-performance 3D structured light module (SLM) camera combined with the i.MX RT117F crossover processor to deliver the performance and security of facial recognition with 3D Liveness detection at the edge. This edge-ready solution addresses the privacy concerns and latency associated with cloud-based implementations. The SLN-VIZN3D-IOT delivers reliable 3D facial recognition in indoor and outdoor applications across varied lighting conditions, including difficult lighting conditions that are challenging for traditional facial recognition systems. Using a 3D SLM camera enables advanced liveness detection, helping distinguish a real person from spoofing techniques, such as a photograph, imitator mask or a 3D model, to prevent unauthorised access. The SLN-VIZN3D-IOT development kit features fully integrated turnkey software for quick out-of-the-box operation, minimising time to market, risk, and development effort. The development kit also includes remote registration capability, allowing end-users to register their faces from mobile devices.
Full press release here: https://eu.mouser.com/newsroom/publicrelations-nxp-sln-viznas-iot-kit-2023final/
New Agreement – Mouser and Xvisio Technology Announce Global Distribution Agreement
Mouser announces a global distribution agreement with Xvisio Technology, a leading provider of high-performance visual simultaneous localisation and mapping (vSLAM) technology for robotics and extended reality (XR) devices. According to the agreement, Mouser will offer customers Xvisio's integrated sensor fusion SeerSense™ AIOT camera modules for advanced applications, including AR/VR head-mounted display (HMD), drones, industrial automation, 3D face recognition, and 3D scanning. The Xvisio Technology portfolio includes the SeerSense XR50 module and the SeerSense DS80 module.
Full press release here: https://eu.mouser.com/newsroom/publicrelations-xvisio-new-manufacturer-2023final/
To see more new products and Mouser news, go to https://eu.mouser.com/pressroom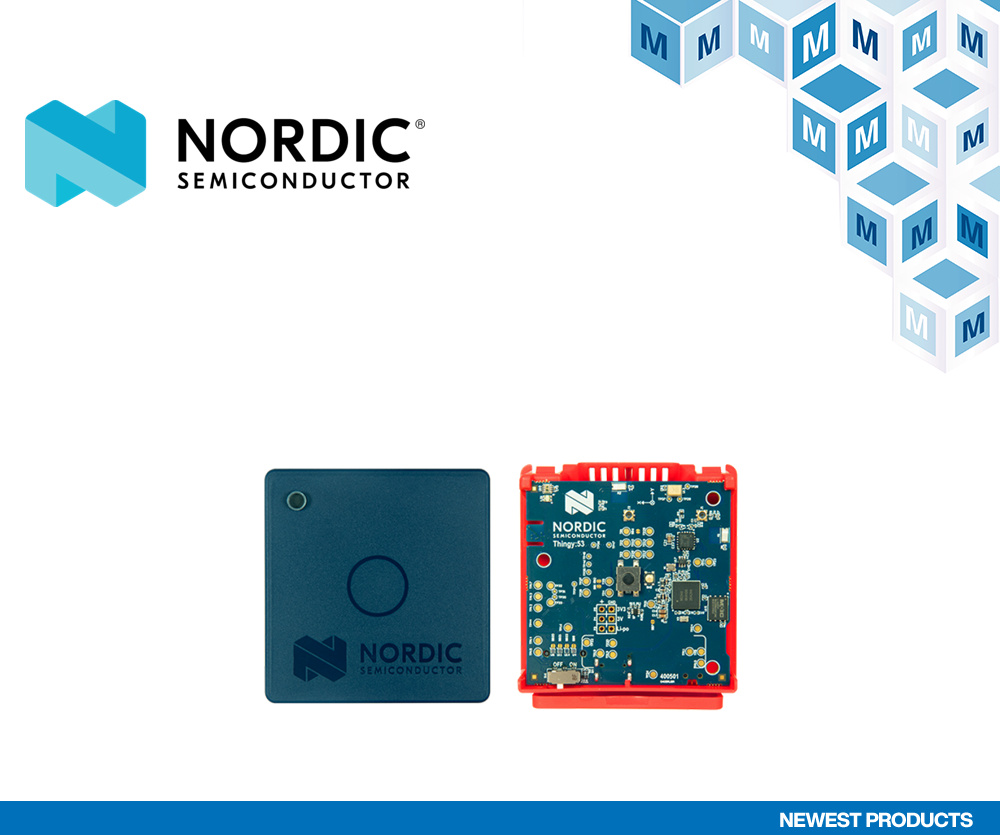 About Mouser Electronics
Mouser Electronics, a Berkshire Hathaway company, is an authorised semiconductor and electronic component distributor focused on New Product Introductions from its leading manufacturer partners. Serving the global electronic design engineer and buyer community, the global distributor's website, mouser.com, is available in multiple languages and currencies and features more than 6,8 million products from over 1.200 manufacturer brands. Mouser offers 27 support locations worldwide to provide best-in-class customer service in local language, currency and time zone. The distributor ships to over 650.000 customers in 223 countries/territories from its 93.000 square-meter, state-of-the-art facilities in the Dallas, Texas, metro area. For more information, visit https://www.mouser.com/.