20. februar 2023
The Latest News from Mouser Electronics
Mouser Electronics, Inc. is focused on supplying 100% certified, genuine products from its manufacturing partners for electronic design engineers and buyers. Mouser introduces hundreds of new products each month and supports innovation by supplying engineers with the newest products, technologies and resources.
The news highlights from Mouser this week are:
New eBook – Qorvo and Mouser Explore the Future in Automotive Design
Mouser announces a new eBook in collaboration with Qorvo, highlighting the technology innovations reshaping automotive design. As automotive manufacturers invest in electric vehicle design, the way in which we power our vehicles is changing. At the same time, new technologies and components are enabling the design of the connected vehicle. These advanced automobiles contain more safety features than their predecessors, while also supporting a variety of new entertainment and information possibilities for those traveling as passengers. In The Future of Automotive, subject matter experts from Qorvo and Mouser offer rich, practical analyses of technologies including vehicle-to-everything (V2X) architectures, ultra-wideband (UWB) communications, and on-board chargers (OBC) for electric vehicles. The eBook highlights product information for six specific Qorvo solutions, connecting automotive designers to the components that will enable the next generation of automobile designs. These products include the QPF1002Q automotive front end module, the QPF1003Q Wi-Fi® front end module and the QPQ2200Q 5855 MHz to 5925 MHz RF bulk acoustic wave (BAW) filter.
Full press release here: https://eu.mouser.com/newsroom/publicrelations-qorvo-automotive-design-ebook-2023final/
New Resource Page – Mouser Offers the Latest Medical Technology Resources with Extensive Content Stream
Mouser offers a cutting-edge resource page dedicated to the medical industry, providing access to a wide array of state-of-the-art products, articles, design guides and more. With the support of their global manufacturing partners, Mouser's expansive portfolio of resources helps electronic design engineers and buyers find the necessary tools, information and materials quickly and efficiently while highlighting trending topics within the medical field, like next-generation medical devices for brain-computer interfaces and the evolution of medical wearables. Additionally, Mouser features content about medical 3D printing, the role of AI/ML within healthcare, digital therapeutics, power management in medical devices and more. The resource page also features products in stock at Mouser, such as the Analog Devices Inc. ADPD4200 sensor front end, the ams OSRAM AS7050 medical and health sensor and the Texas Instruments SimpleLink™ microcontrollers.
Full press release here: https://eu.mouser.com/newsroom/publicrelations-medical-solutions-and-applications-2023final/
New Products – Mouser Offers Wide Portfolio of Products from Infineon Technologies AG
Mouser is an authorised global distributor of solutions from Infineon Technologies AG, a global semiconductor leader in power systems and IoT. Since 2008, Mouser has offered a wide portfolio of products from Infineon, in segments including automotive, industrial power control, power and sensor systems and connected secure systems. The following are just a few of the popular Infineon products available from Mouser: Infineon's portfolio of general-purpose MOSFETs, the XENSIV™ connected sensor kits, the XENSIV™ MEMS microphones and the OPTIGA™ Trusted Platform Module (TPM) security solutions.
Full press release here: https://eu.mouser.com/newsroom/publicrelations-authorized-distributor-infineon-2023final/
To see more new products and Mouser news, go to https://eu.mouser.com/pressroom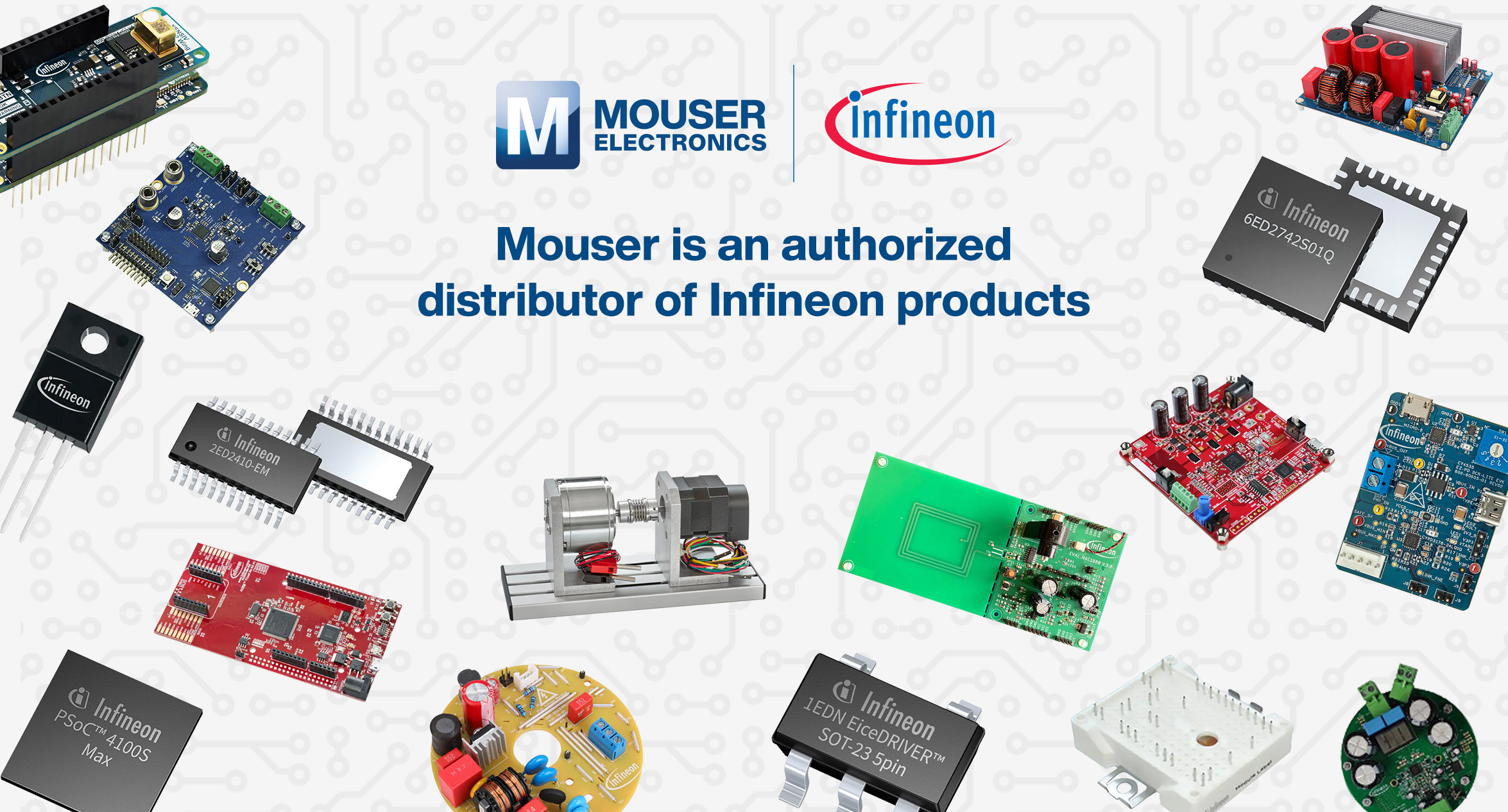 As a global authorised distributor, Mouser offers the world's widest selection of the newest semiconductors and electronic components — in stock and ready to ship™. Mouser's customers can expect 100% certified, genuine products that are fully traceable from each of its manufacturer partners. To help speed customers' designs, Mouser's website hosts an extensive library of technical resources, including a Technical Resource Centre, along with product data sheets, supplier-specific reference designs, application notes, technical design information, engineering tools and other helpful information.
About Mouser Electronics
Mouser Electronics, a Berkshire Hathaway company, is an authorised semiconductor and electronic component distributor focused on New Product Introductions from its leading manufacturer partners. Serving the global electronic design engineer and buyer community, the global distributor's website, mouser.com, is available in multiple languages and currencies and features more than 6,8 million products from over 1.200 manufacturer brands. Mouser offers 27 support locations worldwide to provide best-in-class customer service in local language, currency and time zone. The distributor ships to over 650.000 customers in 223 countries/territories from its 93.000 square-meter, state-of-the-art facilities in the Dallas, Texas, metro area. For more information, visit https://www.mouser.com/.