23. december 2022
The Latest News from Mouser Electronics
Mouser Electronics, Inc. is focused on supplying 100% certified, genuine products from its manufacturing partners for electronic design engineers and buyers. Mouser introduces hundreds of new products each month and supports innovation by supplying engineers with the newest products, technologies and resources.
The news highlights from Mouser this week are:
New eBook – Mouser Highlights Analog Devices' Innovations in Power Management eBook
Mouser announces a new eBook in collaboration with Analog Devices, Inc. exploring the latest innovations in power management and how they can be used in a range of applications. The eBook, titled Power Management for All of Tomorrow's Innovations, examines new technology developments for cutting-edge applications, including electric vehicles, asset tracking, wearables, and Internet of Things (IoT) devices. Today's original equipment manufacturers face a complicated challenge when it comes to power management: an effective design must deliver stable performance while maintaining low power emissions and affordability. From demanding applications like vehicle batteries to the next generation of medical devices and consumer electronics, power management is a vital consideration for the design and manufacture of cutting-edge solutions. The new eBook features a range of articles, infographics, and instructional videos, providing rich context on the use of Analog Devices products in power management applications. The eBook offers direct links to eight relevant products from Analog Devices, including: the LT8316 micropower isolated flyback converters and the LTC2971 two-channel power system managers.
Full press release here: https://eu.mouser.com/newsroom/publicrelations-analog-devices-power-management-ebook-2022final/
New Resource Site – Vicor and Mouser Debut Resource Site for 48 V Designs
Mouser announces the launch of a new resource site in collaboration with Vicor, providing a range of resources for 48 V products and power designs. The site offers a collection of in-depth articles, videos, and infographics, offering designers and manufacturers a comprehensive resource to develop new power designs with higher voltage 48 V distribution. Unlike many common 12 V systems, 48 V systems can support the higher power levels needed to deliver increasing levels of performance and functionality. As power increases, 12 V buses become less efficient and consume more space and weight for cables to carry higher currents. 48 V systems eliminate these space and weight inefficiencies by drastically reducing currents and power losses. The new resource site features a recent instalment of Electronic Engineering Journal's Chalk Talk video series, which provides an easy-to-understand overview of the benefits, history, and applications of 48 V solutions. The site also highlights 48 V products from Vicor. The site also features links to informative product information, videos, and more, including an article that explains why power designs are transitioning from 12 V to 48 V. The article analyses the benefits of 48 V power designs as well as the various applications that could be transformed by this technology.
Full press release here: https://eu.mouser.com/newsroom/publicrelations-vicor-48v-content-stream-2022/
New Products – Mouser Stocks Wide Selection of Over 20,000 Products from TDK Corporation
Mouser is an authorised global distributor of solutions from TDK Corporation. Mouser offers customers over 20,000 parts in stock from TDK and its companies EPCOS, InvenSense, Micronas, Tronics, and TDK-Lambda. The wide range of products from TDK includes semiconductors, optoelectronics, sensors, and passive components. The following are just a few of the TDK products available from Mouser: the μPOL™ DC-DC power modules, the EPCOS CLT32 automotive-grade power inductors and the WCT wireless charging coil. In addition to offering a broad selection of TDK products, Mouser has received many accolades from the valued manufacturer partner, including the Global Best Performance Award for Fiscal Year 2022 and European Distribution Award in High-Service Distribution for 2021.
Full press release here: https://eu.mouser.com/newsroom/publicrelations-tdk-authorized-distributor-2022final/
New Product – Mouser Now Shipping Qorvo DWM3001C 6.5 GHz/8.0 GHz Ultra-Wideband Module for IIoT Applications
Mouser is now shipping the DWM3001C 6.5 GHz and 8.0 GHz ultra-wideband (UWB) module from Qorvo®. This product is a fully integrated UWB module and certified (FCC, ETSI and IC) integrated modem solution to simplify UWB implementation in systems using a standard low-power microcontroller. It features adjustable data rates from 850 kbps to 6.8 Mbps, with maximum packet lengths of 1023 bytes for high-data-throughput applications. The module integrates the DW3110 transceiver IC, Nordic Semiconductor nRF52833 Bluetooth® Low Energy system-on-chip (SoC), a planar UWB antenna, accelerometer, power management and crystal — all bundled together to improve design cycle duration. The RF design of the module is fully tested and calibrated to offer low power consumption for battery-powered applications. This module is compliant with the IEEE 802.15.4z standard and developed in accordance with the FiRa Consortium PHY and MAC specifications and Car Connectivity Consortium (CCC) specifications. The DWM3001C is designed to accelerate Industrial Internet of Things (IIoT) applications for tags, access control, asset tracking and secure bubble environments. This fully integrated module streamlines UWB implementation in applications such as factory and warehouse automation and security systems and provides high-precision, real-time location for healthcare staff and patient applications, retail security, connected home, navigation and more.
Full press release here: https://eu.mouser.com/newsroom/publicrelations-qorvo-dwm3001c-2022final/
To see more new products and Mouser news, go to https://eu.mouser.com/pressroom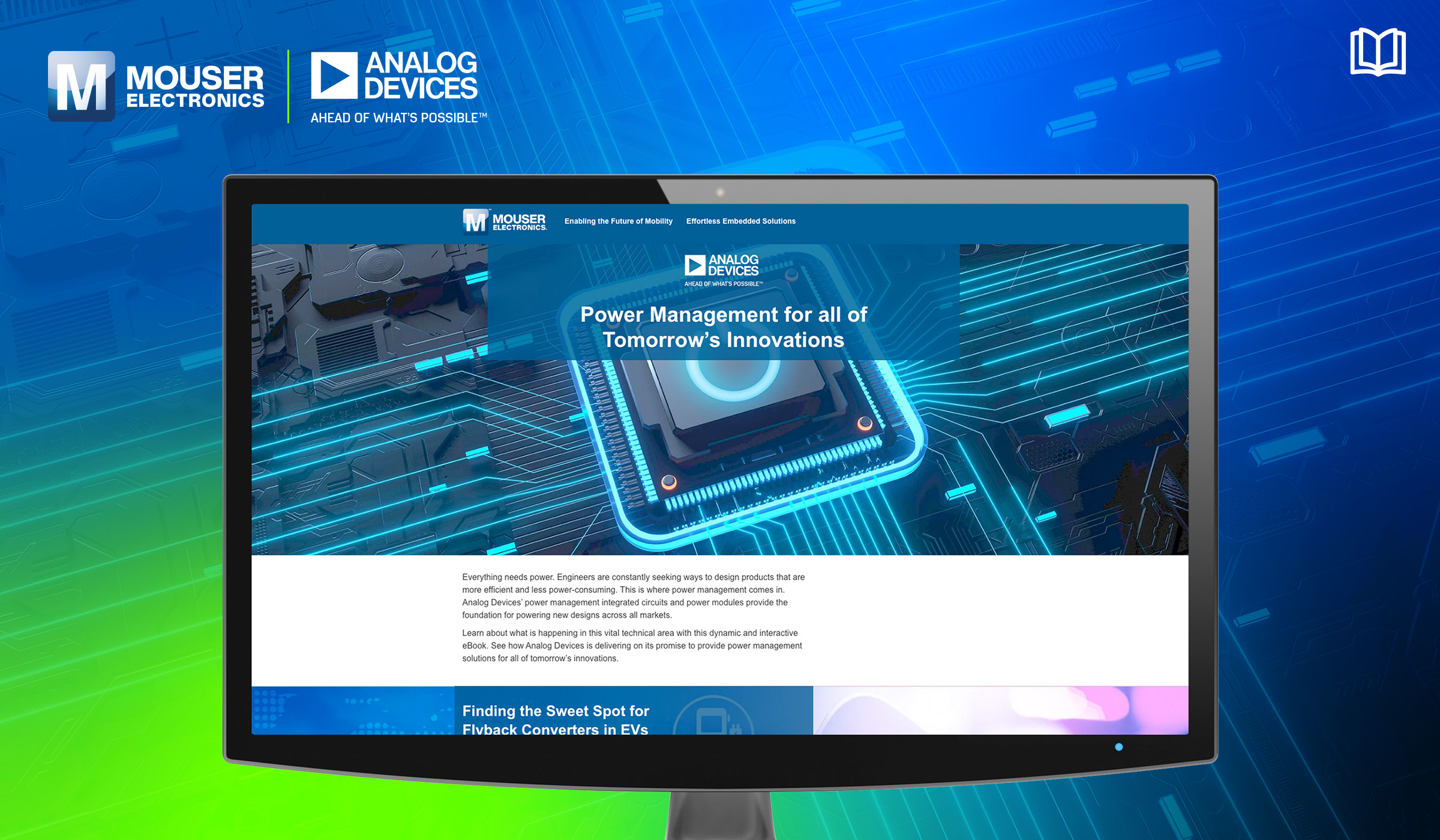 As a global authorised distributor, Mouser offers the world's widest selection of the newest semiconductors and electronic components — in stock and ready to ship™. Mouser's customers can expect 100% certified, genuine products that are fully traceable from each of its manufacturer partners. To help speed customers' designs, Mouser's website hosts an extensive library of technical resources, including a Technical Resource Centre, along with product data sheets, supplier-specific reference designs, application notes, technical design information, engineering tools and other helpful information.
About Mouser Electronics
Mouser Electronics, a Berkshire Hathaway company, is an authorised semiconductor and electronic component distributor focused on New Product Introductions from its leading manufacturer partners. Serving the global electronic design engineer and buyer community, the global distributor's website, mouser.com, is available in multiple languages and currencies and features more than 6,8 million products from over 1.200 manufacturer brands. Mouser offers 27 support locations worldwide to provide best-in-class customer service in local language, currency and time zone. The distributor ships to over 650.000 customers in 223 countries/territories from its 93.000 square-meter, state-of-the-art facilities in the Dallas, Texas, metro area. For more information, visit https://www.mouser.com/.