14. december 2022
The Latest News from Mouser Electronics
Mouser Electronics, Inc. is focused on supplying 100% certified, genuine products from its manufacturing partners for electronic design engineers and buyers. Mouser introduces hundreds of new products each month and supports innovation by supplying engineers with the newest products, technologies and resources.
The news highlights from Mouser this week are:
New Webinar – Mouser and Microchip Technology Present Webinar Focusing on Cellular IoT Application Development
Mouser has teamed up with Microchip Technology to bring the engineering community a new webinar entitled "Cellular IoT Applications." The free live webinar will take place at 3 p.m. Central European Time on Tuesday, 13 December 2022. This webinar will be in English. In this webinar Microchip will share how easy it is to develop cellular IoT applications by covering application development, security management and cloud connectivity. Furthermore, Microchip will demonstrate a reference application step-by-step and will grant participants access to several more tutorials and application examples to leverage. Attendees of the webinar will learn about: edge-node design and cellular IoT applications, ways to quickly and easily cloud-enable an embedded design, how to access, deploy and modify reference design examples and the AVR-IoT Cellular Mini development board. This webinar will be hosted by Mark Patrick, Technical Marketing Manager, EMEA of Mouser Electronics, and Johan Lofstad of Microchip.
Full press release here: https://eu.mouser.com/newsroom/publicrelations-microchip-cellular-iot-webinar-2022final/
New Resource – Mouser Electronics Gives Insight into Latest Automotive Design Trends
Mouser supplies purchasing professionals and engineers with the resources and new products they need to embark on the next frontier of automotive solutions. Through blog posts, articles, videos, and more, Mouser and its leading manufacturer partners provide a deeper understanding of modern automotive challenges and solutions, providing insight into the future of the automotive industry. Highlights include a look at how driver monitoring systems use AI and sensor fusion to improve vehicle safety and an exploration of 5G vehicle-to-vehicle (V2V) and vehicle-to-infrastructure (V2I) networks in enhancing fleet telematics. The following solutions ideal for automotive applications are now stocked at Mouser: the Toshiba SSMx automotive N-channel and P-channel MOSFETs, the Microchip Technology LX34070 inductive position sensor and the TE Connectivity multi-band GNSS ceramic antennas.
Full press release here: https://eu.mouser.com/newsroom/publicrelations-automotive-solutions-focus-2022final/
New Product – Mouser Now Stocking NXP i.MX RT117F EdgeReady Crossover Processors for 3D Facial Recognition
Mouser is now stocking the i.MX RT117F crossover processors from NXP Semiconductors. Expanding on NXP's top-rated EdgeReady portfolio, these processors offer a low-cost, embedded, secure 3D facial recognition solution. This innovative solution enables developers of smart locks and other access control systems to add machine learning-based secure facial recognition capabilities quickly and efficiently to smart homes and smart Industrial Internet of Things (IIoT)-based applications utilising NXP's eIQ® machine learning software. The processors feature NXP's advanced implementation of the Arm® Cortex®-M7 CPU core with 2 MBytes of on-chip SRAM, running at up to 1 GHz to provide higher performance, faster, more accurate facial recognition, improved power efficiency and an overall better user experience. Along with its dual-core processing and security features, the i.MX RT117F also provides a 2D graphics processing unit (GPU), two Gigabit Ethernet ports (and one 10/100 port), two High-Speed USB OTG with PHY, and support for a MIPI display and camera. The combined solution of the i.MX RT117F crossover processor, with a high-performance 3D structured light module (SLM) camera, helps deliver the performance and security of 3D facial recognition at the edge, addressing privacy concerns and eliminating latency typically associated with cloud-based alternatives.
Full press release here: https://eu.mouser.com/newsroom/public-relations-nxp-imx-rt117f-2022final
New Product – Mouser Now Shipping Laird Connectivity's FlexPIFA 2-dBi & 3-dBi Antennas for Wi-Fi and Bluetooth Applications
Mouser is now shipping the FlexPIFA™ 2-dBi and FlexPIFA 3-dBi antennas with MHF1/U.FL cables from Laird Connectivity. These are the industry's first flexible Planar Inverted-F Antennas (PIFA) designed for Wi-Fi or Bluetooth® applications mounting on non-conductive or irregular surfaces, regardless of humidity or hot/cold cycles (-40°C to +85°C). These antennas are designed to improve performance across a broad array of environments, enclosures or even body-worn applications. The 2-dBi FlexPIFA antenna is a very small (40.1 mm × 11 mm × 2.5 mm), single-band (2.4 GHz) device offering 2-dBi peak gain, linear polarisation, and 50 W impedance, ideally suited for Wi-Fi 802.11b/g/n and Bluetooth applications. The 3-dBi FlexPIFA antenna features dual-band (2.4/5.5 GHz) performance in a 38.5 mm × 12.7 mm × 2.5 mm form factor, with 3-dBi peak gain and 50 W impedance. This antenna is also ideal for Wi-Fi 802.11b/g/n and Bluetooth applications, as well as legacy Wi-Fi 802.11a applications. The FlexPIFA family of antennas delivers robust performance and easy installation, making them an ideal solution for challenging Internet of Things (IoT) and harsh environment design applications.
Full press release here: https://eu.mouser.com/newsroom/publicrelations-laird-connectivity-flexpifa-antennas-2022final/
To see more new products and Mouser news, go to https://eu.mouser.com/pressroom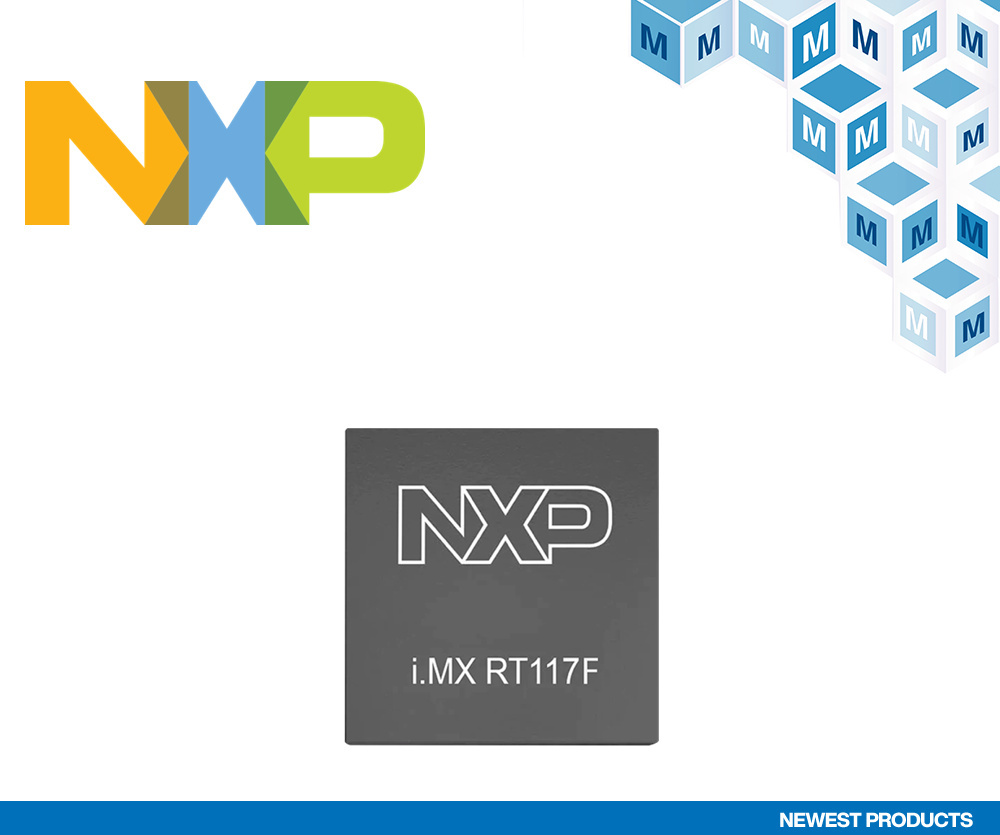 As a global authorised distributor, Mouser offers the world's widest selection of the newest semiconductors and electronic components — in stock and ready to ship™. Mouser's customers can expect 100% certified, genuine products that are fully traceable from each of its manufacturer partners. To help speed customers' designs, Mouser's website hosts an extensive library of technical resources, including a Technical Resource Centre, along with product data sheets, supplier-specific reference designs, application notes, technical design information, engineering tools and other helpful information.
About Mouser Electronics
Mouser Electronics, a Berkshire Hathaway company, is an authorised semiconductor and electronic component distributor focused on New Product Introductions from its leading manufacturer partners. Serving the global electronic design engineer and buyer community, the global distributor's website, mouser.com, is available in multiple languages and currencies and features more than 6,8 million products from over 1.200 manufacturer brands. Mouser offers 27 support locations worldwide to provide best-in-class customer service in local language, currency and time zone. The distributor ships to over 650.000 customers in 223 countries/territories from its 93.000 square-meter, state-of-the-art facilities in the Dallas, Texas, metro area. For more information, visit https://www.mouser.com/.