30. november 2022
The Latest News from Mouser Electronics
Mouser Electronics, Inc. is focused on supplying 100% certified, genuine products from its manufacturing partners for electronic design engineers and buyers. Mouser introduces hundreds of new products each month and supports innovation by supplying engineers with the newest products, technologies and resources.
The news highlights from Mouser this week are:
New Product – Mouser Now Stocking Texas Instruments DAC63202 Precision DAC for High-Performance Computing
Mouser is now stocking the DAC63202 precision digital-to-analogue converter (DAC) from Texas Instruments (TI). Part of TI's family of pin-compatible digital-to-analogue converters, the 12-bit DAC63202 (as well as the 10-bit DAC53202) is a dual-channel, buffered, voltage-output and current-output smart device that delivers an impressive feature set with low power consumption and a compact footprint. The device supports Hi-Z power-down mode and Hi-Z output during power-off conditions, and the DAC outputs provide a force-sense option for use as a programmable comparator and current sink. The device comes equipped with high-impedance and resistive pulldown power-down modes and also offers a high-impedance output when VDD is powered off. For communications to the host application, the DAC63202 device integrates a 50-MHz, SPI-compatible interface and can automatically detect I²C, PMBus, and SPI interfaces. For designers seeking voltage margining and scaling, DC set-point (for biasing and calibration) and waveform generation capabilities, the DACx3202 devices are an ideal fit for a variety of applications, including rack servers, optical modules, inter-DC interconnects (metro), high-performance computing or standard notebook PCs.
Full press release here: https://eu.mouser.com/newsroom/publicrelations-texas-instruments-dacx3202-2022final/
New Announcement – Mouser Electronics and ElectronicWings Announce Winners of 2022 Challenge
Mouser, in association with ElectronicWings, announces the winners of the ElectronicWings Project Challenge 2022, a global design contest aimed at benefiting society through innovation in sustainable and efficient technologies. This year's contest kicked off in April, with Mouser as the primary sponsor. The purpose of the contest is to drive innovation that can advance agritech, automation and manufacturing, transportation and logistics, community development, healthcare, and environmental protection. The challenge awarded prizes totalling over INR 400,000 and attracted 1,331 participants with 167 final project submissions. In addition to the three main prizes, there were also early-bird prizes for the first 50 project submissions, and creative project prizes for the 25 most creative submissions. The first prize winner was Moinak Ghosh for Trukdoc, an AI-based IoT solution for monitoring various parameters of in-transit vehicles. The second prize was awarded to Ankur Verma for Spir-O, an open-source, low-cost, 3D printed Spirometer which can be used to check the health of the lungs. The third prize was awarded to a team of six members for proposing a plan to implement warehouse monitoring via AI-based autonomous swarm robots.
Full press release here: https://eu.mouser.com/newsroom/publicrelations-mouser-ew-challenge-winners-2022final/
New Product – Mouser Now Shipping ams OSRAM OSLON UV 6060 and OSLON Optimal Deep Blue and Horti White LEDs
Mouser is now stocking the OSLON® UV 6060 for UV-C purification applications and the OSLON® Optimal horticulture LEDs from ams OSRAM. The OSLON UV 6060 LED is designed to support applications that require purification and sanitisation of air, surfaces and water. The OSLON UV 6060 delivers 100 mW of radiant flux from a single die source at a peak wavelength of 265 nm. This robust LED system solution provides higher germicidal effectiveness and market-leading wall-plug efficiency while offering greater flexibility, smaller size and instant-on functionality not seen with traditional lighting technologies. The OSLON UV 6060 can be installed directly at the point of use for space-critical horticulture, sensing or UV-C treatment-based applications. The new ams OSRAM OSLON Optimal LEDs are available in a flexible mix of colour and white options, designed specifically to meet the varied requirements of horticultural lighting applications. Based on the latest ams OSRAM 1 mm × 1 mm chip, the OSLON Optimal LEDs offer an outstanding combination of high efficiency, reliable performance, long life and affordability. Both LEDs feature a new, larger spherical lens which produces a wide 120-degree viewing angle. This upgrade offers a more even light distribution over crops and avoids "hot spots" of concentrated light. The OSLON Optimal Deep Blue and Horti White LEDs are offered in a compact 3 mm × 3 mm 3030 SMT ceramic package with a silicone lens. Target applications include horticulture lighting, architectural lighting, phototherapy and outdoor and industrial lighting.
Full press release here: https://eu.mouser.com/newsroom/publicrelations-ams-osram-oslon-uv-6060-optimal-2022final/
New Agreement – Mouser Signs Global Distribution Agreement with Menlo Micro to Deliver Ideal Switch Products
Mouser has signed a new distribution agreement with Menlo Micro, a manufacturer responsible for creating an entirely new category of electronic switches for RF, microwave, millimetre wave, AC/DC power solutions and much more. Through the agreement, Mouser is now stocking Menlo Micro Ideal Switch® products. The Menlo Micro Ideal Switch delivers the benefits of both an electromechanical relay and a semiconductor switch with no compromises. The tiny, fast, and reliable MEMS-based switching devices withstand extreme temperatures, boast ultra-low losses and can handle thousands of watts. They can be manufactured at scale with conventional semiconductor equipment. The Ideal Switch can be used for test and measurement, medical, electric vehicle (EV) chargers, smart switches and plugs, Mil-Aero, Internet of Things (IoT), computing, switch matrix, wireless infrastructure, 5G networks and many more applications. The Menlo Micro product line now available from Mouser includes the MM5600 double-pole, double-throw (DPDT) differential switch, the MM5120, DC – 18 GHz single-pole, four-throw (SP4T) switch, the Menlo Micro MM5130 high-power SP4T RF switch and the MM5140 is a high-power, DC – 6 GHz RF SP4T switch.
Full press release here: https://eu.mouser.com/newsroom/publicrelations-menlo-micro-new-manufacturer-2022final/
New Sponsorship – Mouser Supports Run with Heart Charity Fundraiser
Mouser proudly served as a major sponsor of the eighth annual Mansfield Run with Heart race, benefitting Methodist Mansfield Medical Center. All proceeds from the November 12 event support the cardiac rehabilitation unit at the hospital. The event wound through the streets of Mansfield, Texas, the home of Mouser's headquarters and global distribution centre. Mouser has sponsored the race every year, and this year took the Largest Corporate Team Award, given to the team with the most participants, and the Fastest Corporate Team Award. Mouser has long been an active sponsor of community and charitable events, such as the Susan G. Komen Foundation, Mansfield Cares, Mansfield ISD Foundation and many other organisations.
Full press release here: https://eu.mouser.com/newsroom/publicrelations-mouser-run-with-heart-2022final/
New Products – Mouser Stocks Wide Variety of Infineon General-Purpose MOSFETs for Power Conversion Applications
Mouser offers a wide range of general-purpose MOSFETs from Infineon Technologies. For designers seeking MOSFETs to help meet project, pricing, or logistical requirements, Infineon's broad portfolio of high-voltage and low-voltage MOSFETs deliver flexibility, value and adaptability for a wide variety of applications. The high-voltage MOSFETs feature drain-source breakdown voltages ranging from 500 V to 900 V, a drain-source resistance from 77 mOhms to 4.68 Ohms, and a continuous drain current ranging from 1 A to 54.9 A. The minimum operating temperature for these devices goes as low as -40°C, and power dissipation ranges from 5 W to 500 W. Infineon general-purpose MOSFETs are available in both low-voltage versions for designs up to 250 V or high-voltage options for designs from 500 V to 900 V. The low-voltage MOSFETs include a wide range of single and dual N- and P-channel devices with drain-source breakdown voltages ranging from 20 V to 600 V. The drain-source resistance for these devices is rated at 1.1 mOhms to 30 Ohms, and the continuous drain current ranges from 100 mA to 260 A. These low-voltage MOSFETs have an operating temperature range from -55°C to +175°C and are AEC-Q101 qualified. Ideally suited for a broad range of power conversion and management applications, these general-purpose MOSFETs can be integrated into designs that require reverse battery protection capabilities, switching power between alternate sources, or the powering down of unrequired loads. Target applications include switch mode power supplies, chargers and adapters, lighting, TV power supplies, server/telecom devices, battery-powered applications, motor control and drives, and battery management systems.
Full press release here: https://eu.mouser.com/newsroom/publicrelations-infineon-general-purpose-mosfets-2022final/
New Episode – Mouser Gives a Closer Look at Autonomous Mobile Robots in New Instalment of Empowering Innovation Together
Mouser announces the final 2022 episode of its award-winning Empowering Innovation Together™ program. The new instalment delves into recent developments in autonomous mobile robots (AMRs), which have led to new enhancements and cutting-edge applications across a number of industries. Although AMRs have been around since the 1990s, they have since received a technological tune-up thanks to artificial intelligence, computer vision systems, and 5G communications. These technologically advanced robots have provided new levels of flexibility, autonomy and usefulness in manufacturing, warehousing and logistics, overall maximising efficiencies. In this instalment, audiences can listen to The Tech Between Us podcast, watch a new Then, Now & Next video, and read through other exclusive content to gain deeper insight into the applications and technologies that power and support AMRs, as well as business use cases.
Full press release here: https://eu.mouser.com/newsroom/publicrelations-eit-ep6-amr-2022final/
To see more new products and Mouser news, go to https://eu.mouser.com/pressroom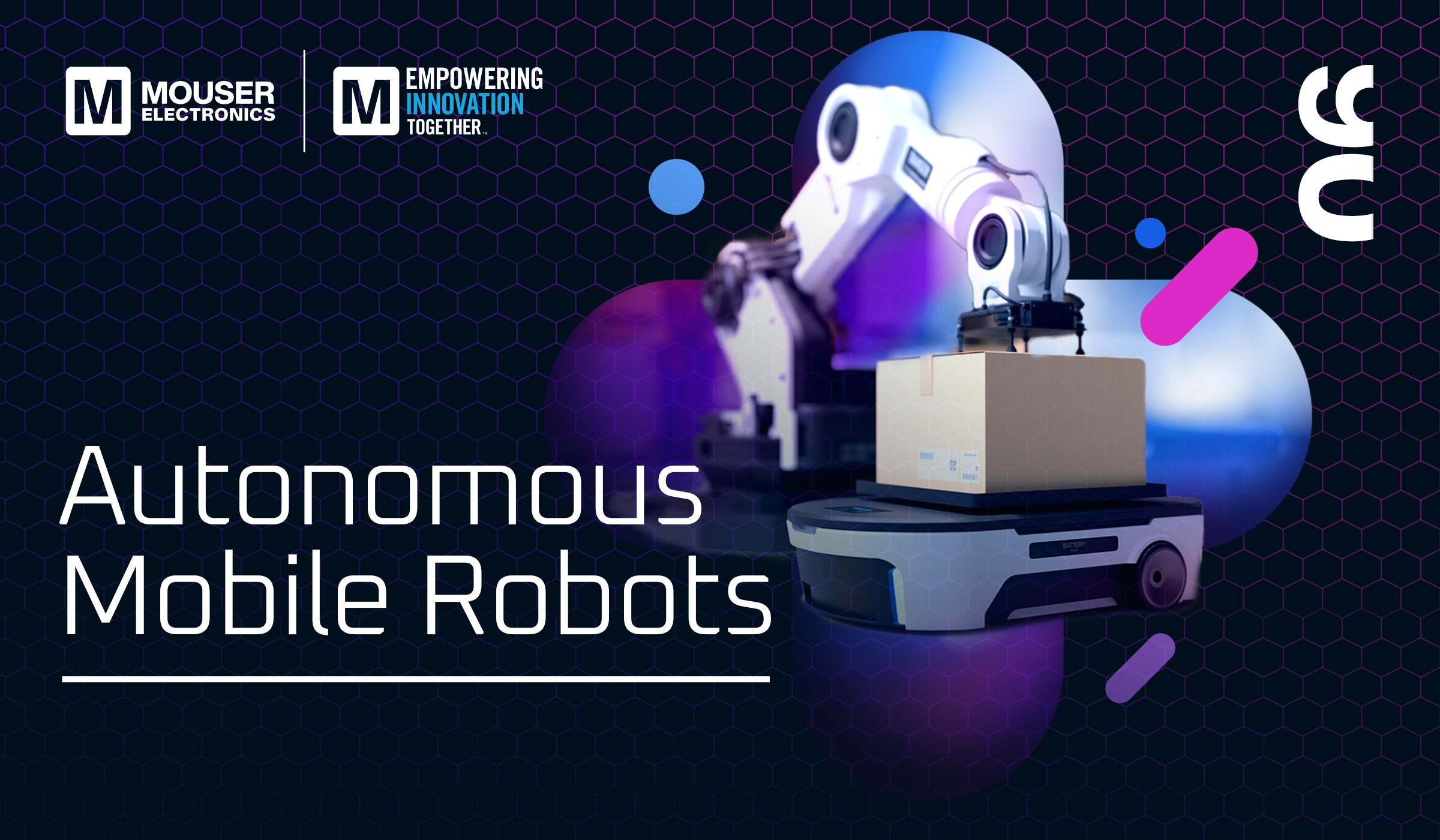 As a global authorised distributor, Mouser offers the world's widest selection of the newest semiconductors and electronic components — in stock and ready to ship™. Mouser's customers can expect 100% certified, genuine products that are fully traceable from each of its manufacturer partners. To help speed customers' designs, Mouser's website hosts an extensive library of technical resources, including a Technical Resource Centre, along with product data sheets, supplier-specific reference designs, application notes, technical design information, engineering tools and other helpful information.
About Mouser Electronics
Mouser Electronics, a Berkshire Hathaway company, is an authorised semiconductor and electronic component distributor focused on New Product Introductions from its leading manufacturer partners. Serving the global electronic design engineer and buyer community, the global distributor's website, mouser.com, is available in multiple languages and currencies and features more than 6,8 million products from over 1.200 manufacturer brands. Mouser offers 27 support locations worldwide to provide best-in-class customer service in local language, currency and time zone. The distributor ships to over 650.000 customers in 223 countries/territories from its 93.000 square-meter, state-of-the-art facilities in the Dallas, Texas, metro area. For more information, visit https://www.mouser.com/.