21. september 2022
The Latest News from Mouser Electronics
Mouser Electronics, Inc. is focused on supplying 100% certified, genuine products from its manufacturing partners for electronic design engineers and buyers. Mouser introduces hundreds of new products each month and supports innovation by supplying engineers with the newest products, technologies and resources.
The news highlights from Mouser this week are:
New Resource – Mouser and Molex Highlight RF Connectors in Smart Agriculture and Beyond in New Content Stream
Mouser announces the launch of a new content stream in collaboration with Molex, exploring the capabilities, challenges, and transformative potential of RF connectors. The content stream features more than a dozen in-depth resources on RF technology, with each piece of content linking directly to product information, connecting device manufacturers to the tools they need for their design applications. The content stream features The Power of Smart Agriculture & the Role of RF Technology, a new podcast episode putting technological advancements in the context of agriculture's significant role in society. In this episode, Darren Schauer, Product Manager of RF and Microwave Products at Molex, and David Pike, Content Director at Connector Geek describe the potential applications of RF connectors in smart agriculture, including the dramatic expansion of information and data through connected machinery and sensors. The stream also features a blog post, Cracking the Rural Access Nut: Is 5G the Answer?, from Molex Senior Director of Product Management and Marketing, Roger Kaufmann, explaining how 5G radio frequencies can bring reliable connectivity to previously unserved rural areas. Furthermore, the stream includes a Smart AG White Paper, which analyses the newest applications in smart agriculture, as well as the technology advancements making them possible.
Full press release here: https://eu.mouser.com/newsroom/publicrelations-molex-rf-connectors-content-stream-2022final
New Product – Mouser Now Stocking Qorvo QPA1724 Ku/K-Band GaN Power Amp Optimised for Military and Commercial SATCOM
Mouser is now stocking the QPA1724 Ku/K-Band gallium nitride (GaN) power amplifier (PA) from Qorvo®. Delivering twice the power of similar PAs, and offering excellent wideband linear power, gain and power added efficiency, the QPA1724 is a market leader in RF performance for both commercial and defence markets. This product is a high-power MIMIC amplifier targeted for the 17.3 to 21.2 GHz SATCOM (Ku-K) band and delivers a saturated output power of 20 W (~43 dBm) with a small signal gain of 25 dB and power-added efficiency (PAE) of 27%. Fabricated using Qorvo's production 0.15 μm GaN-on-SiC process (QGaN15), the device includes on-chip blocking capacitors following the DC grounds on the input and output ports. It is ideal for commercial and military radar and satellite communication (SATCOM) applications, including low-earth-orbit constellations and wide bandwidth, multi-carrier high-data throughput solutions.
Full press release here: https://eu.mouser.com/newsroom/publicrelations-qorvo-qpa1724-2022final/
New Product: Laird Connectivity's Summit SOM 8M Plus Development Kit for Demanding IoT Applications Now at Mouser
Mouser is now stocking the new Summit SOM 8M Plus Development Kit from Laird Connectivity. This development kit allows engineers to develop Laird Connectivity's Summit system-on-module (SOM) 8M Plus, a highly integrated software and hardware solution. The kit combines NXP's i.MX 8M Plus applications processor with an NXP 88W8997 wireless system-on-chip. The Summit SOM 8M Plus includes an integrated 2.3 TOPS neural processing unit, advanced connectivity, and enhanced security, providing the hardware acceleration necessary for sophisticated machine learning applications. This product supports the development of advanced wireless Internet of Things (IoT) applications, including industrial IoT devices for harsh environments, IoT vision solutions, and healthcare devices.
Full press release here: https://eu.mouser.com/newsroom/publicrelations-laird-connectivity-summit-8m-plus-kit-2022final/
New Resource – Test Your Science Trivia While Donating to STEM Education with Mouser's Tech Quotient App
Mouser is proud to announce a new initiative that pairs its Tech Quotient trivia app with promoting science, technology, engineering, and math (STEM) education. Tech Quotient is a fun app for mobile devices that tests players' technical knowledge, engineering know-how and pop culture acumen through entertaining tasks and quizzes. The app offers players around the world the chance to compare their skills and knowledge in challenges ranging from word scrambles and crosswords to multiple-choice quizzes and ranking questions. Players receive merit badges for different technical achievements, and the game's top players are highlighted in a global leader board. To celebrate the start of a new school year, Mouser is making a donation to local STEM education for each app download.
Full press release here: https://eu.mouser.com/newsroom/publicrelations-tech-quotient-back-to-school-2022final/
New Product – Mouser Now Shipping UnitedSiC (Now Qorvo) 750V UJ4C/SC SiC FETs in D2PAK-7L Package for Industrial Applications
Mouser is now stocking the UJ4C/SC FETs from UnitedSiC (now Qorvo®) in an industry-standard, D2PAK-7L surface-mount package. The UJ4C/SC series devices are 750 V silicon carbide field-effect transistors (SiC FETs) that capitalise on the D2PAK-7L package option to deliver low switching loss, increased efficiency at higher speeds, and improved system power density. The devices leverage a unique cascode SiC FET technology in which a normally on SiC JFET is co-packaged with a silicon MOSFET to produce a normally off SiC FET. The FETs reduce inductance from compact internal connection loops, which, along with the included Kelvin source connection, results in low switching loss, enabling higher frequency operation and improved system power density. The FETs are optimised for applications such as onboard chargers, soft-switched DC/DC converters, battery charging, and IT/server power supplies.
Full press release here: https://eu.mouser.com/newsroom/publicrelations-qorvo-unitedsic-uj4c-uj4sc-d2pak7l-2022final/
To see more new products and Mouser news, go to https://eu.mouser.com/pressroom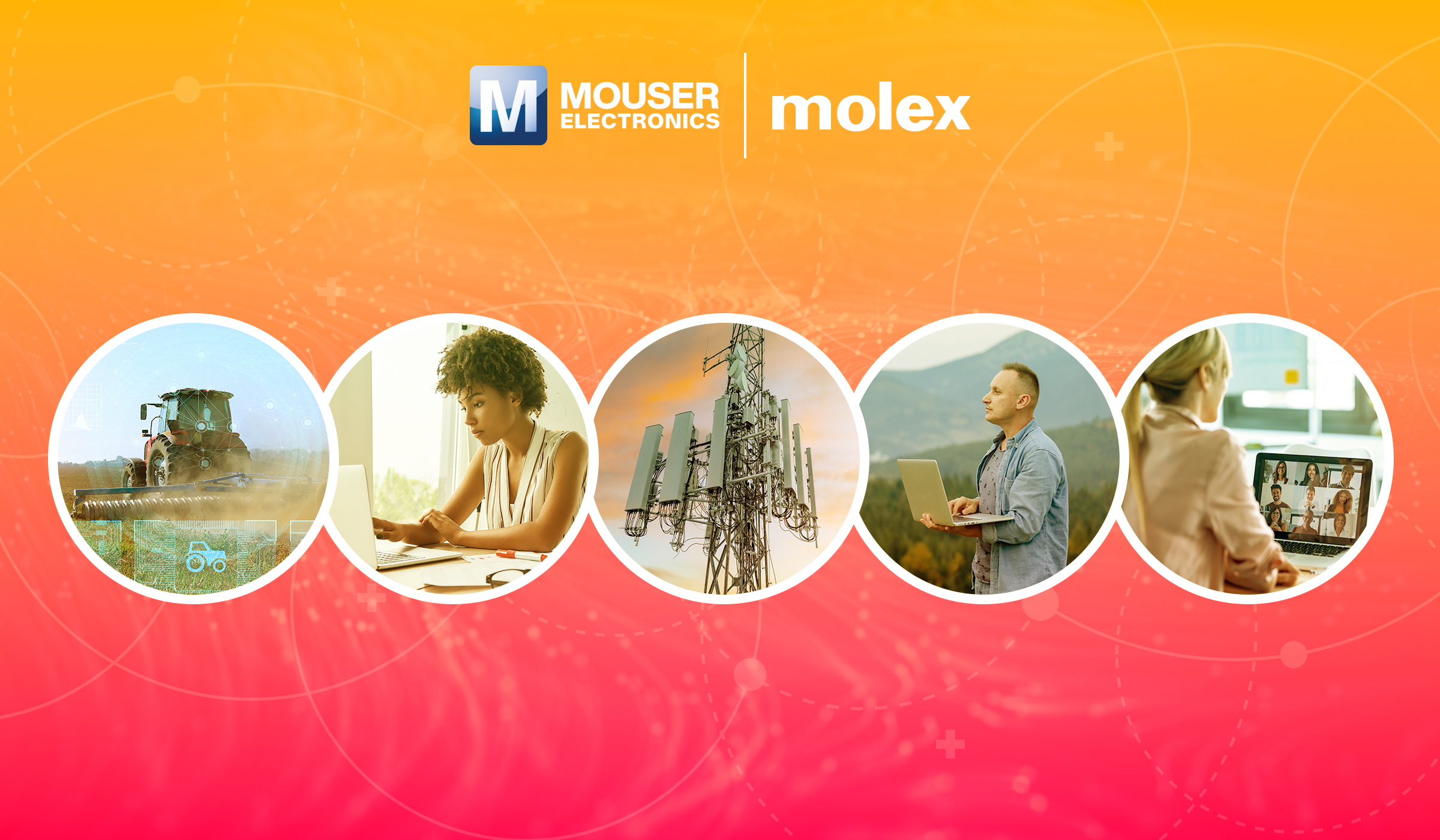 As a global authorised distributor, Mouser offers the world's widest selection of the newest semiconductors and electronic components — in stock and ready to ship™. Mouser's customers can expect 100% certified, genuine products that are fully traceable from each of its manufacturer partners. To help speed customers' designs, Mouser's website hosts an extensive library of technical resources, including a Technical Resource Centre, along with product data sheets, supplier-specific reference designs, application notes, technical design information, engineering tools and other helpful information.
About Mouser Electronics
Mouser Electronics, a Berkshire Hathaway company, is an authorised semiconductor and electronic component distributor focused on New Product Introductions from its leading manufacturer partners. Serving the global electronic design engineer and buyer community, the global distributor's website, mouser.com, is available in multiple languages and currencies and features more than 6,8 million products from over 1.200 manufacturer brands. Mouser offers 27 support locations worldwide to provide best-in-class customer service in local language, currency and time zone. The distributor ships to over 650.000 customers in 223 countries/territories from its 93.000 square-meter, state-of-the-art facilities in the Dallas, Texas, metro area. For more information, visit https://www.mouser.com/.