8. august 2022
The Latest News from Mouser Electronics
Mouser Electronics, Inc. is focused on supplying 100% certified, genuine products from its manufacturing partners for electronic design engineers and buyers. Mouser introduces hundreds of new products each month and supports innovation by supplying engineers with the newest products, technologies and resources.
The news highlights from Mouser this week are:
New Resource Site – Mouser Equips Engineers with Latest Insights into Smart Infrastructure
Mouser offers engineers the information, knowledge and products they need to build the infrastructure of today and tomorrow. With in-depth articles from top industry experts, the infrastructure resource site provides insights into the latest technologies, trends, and challenges facing the engineers designing the cities of the future. Article topics include using sensors to maintain structurally sound bridges, vehicle-to-infrastructure (V2I) data, and distribution of electric vehicle (EV) charging stations. The resource site links to solutions suitable for infrastructure applications including: the TE Connectivity's PTF Family platinum temperature sensors, the TDK MiniCell™ differential pressure transmitters and the Microchip Technology MCP3x6x sigma-delta analog-to-digital converters (ADCs).
Full press release here: https://eu.mouser.com/newsroom/publicrelations-smart-infrastructure-focus-2022final/
New Agreement – Mouser and Allegro MicroSystems Announce Global Distribution Agreement
Mouser announces a new global distribution agreement with Allegro MicroSystems, a global leader in power and sensing solutions for motion control and energy-efficient systems. Through the agreement, Mouser will offer customers Allegro MicroSystems' broad range of sensor ICs, drivers, regulators, and power modules, which provide ideal solutions for automotive, industrial, consumer, and energy and infrastructure applications. Mouser now offers Allegro MicroSystems' high-precision devices, including switches and latches, position sensors, current sensors, and magnetic speed sensors. The range of products includes: the ACS72981 linear Hall effect current sensor ICs, the ACS37612 coreless Hall effect current sensor ICs offer, the A31315 3D magnetic position sensor ICs and single-output regulators.
Full press release here: https://eu.mouser.com/newsroom/publicrelations-allegro-microsystems-new-manufacturer-2022final/
New Product – Mouser Now Stocks Microchip's AVR DD Family MCUs
Mouser is now stocking AVR® DD family microcontrollers from the Microchip Technology. Microchip AVR DD Family microcontrollers use the AVR CPU with hardware multiplier running at clock speeds up to 24 MHz. The AVR DD includes 16/32/64 kB of flash, 2/4/8 kB of SRAM, and 256 bytes of EEPROM and are available in 14-, 20-, 28-, and 32-pin packages. The family uses Microchip Technology's flexible and low-power architecture, including Event System, intelligent analog features, and advanced digital peripherals. These microcontrollers are ideal for safety-critical industrial and automotive applications.
Full press release here: https://eu.mouser.com/newsroom/microchip-avr-dd-mcus/
To see more new products and Mouser news, go to https://eu.mouser.com/pressroom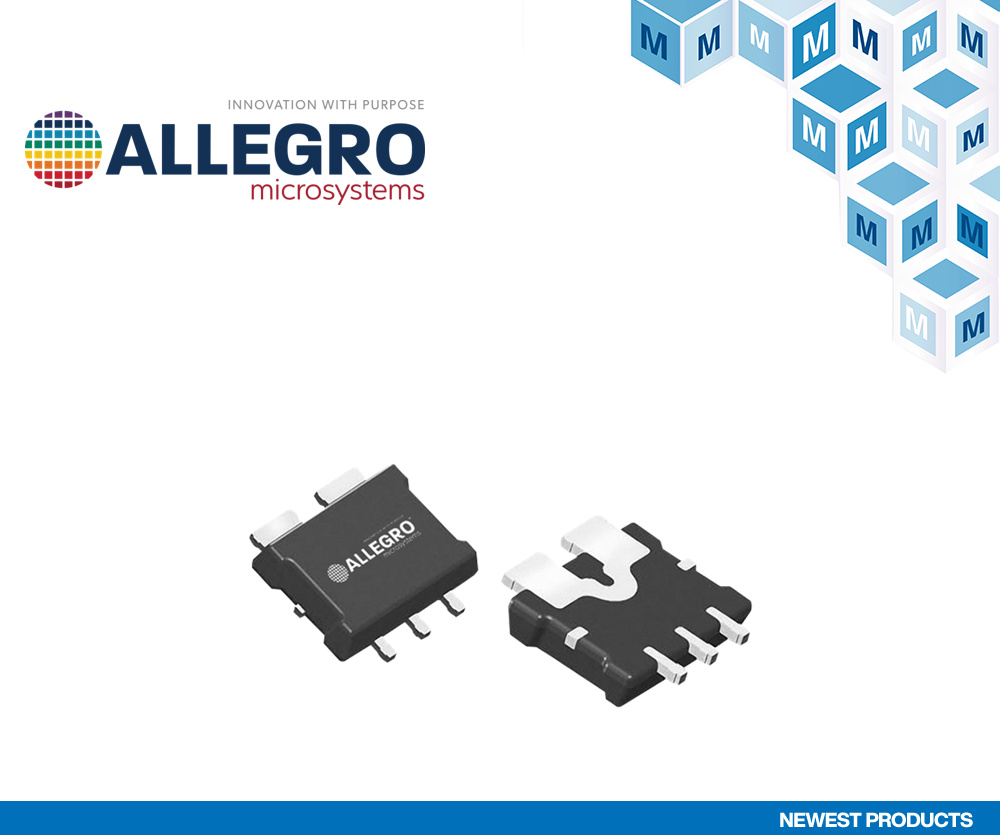 About Mouser Electronics
Mouser Electronics, a Berkshire Hathaway company, is an authorised semiconductor and electronic component distributor focused on New Product Introductions from its leading manufacturer partners. Serving the global electronic design engineer and buyer community, the global distributor's website, mouser.com, is available in multiple languages and currencies and features more than 6,8 million products from over 1.200 manufacturer brands. Mouser offers 27 support locations worldwide to provide best-in-class customer service in local language, currency and time zone. The distributor ships to over 650.000 customers in 223 countries/territories from its 93.000 square-meter, state-of-the-art facilities in the Dallas, Texas, metro area. For more information, visit https://www.mouser.com/.