1. august 2022
The Latest News from Mouser Electronics
Mouser Electronics, Inc. is focused on supplying 100% certified, genuine products from its manufacturing partners for electronic design engineers and buyers. Mouser introduces hundreds of new products each month and supports innovation by supplying engineers with the newest products, technologies and resources.
The news highlights from Mouser this week are:
New Product – Mouser Now Shipping TE Connectivity's Mezalok High-Speed Low-Force XMC Connectors for Rugged Applications
Mouser is now stocking Mezalok High-Speed Low-Force (HSLF) XMC connectors from TE Connectivity (TE). Designed specifically for mezzanine applications, these products meet qualification requirements of legacy Mezalok high-speed connectors. They offer improved signal processing for embedded computing interconnects in mezzanine applications and feature a significant reduction in required mating and unmating force—by 32% and 47%, respectively—and meet robust standards listed in VITA 47 and VITA 72. The connectors are available with 60 or 114 positions in six-row configurations, with stack height options of 10 mm and 12 mm, making installation and upgrades easier. They are ideal for aerospace, ground vehicle, marine, and other ruggedised applications.
Full press release here: https://eu.mouser.com/newsroom/publicrelations-te-connectivity-mezalok-hslf-xmc-2022final/
New eBook – Mouser and Microchip Highlight Flexibility and Function of Embedded Solutions in New eBook
Mouser announces a new eBook in collaboration with Microchip Technology, exploring the use of embedded microcontrollers in device design. In Effortless Embedded Solutions, industry thought leaders offer unique perspectives on how Microchip microcontrollers can simplify device design for medical, safety, and Internet of Things (IoT) applications. The eBook features a combination of informative videos and articles to explain the vital roles Microchip products play in applications ranging from testing medical solutions to deploying IoT devices. Furthermore, it provides direct links to key Microchip products such as the 32-bit SAM microcontroller family which offer an extensive range of advanced peripherals, providing a high-performance combination of power efficiency and design flexibility. The eBook also features PIC16F15 mid-range microcontrollers which are designed specifically for applications requiring efficient performance. The devices' highly integrated architecture and peripherals support low power consumption and reduced operating costs, making them an ideal choice for a variety of general-purpose applications.
Full press release here: https://eu.mouser.com/newsroom/publicrelations-microchip-effortless-embedded-solutions-2022final/
New Products – Mouser Electronics Offers 41,000+ Parts from Littelfuse
Mouser is an authorised global distributor of solutions from Littelfuse, an industrial technology manufacturing company empowering a sustainable, connected, and safer world. Mouser offers customers over 41,000 parts from Littelfuse and its companies, which include IXYS, IXYS Integrated Circuits, Zilog, Hartland Controls, and Carling Technologies. Mouser stocks an ever-widening selection of the company's newest circuit protection devices, sensors, terminal blocks, and more, constantly adding new products for design chain to supply chain™. The range of Littelfuse products include: the Xtreme Series radial leaded varistors, the DCN Series high-current, high-voltage DC contactor relays, the PSX Powr-Speed® square body fuses and the Hartland Controls HCC Series single- and double-pole definite purpose contactors.
Full press release here: https://eu.mouser.com/newsroom/publicrelations-littelfuse-authorized-distributor-2022final/
New Product – Mouser Now Stocks Texas Instruments ADC354x Ultra-Low-Power ADCs
Mouser is now stocking ADC354x low-noise, ultra-low-power analog-to-digital converters (ADCs) from Texas Instruments. The ADCs are 14-bit, 10–65 MSPS, high-speed devices that deliver a –155dBFS/Hz noise spectral density and consume only 79 mW at 65 MSPS, with the power consumption scaling very well with lower sampling rates. High-speed control loops benefit from the short latency of only one clock cycle. The ADC354x offer great DC precision and IF sampling support, making them an excellent choice for a wide range of applications, including high-speed data acquisition, industrial monitoring, thermal imaging, and smart grids.
Full press release here: https://eu.mouser.com/newsroom/ti-adc354x-ultra-low-power-adcs/
New Product – Mouser Now Shipping Crocus CT41x XtremeSense TMR Current Sensors
Mouser is now stocking CT41x XtremeSense® tunnel magnetoresistance (TMR) sensors from Crocus Technology. The sensors are high-bandwidth, ultra-low-noise integrated contact current sensors that use the patented XtremeSense TMR technology to enable high-accuracy current measurements for many consumer, enterprise, and industrial applications. These components support eight current ranges where the integrated current carrying conductor (CCC) will handle up to 65 A of current and generates a current measurement as a linear analog output voltage. The eight-lead, SOIC-packaged sensors achieve a total output error of about ±1.0% full-scale (FS) and a 300 ns output response time, at a current consumption of just 6 mA. Applications for the sensors include solar and power inverters, appliances, motors control, power supplies, and battery management systems.
Full press release here: https://eu.mouser.com/newsroom/crocus-ct41x-current-sensors/
To see more new products and Mouser news, go to https://eu.mouser.com/pressroom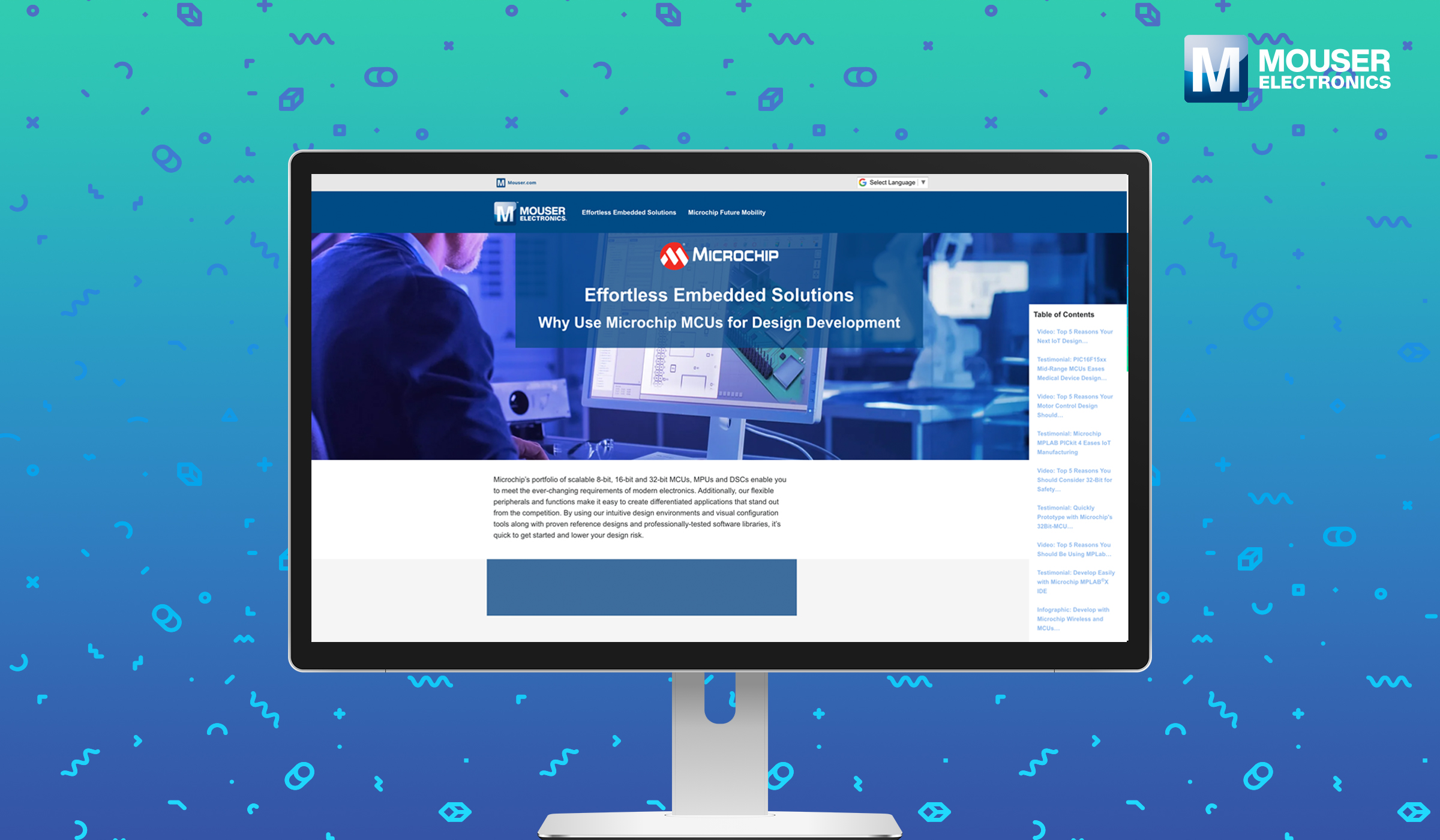 About Mouser Electronics
Mouser Electronics, a Berkshire Hathaway company, is an authorised semiconductor and electronic component distributor focused on New Product Introductions from its leading manufacturer partners. Serving the global electronic design engineer and buyer community, the global distributor's website, mouser.com, is available in multiple languages and currencies and features more than 6,8 million products from over 1.200 manufacturer brands. Mouser offers 27 support locations worldwide to provide best-in-class customer service in local language, currency and time zone. The distributor ships to over 650.000 customers in 223 countries/territories from its 93.000 square-meter, state-of-the-art facilities in the Dallas, Texas, metro area. For more information, visit https://www.mouser.com/.