8. juni 2022
The Latest News from Mouser Electronics
Mouser Electronics, Inc. is focused on supplying 100% certified, genuine products from its manufacturing partners for electronic design engineers and buyers. Mouser introduces hundreds of new products each month and supports innovation by supplying engineers with the newest products, technologies and resources.
The news highlights from Mouser this week are:
New Award – Mouser Receives Distributor Partner of the Year Award from Neutrik
Mouser is proud to announce that it has received the 2021 Distributor Partner of the Year award from Neutrik Americas. Neutrik is the leading provider of professional audio, video, and lighting (AVL) connector systems. In presenting the award, Neutrik praised Mouser's excellence and performance in overall sales growth, cooperative marketing engagement, support in growing new business and supporting customers, and strong business relationship.
Full press release here: https://eu.mouser.com/newsroom/publicrelations-neutrik-distributor-partner-year-award-2022final/
New Resource – Mouser and Phoenix Contact Announce New Solution Microsite Dedicated to Energy Storage Devices
Mouser and Phoenix Contact have created a new microsite devoted to the portfolio of energy storage devices from Phoenix Contact. The new page offers a suite of resources for the design and development of energy storage systems, including a detailed infographic, which provides engineers with essential information on energy storage system design, as well as convenient links to relevant Phoenix Contact solutions. The microsite also features informational videos that take designers through the benefits of the products.
Full press release here: https://eu.mouser.com/newsroom/publicrelations-phoenix-contact-energy-storage-2022final/
New Event – Mouser to Empower Design Engineers at Embedded World 2022
Mouser will be exhibiting at Embedded World 2022 in Nuremberg, Germany, June 21 through June 23, 2022. Attendees can find the Mouser exhibit in Hall 4A, Booth 102. Attendees can visit the Mouser Demo Pod to experience some of the latest technologies from Mouser's manufacturing partners, including voice control for home automation, people counting for smart buildings, smart home environmental data monitoring, indoor air quality monitor and Bluetooth®Mesh lighting for smart home. All visitors to Mouser's booth are also welcome to take part in the "spin-to-win" game for a chance to win one of a host of gadgets and goodies, including a high-quality miniature multi-tool, multimetre test equipment, and more.
Full press release here: https://eu.mouser.com/newsroom/publicrelations-embedded-world-2022final/
New Sponsorship – Mouser Named Philanthropic Partner of Senior Engineering Design Showcase
Mouser is pleased to have been a Philanthropic Partner of the 2022 ExCEllence in Senior Design (ESD) Showcase, May 19 and 20 the University of Texas at Dallas. The ESD Showcase highlights a range of design problems that electrical and computer engineering (ECE) students tackled during their senior projects. While in college, ECE students become proficient in cutting-edge technology to help solve the broadest set of problems facing people today.
Full press release here: https://eu.mouser.com/newsroom/publicrelations-ecedha-ecef-esd-showcase-2022final/
New Product – Mouser Now Stocks Bosch BMP390 Pressure Sensor Improves Indoor Navigation in Emergencies
Mouser is now stocking the BMP390 barometric pressure sensor from Bosch. The BMP390 is an ultra-small, low-power and low-noise 24-bit absolute barometric pressure sensor with vertical (z-axis) capabilities that enable accurate indoor localisation with smartphones in case of emergencies. The minuscule, single-package BMP390 solution enhances design flexibility to allow easy integration into a multitude of existing and developing applications, including Internet of Things (IoT) devices, smartphones, GPS modules, wearables, hearables and drones.
Full press release here: https://eu.mouser.com/newsroom/publicrelations-bosch-bmp390-2022final/
New Award – Mouser Recognised As Global Distributor of the Year by Littelfuse for Fifth Consecutive Year
Mouser proudly announces that it has received the 2021 Global High-Service Distributor of the Year award from Littelfuse, an industrial technology manufacturing company empowering a sustainable, connected, and safer world. Littelfuse present the award to Mouser at the 2022 EDS Leadership Summit in Las Vegas. This is the fifth consecutive year and 11th time overall that Mouser has won this prestigious award.
Full press release here: https://eu.mouser.com/newsroom/publicrelations-littelfuse-distributor-year-award-2022final/
To see more new products and Mouser news, go to https://eu.mouser.com/pressroom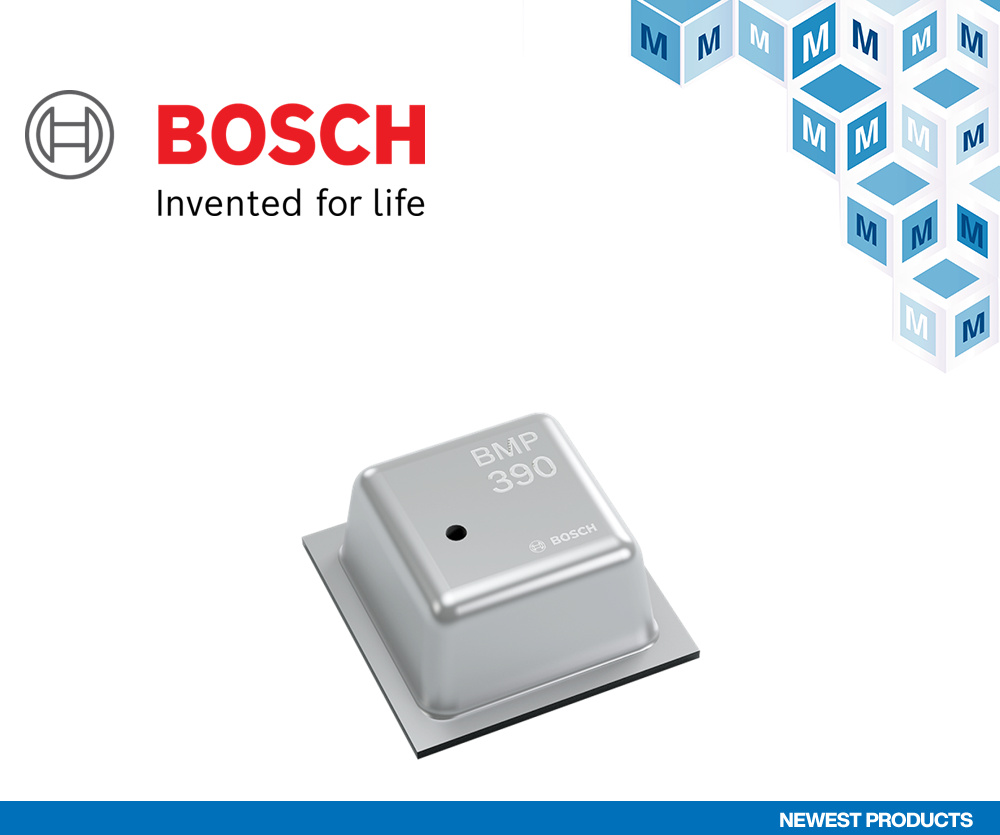 About Mouser Electronics
Mouser Electronics, a Berkshire Hathaway company, is an authorised semiconductor and electronic component distributor focused on New Product Introductions from its leading manufacturer partners. Serving the global electronic design engineer and buyer community, the global distributor's website, mouser.com, is available in multiple languages and currencies and features more than 6,8 million products from over 1.200 manufacturer brands. Mouser offers 27 support locations worldwide to provide best-in-class customer service in local language, currency and time zone. The distributor ships to over 650.000 customers in 223 countries/territories from its 93.000 square-meter, state-of-the-art facilities in the Dallas, Texas, metro area. For more information, visit https://www.mouser.com/.