23. maj 2022
The Latest News from Mouser Electronics
Mouser Electronics, Inc. is focused on supplying 100% certified, genuine products from its manufacturing partners for electronic design engineers and buyers. Mouser introduces hundreds of new products each month and supports innovation by supplying engineers with the newest products, technologies and resources.
The news highlights from Mouser this week are:
New Product – Mouser Now Stocks Sensirion SEN5x Environmental Sensor Nodes for Reliable Air Quality Data
Mouser is now stocking the SEN5x environmental sensor nodes from Sensirion. Optimised with multiple sensing parameters, the SEN5x nodes enable designers to save valuable R&D, BOM and assembly costs by providing an all-in-one sensor solution that replaces multiple environmental sensors. The sensor nodes help improve end customers' health and comfort by accurately measuring and reporting the levels of relevant indoor pollutants in particulate matter, volatile organic compounds (VOCs), oxidising gases (NOx and O3), humidity and temperature in a variety of air quality applications.
Full press release here: https://eu.mouser.com/newsroom/publicrelations-sensirion-sen5x-nodes-2022final/
New Resource – Online Services and Tools and Help Centre
Mouser offers a wealth of customer-focused online tools to simplify and optimise the selection and purchasing process. Helping customers to easily browse, select, and purchase products, Mouser's Services and Tools page and Help Centre give customers the ability to view and track orders, request technical support and data sheets, and place orders via API or EDI, among many other features. The Services and Tools page offers efficient, time-saving solutions, including FORTE the Intelligent BOM Tool®, order automation resources, and an extensive ECAD design library and the redesigned Help Centre offers a single destination for convenient customer support resources and answers to frequently asked questions.
Full press release here: https://eu.mouser.com/newsroom/publicrelations-mouser-services-tools-2022final/
New Sponsorship – Formula E Team Took to the Tarmac of Berlin's Tempelhof Airport
Mouser cheered on the DRAGON / PENSKE AUTOSPORT Formula E team as they headed to the German capital of Berlin for rounds seven and eight of the 2021–22 ABB FIA Formula E World Championship racing season on 14th and 15th May. The weekend-long event of all-electric racing took place at the historic Tempelhof Airport.
Full press release here: https://eu.mouser.com/newsroom/publicrelations-formulae-berlin-eprix-2022final/
New Collaboration – University Technology Exposure Program 2022 With Wevolver
Mouser is delighted to launch the 2022 University Technology Exposure Program in partnership with Wevolver. The program aims to recognise and reward innovation from engineering students and researchers across the globe. The purpose of the program is to elevate the work of engineering students and researchers by allowing them to share their projects and ideas. Furthermore, it will enable the development of new partnerships and collaborations, increase career prospects, and inform the wider community of engineers about the incredible innovation of students and researchers. Program entries are open now through 31st July 2022.
Full press release here: https://eu.mouser.com/newsroom/publicrelations-mouser-wevolver-university-program-2022final/
New Product – Mouser Now Stocks Bosch BHI260AP Self-Learning AI Smart Sensor for Fitness Tracking
Mouser is now stocking the BHI260AP self-learning AI smart sensor from Bosch. Coined as the world's first self-learning AI sensor for wearables and hearables, the BHI260AP integrates a six-axis inertial measurement unit (IMU), a 32-bit customer-programmable microcontroller, and software functionalities in a system-in-package (SiP) solution. The Bosch BHI260AP sensor is an all-in-one solution for always-on sensor applications, ideal for wrist wearables, hearables, smartphones, AR/VR headsets, and controller devices.
Full press release here: https://eu.mouser.com/newsroom/publicrelations-bosch-bhi260ap-sensor-2022final/
To see more new products and Mouser news, go to https://eu.mouser.com/pressroom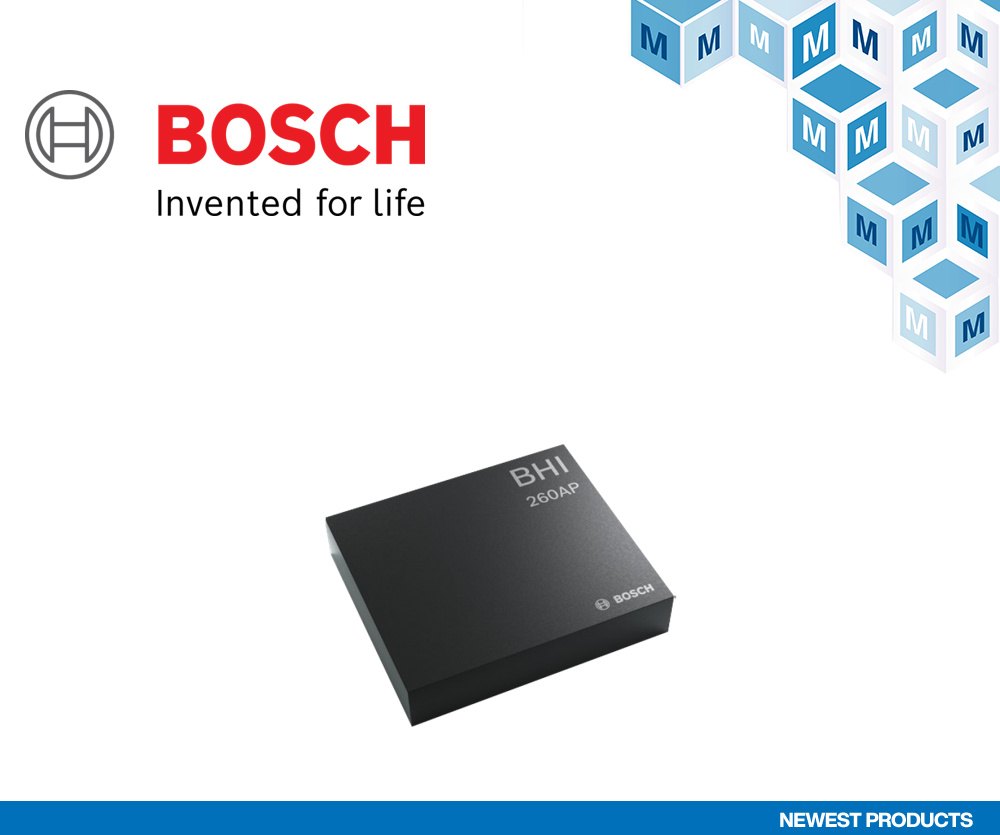 About Mouser Electronics
Mouser Electronics, a Berkshire Hathaway company, is an authorised semiconductor and electronic component distributor focused on New Product Introductions from its leading manufacturer partners. Serving the global electronic design engineer and buyer community, the global distributor's website, mouser.com, is available in multiple languages and currencies and features more than 6,8 million products from over 1.200 manufacturer brands. Mouser offers 27 support locations worldwide to provide best-in-class customer service in local language, currency and time zone. The distributor ships to over 650.000 customers in 223 countries/territories from its 93.000 square-meter, state-of-the-art facilities in the Dallas, Texas, metro area. For more information, visit https://www.mouser.com/.