18. maj 2022
The Latest News from Mouser Electronics
Mouser Electronics, Inc. is focused on supplying 100% certified, genuine products from its manufacturing partners for electronic design engineers and buyers. Mouser introduces hundreds of new products each month and supports innovation by supplying engineers with the newest products, technologies and resources.
The news highlights from Mouser this week are:
New Sponsorship – Primary Sponsor of ElectronicWings Project Challenge 2022
Mouser is excited to be the primary sponsor of the ElectronicWings Project Challenge 2022, a global design contest aimed at benefiting society through innovation in sustainable and efficient technologies. The contest challenges engineers and designers to create projects that advance agriculture, manufacturing, transportation and logistics, community development, healthcare or the environment. The contest is open now and runs through 19th September 2022, with winners announced on 7th October 2022.
Full press release here: https://eu.mouser.com/newsroom/publicrelations-mouser-electronicwings-project-challenge-launch-2022final/
New Product Additions – Mouser Stocks Wide Selection of Latest Phoenix Contact Products
Mouser is an authorised global distributor of solutions from Phoenix Contact. With over 20,900 Phoenix Contact products in stock, Mouser offers an ever-widening selection of the company's newest sensors, controllers, modular terminal blocks, splash-proof machinery connectors, wireless Ethernet products, and more, constantly adding new products for design chain to supply chain™. A few of the popular Phoenix Contact products available from Mouser include: the single pair Ethernet (SPE) connectors, offering an alternative to classic serial bus systems for efficient, consistent data transmission in factory and process automation; the Axioline P I/O system, featuring hot-swappable components that offer time savings and convenience; and the displays and keypads, featuring high-contrast capacitive touch displays and membrane keypads to create a user-friendly interface for operators.
Full press release here: https://eu.mouser.com/newsroom/publicrelations-phoenix-contact-authorized-distributor-2022final/
New Sponsorship – Sponsors National STEM League Finals
Mouser was recently a sponsor of the 15th annual National STEM League (NSL) Finals for Ten80 teams, 29th–30th April at Miami (Florida) Coral Park Senior High School, powered by the iNational STEM League. Student teams competed in virtual and in-person events at the finals. The NSL Finals marked the peak of yearlong Ten80 science, technology, engineering and math (STEM) programs that creatively teach students to theorise how engineering performance and emerging technologies can improve personal, academic and professional pursuits.
Full press release here: https://eu.mouser.com/newsroom/publicrelations-ten80-nsl-2022final/
New Product – Now Stocks ams OSRAM NanEyeM Mini Camera for Medical Endoscopy Applications
Mouser is now stocking the NanEyeM miniature camera module from ams OSRAM. The NanEyeM is the world's smallest single-use digital camera module with a digital output for medical endoscopes, helping to ensure high levels of sterility and reduce the likelihood of cross-contamination.
Full press release here: https://eu.mouser.com/newsroom/publicrelations-ams-osram-naneyem-2022final/
To see more new products and Mouser news, go to https://eu.mouser.com/pressroom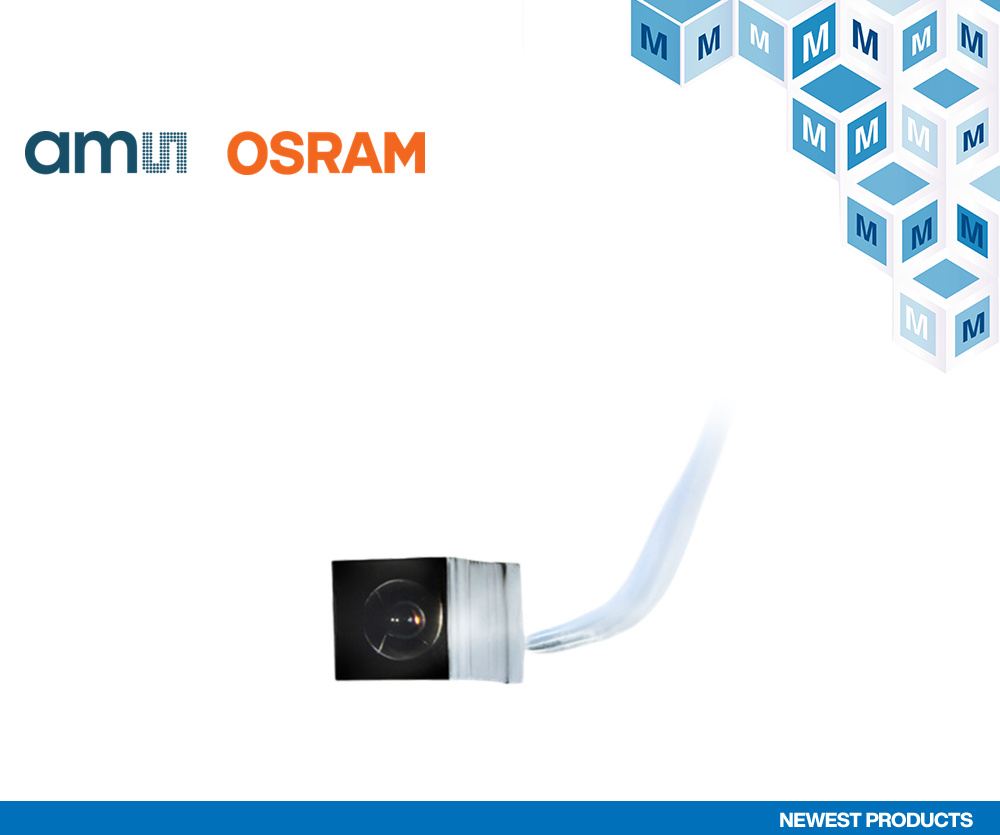 About Mouser Electronics
Mouser Electronics, a Berkshire Hathaway company, is an authorised semiconductor and electronic component distributor focused on New Product Introductions from its leading manufacturer partners. Serving the global electronic design engineer and buyer community, the global distributor's website, mouser.com, is available in multiple languages and currencies and features more than 6,8 million products from over 1.200 manufacturer brands. Mouser offers 27 support locations worldwide to provide best-in-class customer service in local language, currency and time zone. The distributor ships to over 650.000 customers in 223 countries/territories from its 93.000 square-meter, state-of-the-art facilities in the Dallas, Texas, metro area. For more information, visit https://www.mouser.com/.