13. april 2022
The Latest News from Mouser Electronics
Mouser Electronics, Inc. is focused on supplying 100% certified, genuine products from its manufacturing partners for electronic design engineers and buyers. Mouser introduces hundreds of new products each month and supports innovation by supplying engineers with the newest products, technologies and resources.
The news highlights from Mouser this week are:
New Resource – Mouser Podcast Microsite
Mouser announces a new resource site dedicated to its engaging podcast episodes. The site features all episodes from the Empowering Innovation Together podcast series, The Tech Between Us, and will serve as a central repository for all future podcast episodes produced by Mouser. So far, the site hosts podcasts on 5G, Power Management, Sensor Fusion, AI Edge Computing, Intelligent Transportation Systems, RF & Wireless, Industrial Automation and RISC-V.
Full press release here: https://eu.mouser.com/newsroom/publicrelations-podcast-stream-2022final/
Renewed Sponsorship – Mouser Sponsors FIRST Robotics Competition, Empowering Next Generation of Engineers
Mouser is pleased to announce its continued sponsorship of FIRST® Robotics Competition, which inspires innovation via engineering challenges through a series of virtual and live robotics events. Mouser has been a major supporter of FIRST (For Inspiration and Recognition of Science and Technology), a leading non-profit organisation advancing STEM subjects since 2014, with valued manufacturer partner, Analog Devices, Inc, joining the sponsorship.
Full press release here: https://eu.mouser.com/newsroom/publicrelations-first-robotics-competition-2022final/
New Supplier – Global Distribution Agreement Announced with ISI to Deliver High-Performance PCIe XMC Modules
Mouser announces a new distribution agreement with Interconnect Systems International (ISI), a Molex company and leading supplier of signal processing and data acquisition solutions. ISI's hardware, software and FPGA IP design teams provide innovative products that enable faster, more intelligent systems. Through the agreement, Mouser now offers ISI PCI Express XMC modules, including the XU-AWG and the XA-160M PCI Express XMC module.
Full press release here: https://eu.mouser.com/newsroom/publicrelations-isi-molex-new-manufacturer-2022final/
New Product Additions – Mouser Now Stocks Infineon AIROC CYW20835 BLE Modules for Next-Gen IoT Applications
Mouser is now stocking the AIROC™ CYW20835 modules from Infineon Technologies. Part of Infineon's AIROC Bluetooth® Low Energy portfolio, these fully certified, programmable RF modules deliver exceptional long-range Bluetooth Low Energy wireless connectivity while minimising overall device footprint, external components and cost. The AIROC CYW20835 modules are suitable for a wide spectrum of applications, including home automation, sensors (medical, security, and industrial), lighting, and Internet of Things (IoT) designs.
Full press release here: https://eu.mouser.com/newsroom/publicrelations-infineon-airoc-cyw20835-modules-2022final/
Sponsorship – Mouser Supports Formula E Team in Rome
Mouser will be rooting for the DRAGON / PENSKE AUTOSPORT Formula E all-electric racing team as they take to the streets of Rome for the fourth and fifth races of the 2021–22 ABB FIA Formula E World Championship racing season on 9th and 10th April. The Gen2 cars offer a huge step forward in electric vehicle racing technology as they are powered solely by electricity with maximum power of 250 kW and speeds up to 280 km/h, serving as a framework for research and development around zero-emission motoring. Mouser and valued manufacturer Molex have been proud partners of the DRAGON / PENSKE AUTOSPORT team since 2015, with TTI, Inc and KYOCERA AVX.
Full press release here: https://eu.mouser.com/newsroom/publicrelations-formula-e-rome-eprix-2022final/
To see more new products and Mouser news, go to https://eu.mouser.com/pressroom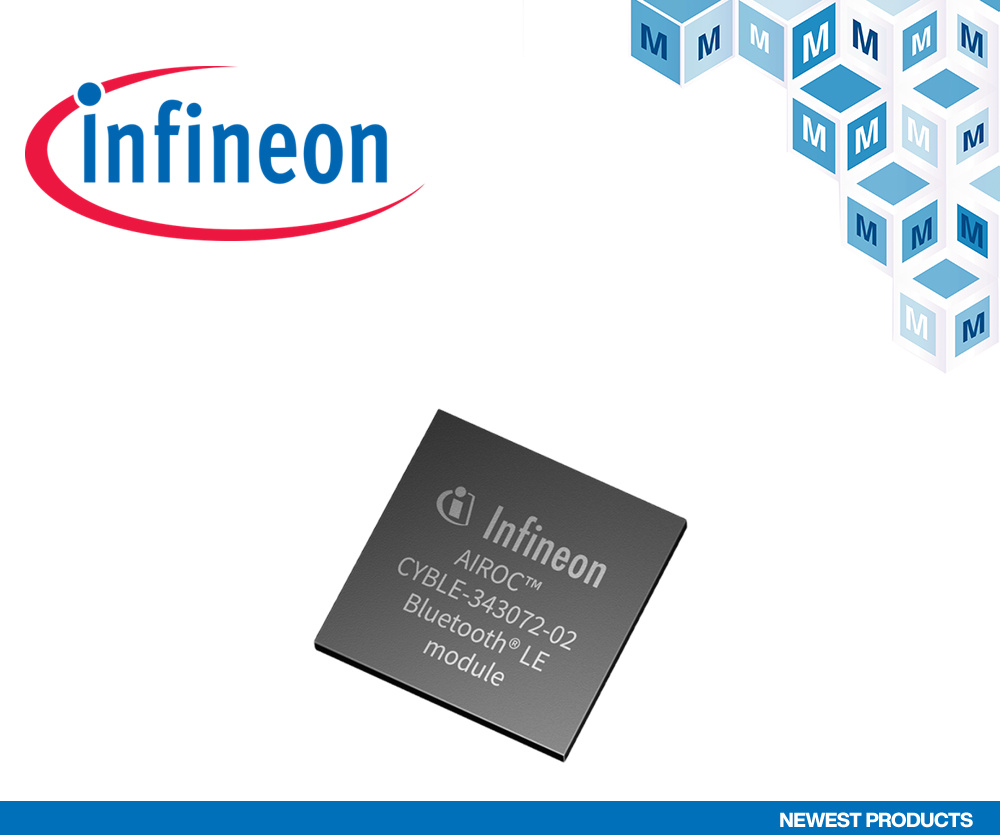 About Mouser Electronics
Mouser Electronics, a Berkshire Hathaway company, is an authorised semiconductor and electronic component distributor focused on New Product Introductions from its leading manufacturer partners. Serving the global electronic design engineer and buyer community, the global distributor's website, mouser.com, is available in multiple languages and currencies and features more than 6,8 million products from over 1.200 manufacturer brands. Mouser offers 27 support locations worldwide to provide best-in-class customer service in local language, currency and time zone. The distributor ships to over 650.000 customers in 223 countries/territories from its 93.000 square-meter, state-of-the-art facilities in the Dallas, Texas, metro area. For more information, visit https://www.mouser.com/.