11. april 2022
The Latest News from Mouser Electronics
Mouser Electronics, Inc. is focused on supplying 100% certified, genuine products from its manufacturing partners for electronic design engineers and buyers. Mouser introduces hundreds of new products each month and supports innovation by supplying engineers with the newest products, technologies and resources.
The news highlights from Mouser this week are:
New Resource – Site Dedicated to the Needs of Purchasing Professionals
Mouser has created a new resource site that offers valuable information curated specifically for electronics purchasing professionals. The Purchasing Resource Library contains instructional videos, developed in partnership with leading manufacturers, dedicated to some of the most important components in electronics design and features several articles that address trending topics, such as vehicle charging infrastructure, chip shortages, and supply chain challenges. The dozens of articles and videos empower buyers with the insights needed to make informed purchasing decisions. Purchasing professionals can access the Purchasing Resource Library by visiting https://resources.mouser.com/purchasing-resource-library/.
Full press release here: https://eu.mouser.com/newsroom/publicrelations-purchasing-resource-library-2022final/
New Supplier – Global Distribution Agreement Announced With Solidigm to Deliver NAND Flash and SSD Technology
Mouser announces a new distribution agreement with Solidigm, a leading supplier of NAND flash and SSD technology. Solidigm, a standalone U.S. subsidiary of semiconductor supplier SK hynix, offers QLC storage technology based on Intel® technology, with latest generation enterprise and data centre small form factor (EDSFF) memory products for the data centre industry. Mouser now stocks the latest Solidigm products, including the SSD D5-P4326 Series, the SSD DC P4610 Series and the SSD DC P4511 Series.
Full press release here: https://eu.mouser.com/newsroom/publicrelations-solidigm-new-manufacturer-2022final/
New Resource – Plugged In Video Series on the Latest Connectivity Solutions
Mouser and Amphenol Communications Solutions are teaming up to bring engineers a new video series dedicated to unlocking the latest connector trends in the electronics industry. The Plugged In video series features experts from Amphenol and host Paul Golata from Mouser, who discuss the latest trends, leading topics and key products connecting the future. The first video in the series focuses on lighting solutions for indoor and outdoor applications. Mouser stocks a full range of lighting interconnect products from Amphenol Communications Solutions, such as receptacles, bases, domes, and connectors. To watch the first video in the series, visit https://eng.info.mouser.com/amphenol-pluggedin-videos/.
Full press release here: https://eu.mouser.com/newsroom/publicrelations-amphenol-plugged-in-videos-2022final/
To see more new products and Mouser news, go to https://eu.mouser.com/pressroom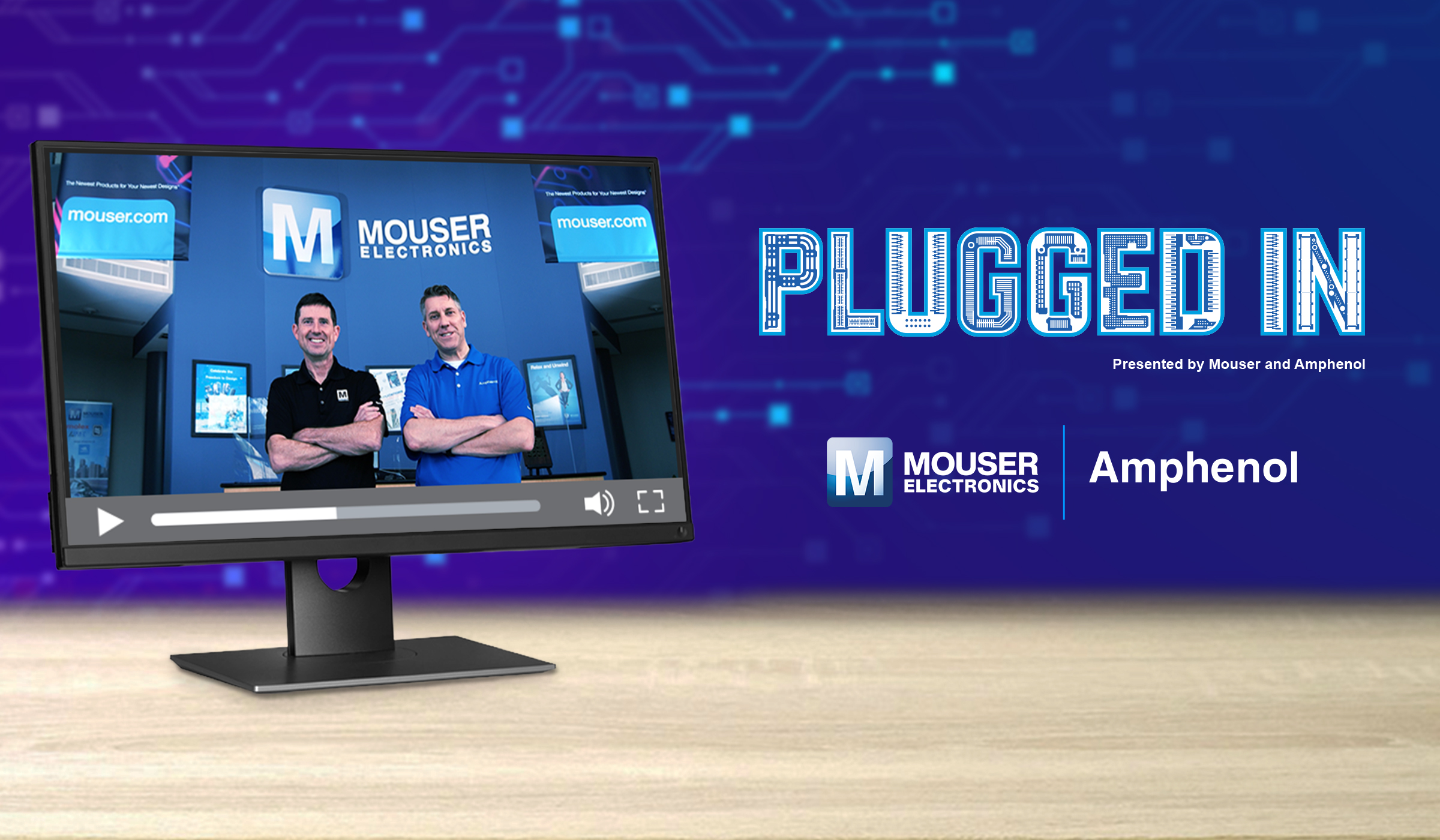 About Mouser Electronics
Mouser Electronics, a Berkshire Hathaway company, is an authorised semiconductor and electronic component distributor focused on New Product Introductions from its leading manufacturer partners. Serving the global electronic design engineer and buyer community, the global distributor's website, mouser.com, is available in multiple languages and currencies and features more than 6,8 million products from over 1.200 manufacturer brands. Mouser offers 27 support locations worldwide to provide best-in-class customer service in local language, currency and time zone. The distributor ships to over 650.000 customers in 223 countries/territories from its 93.000 square-meter, state-of-the-art facilities in the Dallas, Texas, metro area. For more information, visit https://www.mouser.com/.