1. april 2022
The Latest News from Mouser Electronics
Mouser Electronics, Inc. is focused on supplying 100% certified, genuine products from its manufacturing partners for electronic design engineers and buyers. Mouser introduces hundreds of new products each month and supports innovation by supplying engineers with the newest products, technologies and resources.
The news highlights from Mouser this week are:
New eBook – Molex and Mouser Highlight New Innovations in Medical Device Design with new eBook
Mouser and Molex have announced their new eBook which explores the newest solutions and applications at the intersection of connectivity and medical device design. In Improving Lives with Digital Healthcare, leading experts from Molex and Mouser offer in-depth articles examining the next generation of digital healthcare solutions, including robotic surgery, medical wearables, brain-computer interfaces, and medical training with immersive technologies.
Full press release here:
https://eu.mouser.com/newsroom/publicrelations-molex-digital-healthcare-ebook-2022final/
New Resource – Mouser launches 2022 Empowering Innovation Together Program with New Podcast on RISC-V
Mouser launches the 2022 series of its award-winning Empowering Innovation Together™ program. This year's series consists of six instalments that each spotlight a leading-edge technology playing a key role in transforming major industries. The 2022 series offers a wide variety of timely and insightful resources like podcast episodes, videos, articles, blogs and infographics that focus on technology trends such as private 5G networks, autonomous mobile robots and more. The first instalment of the 2022 series focuses on the RISC-V open-source instruction set architecture (ISA), including a new episode of The Tech Between Us podcast.
Full press release here:
https://eu.mouser.com/newsroom/publicrelations-eit-episode1-risc-v-2022final/
Sponsorship – Vasser Sullivan Lexus Racing Team Heads to Sebring for Next IMSA Race
Mouser cheered on the Vasser Sullivan Lexus Racing team in the second race of the season at the Mobil 1 Twelve Hours of Sebring (Florida) on 19th March. Mouser and Molex LLC teamed up to sponsor both the No. 14 Vasser Sullivan-Lexus RC F GT3 GTD PRO Class and the No. 12 Vasser Sullivan-Lexus RC F GT3 GTD Class entries for the 2022 IMSA WeatherTech SportsCar Championship season. Mouser previously sponsored the Vasser Sullivan IndyCar team, seeing the opportunity as an inventive way to communicate its performance-driven business model and promote the newest technologies; since then, the Mouser and Molex relationship with Vasser Sullivan has bred success, having won the Indianapolis 500 and producing multiple wins and podiums with Vasser Sullivan IndyCar.
Full press release here: https://eu.mouser.com/newsroom/publicrelations-mouser-imsa-sebring-2022final/
To see more new products and Mouser news, go to https://eu.mouser.com/pressroom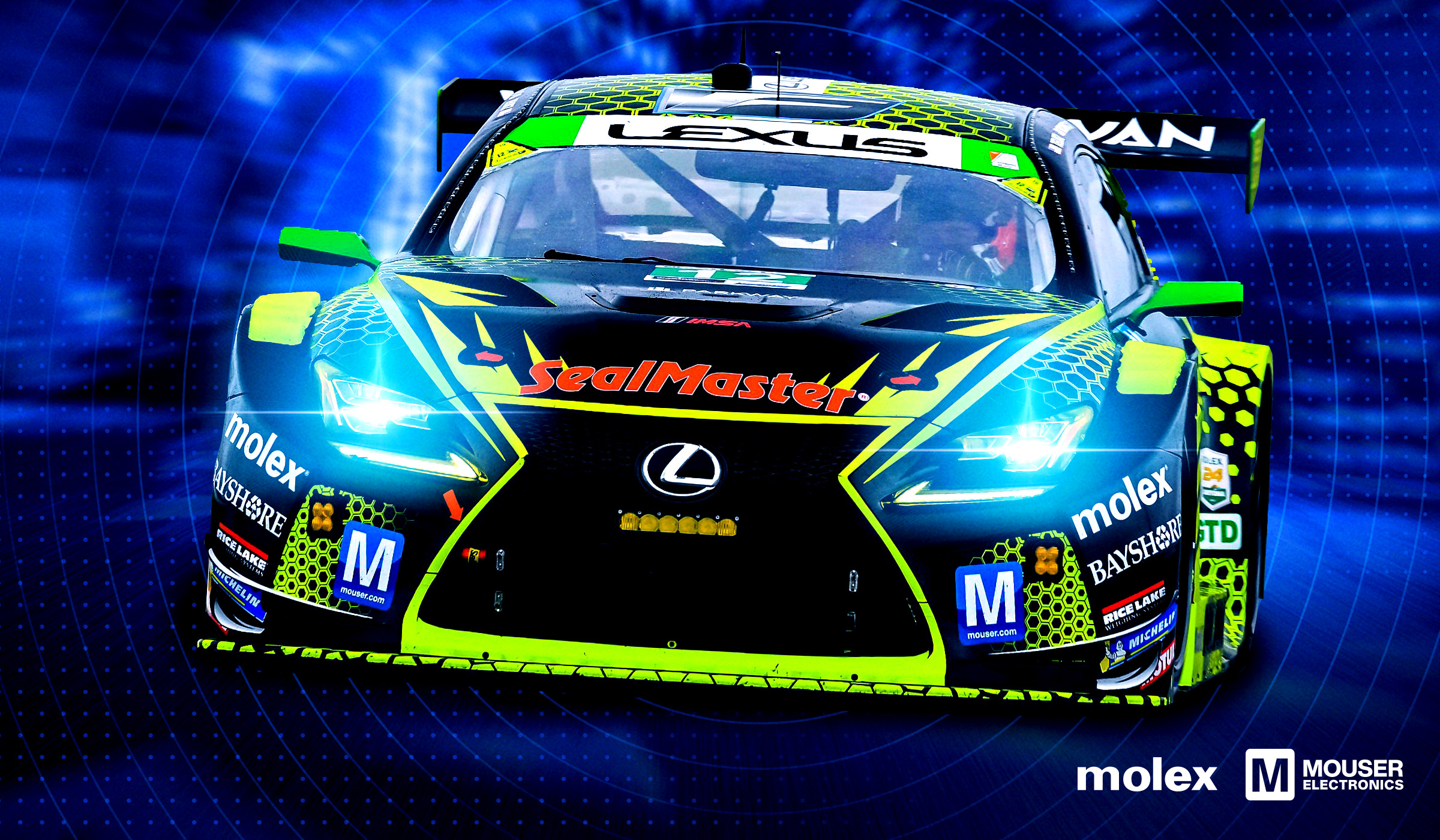 About Mouser Electronics
Mouser Electronics, a Berkshire Hathaway company, is an authorised semiconductor and electronic component distributor focused on New Product Introductions from its leading manufacturer partners. Serving the global electronic design engineer and buyer community, the global distributor's website, mouser.com, is available in multiple languages and currencies and features more than 6,8 million products from over 1.200 manufacturer brands. Mouser offers 27 support locations worldwide to provide best-in-class customer service in local language, currency and time zone. The distributor ships to over 650.000 customers in 223 countries/territories from its 93.000 square-meter, state-of-the-art facilities in the Dallas, Texas, metro area. For more information, visit https://www.mouser.com/.