14. februar 2022
The Latest News from Mouser Electronics
Mouser Electronics, Inc. is focused on supplying 100% certified, genuine products from its manufacturing partners for electronic design engineers and buyers. Mouser introduces hundreds of new products each month and supports innovation by supplying engineers with the newest products, technologies and resources.
The news highlights from Mouser this week are:
Renewed Sponsorship Agreement – Mouser Partners with DRAGON / PENSKE AUTOSPORT Formula E Racing for 8th Straight Season
Mouser is partnering with the DRAGON / PENSKE AUTOSPORT team throughout the 2021–22 ABB FIA Formula E World Championship racing season, in collaboration with TTI, Inc. and valued manufacturers Molex and KYOCERA AVX. The ABB Formula E FIA World Championship series' eighth season kicked off with double-header races at Diriyah E-Prix on 28th and 29th January. This is the eighth-straight year that Mouser and Molex have sponsored Formula E racing.
Full press release here: https://eu.mouser.com/newsroom/publicrelations-formulae-diriyah-kickoff-2022final/
New Products– Nearly 70,000 New Parts Launched in 2021
Mouser is focused on the rapid introduction of new products and technologies, giving customers an edge and helping speed time to market. Over 1,200 semiconductor and electronic component manufacturer brands count on Mouser to help them introduce their products into the global marketplace. Mouser's customers can expect 100% certified, genuine products that are fully traceable from each manufacturer. In 2021, Mouser launched more than 69,568 products ready for shipment.
Full press release here: https://eu.mouser.com/newsroom/publicrelations-newproductinsider-january-2022final/
New Product – Mouser Stocks Vishay's VEMI256A-SD2 EMI Filter for Space-Sensitive Mobile and Wired Communication Devices
Mouser is now stocking the VEMI256A-SD2 two-channel EMI filter from Vishay Intertechnology. Engineered as a dual-channel filter array, the VEMI256A-SD2 helps suppress electromagnetic interference (EMI) and radio frequency interference (RFI) for two protection paths while providing robust system-level electrostatic discharge (ESD) protection for interface line filtering.
Full press release here: https://eu.mouser.com/newsroom/publicrelations-vishay-vemi256a-sd2-emi-filter-2022final/
New Products– Mouser Stocks Power Integrations InnoSwitch3-PD ICs for USB Type-C, PD, and PPS Chargers and Adapters
Mouser is now stocking the InnoSwitch™3-PD family of ICs from Power Integrations. This breakthrough innovation from Power Integrations provides engineers with a highly integrated solution for USB Type-C, USB Power Delivery (PD), and USB Programmable Power Supply (PPS) adapters for laptops, tablets, cell phones, and more.
Full press release here: https://eu.mouser.com/newsroom/publicrelations-power-integrations-innoswitch3-pd-2022final/
New eBook – Qorvo and Mouser Explore Power Efficiency for Electronics Design in new eBook
Mouser announces a new eBook in collaboration with Qorvo®, highlighting the ways in which power management and efficiency are enabling next-generation technologies and devices. In Powering Up Your Design, subject matter experts from Qorvo and Mouser offer in-depth analyses of the most important components, architectures and applications in power management.
Full press release here: https://eu.mouser.com/newsroom/publicrelations-qorvo-powering-up-your-design-ebook-2022final/
To see more new products and Mouser news, go to https://eu.mouser.com/pressroom/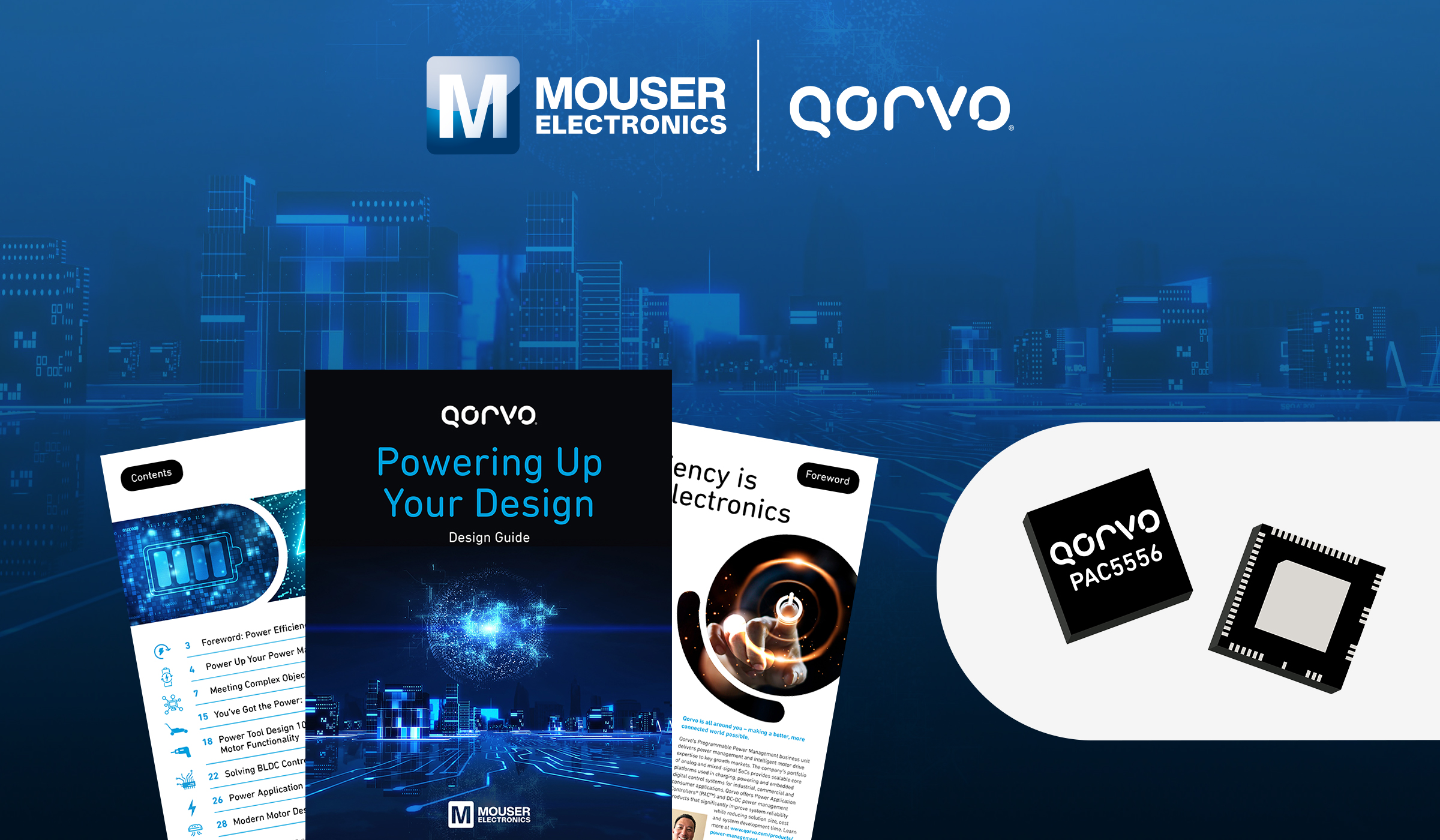 About Mouser Electronics
Mouser Electronics, a Berkshire Hathaway company, is an authorised semiconductor and electronic component distributor focused on New Product Introductions from its leading manufacturer partners. Serving the global electronic design engineer and buyer community, the global distributor's website, mouser.com, is available in multiple languages and currencies and features more than 5 million products from over 1.200 manufacturer brands. Mouser offers 27 support locations worldwide to provide best-in-class customer service in local language, currency and time zone. The distributor ships to over 630.000 customers in 223 countries/territories from its 93.000 square-meter, state-of-the-art facilities in the Dallas, Texas, metro area. For more information, visit https://www.mouser.com/.