24. december 2021
The Latest News from Mouser Electronics
Mouser Electronics, Inc. is focused on supplying 100% certified, genuine products from its manufacturing partners for electronic design engineers and buyers. Mouser introduces hundreds of new products each month and supports innovation by supplying engineers with the newest products, technologies and resources.
The news highlights from Mouser this week are:
New Product – Laird's Trigger Family of Under-Dash Telematics Antennas
Laird Antennas VxJ Trigger antennas feature a unique L-shaped format and dual-axis VHB adhesive backing, enabling quick and secure mounting in awkward locations. The antennas can be covertly mounted alongside or over bulky non-metallic objects, such as ventilator ducts, with no drilling required. This allows the devices to be mounted closer to the vehicle's router or gateway, usually located under the dashboard or a seat or in the trunk. Each Trigger antenna comes with vertical and horizontal V-Pol/H-Pol cellular radiating elements to provide better coverage while offering substantial signal performance improvements.
Full press release here: https://eu.mouser.com/newsroom/publicrelations-laird-antennas-trigger-under-dash-antennas-2021final/
New Supplier – Now Distributing Fujitsu Semiconductor Memory Solution Products
Mouser now distributes ferroelectric random access memory (FRAM) and large-density resistive random access memory (ReRAM) products from Fujitsu Semiconductor Memory Solution. Fujitsu FRAMs are new-generation non-volatile memories that meet engineers' needs for higher read/write endurance, faster writing speed, and lower power consumption compared to EEPROM. It is available from Mouser in both serial (SPI and I²C) and parallel interfaces and in a wide range of compact, high-density package types. Memory size options are available from 4 Kbits up to 8 Mbits. Featuring an SPI interface, Fujitsu ReRAM operates at a wide range of power supply voltages from 1.6 V to 3.6 V. The EEPROM-compatible device features very low power consumption of just 0.15 mA in read state and 1.5 mA in write, which, combined with its 8-Mbit density, makes it ideal for small, battery-operated wearable devices such as hearing aids, smartwatches, and smart glasses.
Full press release here: https://eu.mouser.com/newsroom/publicrelations-fujitsu-semi-memory-newmanufacturer-2021final/
New Supplier – Global Distribution Agreement announced with Hartland Controls
Mouser signs a global distribution agreement with Hartland Controls, a Littelfuse
company and supplier of components used in HVAC and other industrial applications. Mouser now offers Hartland's range of motor run capacitors, definite purpose contactors, transformers, and other electrical control solutions. The Hartland Controls HCK motor run capacitors boost the current or reduce the power factor to an electrical motor, delivering reliable power supply for a range of applications, including HVAC, food and beverage, electronics, and pools and spas. The start capacitors offer 370 VAC and 440 VAC rated voltage as standard, with 0.1% maximum dissipation factor and 30 µA maximum leakage current.
Full press release here: https://eu.mouser.com/newsroom/publicrelations-hartland-controls-newmanufacturer-2021final/
New Supplier – Global Distribution Agreement announced with Siretta
Mouser has entered into a global distribution agreement with Siretta, a leading global manufacturer and developer of Internet of Things (IoT) products, software, and complete end-to-end solutions. Mouser is also offering Siretta's advanced mobile broadband technologies, including its lines of SNYPER network signal analysers, high-speed QUARTZ industrial routers, and ZETA modem starter kits — all designed for a variety of IoT, industrial, and transportation applications.
Full press release here: https://eu.mouser.com/newsroom/publicrelations-siretta-new-manufacturer-2021final/
New Products – Sensirion SFM3003 and SFM3013 Flow Metres for Medical Applications
Mouser now offers the complete SFM series of digital flow metres from Sensirion, including the SFM3003 and SFM3013 flow metres. These are versatile, bidirectional flow metres with low pressure drop, offering a large flow range of up to 300 standard litres per minute (SLM). These next-generation flow metres feature a digital I²C interface and Sensirion's patented CMOSens® technology, which combines a thermal sensor element and digital calibration on a single microchip for fast signal processing.
Full press release here: https://eu.mouser.com/newsroom/publicrelations-sensirion-sfm3003-sfm3013-flow-meters-2021final/
New Technical Resource – Resources and Products for Robotics Design Engineers
Mouser helps engineers jumpstart their robotics designs through an extensive and insightful Robotics content stream, part of the global distributor's content hub. The hub's articles, blogs, diagrams and products highlight the world's top manufacturers and how to best implement their solutions into robotics applications and robotic process automation (RPA) designs. To start exploring the Robotics stream on the content hub, select Applications from the navigation menu, followed by Industrial, and then Robotics; or go to https://resources.mouser.com/robotics/.
Full press release here: https://eu.mouser.com/newsroom/publicrelations-robotics-spotlight-2021final/
To see more new products and Mouser news, go to https://eu.mouser.com/pressroom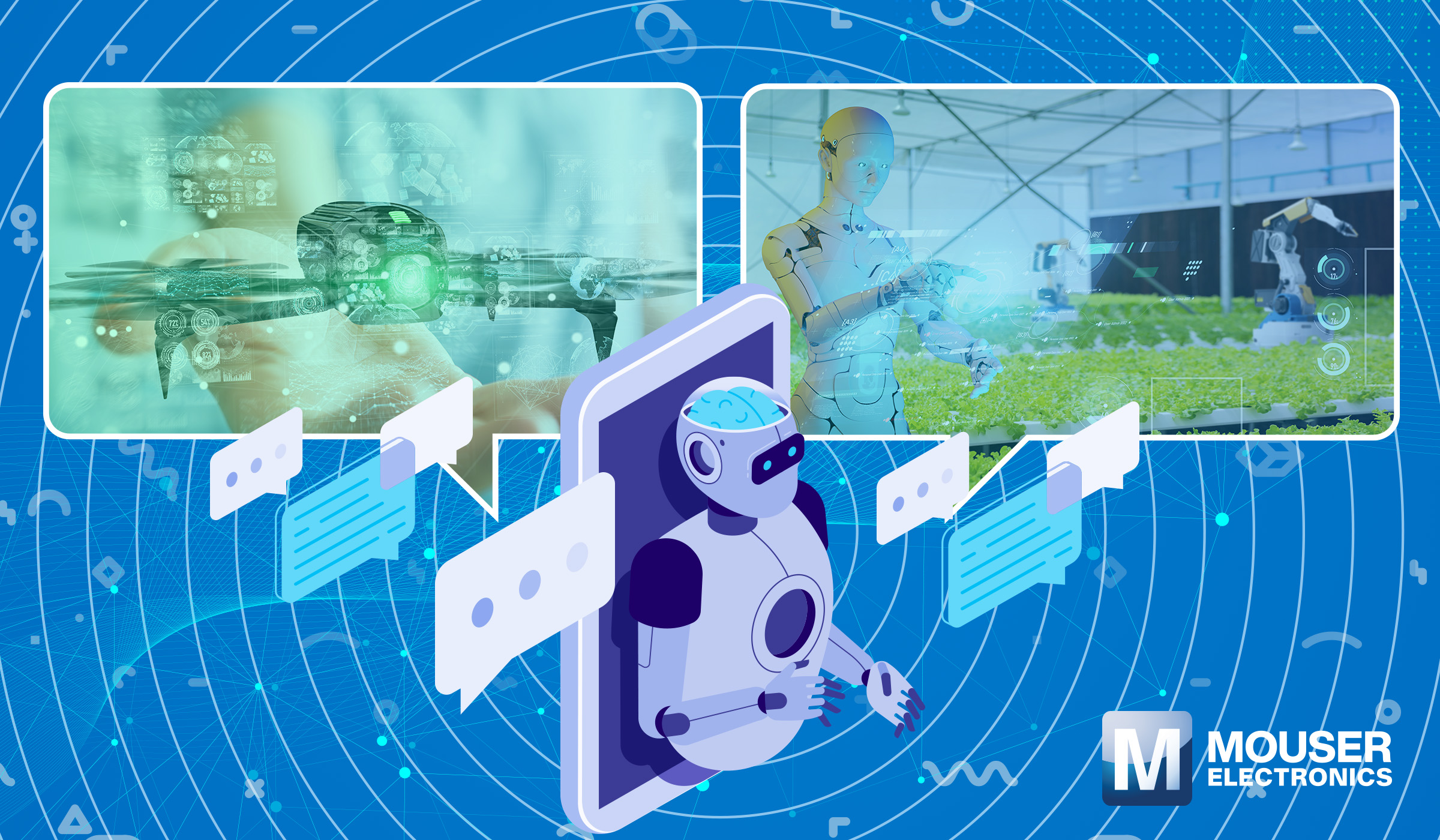 About Mouser Electronics
Mouser Electronics, a Berkshire Hathaway company, is an authorised semiconductor and electronic component distributor focused on New Product Introductions from its leading manufacturer partners. Serving the global electronic design engineer and buyer community, the global distributor's website, mouser.com, is available in multiple languages and currencies and features more than 5 million products from over 1,100 manufacturer brands. Mouser offers 27 support locations worldwide to provide best-in-class customer service in local language, currency and time zone. The distributor ships to over 630,000 customers in 223 countries/territories from its 1 million-square-foot, state-of-the-art distribution facilities in the Dallas, Texas, metro area. For more information, visit http://www.mouser.com.