22. november 2021
The Latest News from Mouser Electronics
Mouser Electronics, Inc. is focused on supplying 100% certified, genuine products from its manufacturing partners for electronic design engineers and buyers. Mouser introduces hundreds of new products each month and supports innovation by supplying engineers with the newest products, technologies and resources.
The news highlights from Mouser this week are:
New Product – Laird Connectivity FlexPIFA 6E Wi-Fi Triple-Band Antenna
The FlexPIFA 6E antenna from Laird Connectivity supports all three Wi-Fi bands, providing engineers with the latest peel-and-stick antenna upgrade for legacy Wi-Fi systems and emerging Wi-Fi 6E (802.11ax) applications. Designed for ease of integration into dense industrial, medical, and Internet of Things (IoT) devices and systems, the antenna measures just 16 mm × 36 mm × 2.5 mm.
Full press release here: https://eu.mouser.com/newsroom/publicrelations-laird-connectivity-flexpifa-6e-2021final/
New Technical Resource – New Single Pair Ethernet Solutions Page from Analog Devices, Würth Elektronik and HARTING
Single pair Ethernet (SPE) technology delivers high-performance data and power transmission to field-level actuator devices and sensors through a single-wire pair. The new SPE solutions page features valuable content, including a technical article, video, and webinar that offer insights on delivering Ethernet connectivity to the edge. The site also offers timely product information for 10BASE-T1L SPE solutions from Analog Devices, Inc., Würth Elektronik, and HARTING.
Full press release here: https://eu.mouser.com/newsroom/publicrelations-adi-wurth-harting-spe-2021final/
New Product – Now Shipping ESP32-S2 MINI Wi-Fi Modules from Espressif
The 802.11 b/g/n Wi-Fi ESP32-S2 MINI modules from Espressif Systems feature 4MB external SPI flash and come with either a PCB or IPEX antenna. They are an ideal choice for Internet of Things (IoT), wearable electronics and smart home applications. Development kits are available for both antenna options.
Full press release here: https://eu.mouser.com/newsroom/publicrelations-espressif-esp32-s2-mini-2021final/
New Product – Flex Gecko Wireless SoCs from Silicon Labs for Sub-GHz IoT Applications
The Silicon Labs EFR32FG23 SoCs expand range and power efficiency for multiprotocol sub-GHz connectivity for a wide range of battery-powered Industrial Internet of Things (IIoT), smart city, and building and home automation applications. To ease development and prototyping, they are supported by a suite of development tools, including the Silicon Labs FG23 868MHz-915MHz +14dBm Development Kit.
Full press release here: https://eu.mouser.com/newsroom/publicrelations-silabs-efr32fg23-2021final/
To see more new products and Mouser news, go to https://eu.mouser.com/pressroom/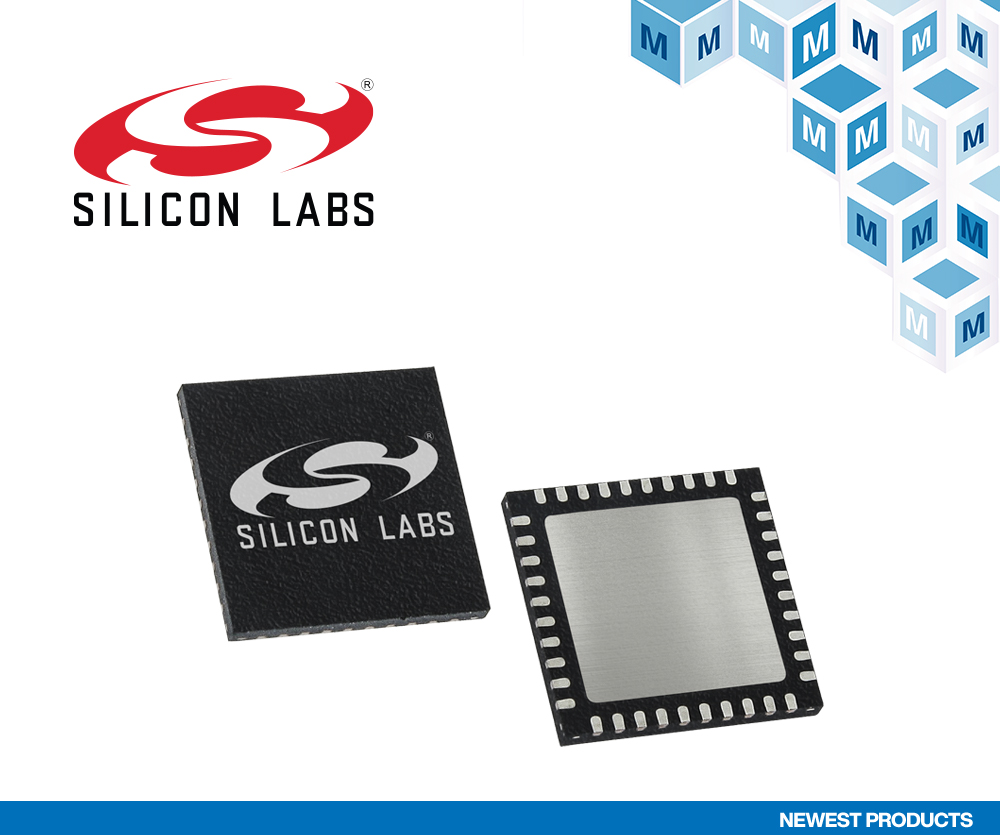 About Mouser Electronics
Mouser Electronics, a Berkshire Hathaway company, is an authorised semiconductor and electronic component distributor focused on New Product Introductions from its leading manufacturer partners. Serving the global electronic design engineer and buyer community, the global distributor's website, mouser.com, is available in multiple languages and currencies and features more than 5 million products from over 1,100 manufacturer brands. Mouser offers 27 support locations worldwide to provide best-in-class customer service in local language, currency and time zone. The distributor ships to over 630,000 customers in 223 countries/territories from its 1 million-square-foot, state-of-the-art distribution facilities in the Dallas, Texas, metro area. For more information, visit http://www.mouser.com.