10. november 2021
The Latest News from Mouser Electronics
Mouser Electronics, Inc. is focused on supplying 100% certified, genuine products from its manufacturing partners for electronic design engineers and buyers. Mouser introduces hundreds of new products each month and supports innovation by supplying engineers with the newest products, technologies and resources.
The news highlights from Mouser this week are:
New Product – Now Shipping TE Connectivity's EP-SMA 27GHz Connectors and Cable Assemblies Portfolio
The EP-SMA 27 GHz connectors, adaptors, and cable assemblies from TE Connectivity (TE) provides engineers with increased bandwidth, power and performance that are ideal for 5G, automated test equipment, aerospace and defense, wireless devices, and radar. The portfolios offer low insertion loss, plus exceptional voltage standing wave ratios (VSWR) of <1.15 (max.) for adaptors and <1.20 for cable assemblies. As they have the same footprint as SMA-6 GHz, 12 GHz and 18 GHz solutions, designers can avoid altering existing layouts to expand higher frequencies or higher-signal SMA performance.
Full press release here: https://eu.mouser.com/newsroom/publicrelations-te-connectivity-ep-sma-27ghz-2021final/
New eBook – Analog Devices New eBook Helps Engineers Solve LiDAR Design Challenges
The 7 Experts on LiDAR Design eBook in collaboration with Maxim Integrated®, now part of Analog Devices, explores the advantages and challenges of light detection and ranging (LiDAR) systems for automotive driver assistance systems (ADAS) and more. To provide near-instantaneous ToF measurements, they must maintain precise accuracy, high speed, and a wide field of vision. The eBook offers detailed insights into how to meet these performance demands, while simultaneously building lighter and smaller devices.
Full press release here: https://eu.mouser.com/newsroom/publicrelations-maxim-lidar-ebook-2021final/
New Product Additions – Wide Selection of STMicroelectronics Newest Products
Mouser has 12,000 STMicroelectronics (ST) products – including more than 1,000 development kits — in stock or available to order with new ones being added.
The Acoustic Vehicle Alerting System AutoDevKit is designed to help engineers generate engine sounds for quiet electric vehicles (EVs).
Delivering high RF performance and extending battery life, the STM32WBwireless microcontrollers are deal for a broad range of Internet of Things (IoT) applications, including wearable devices, home security products and asset tracking.
A ready-to-use development kit with wireless IoT and wearable sensor platform, the STEVAL-MKSBOX1V1box helps engineers use and develop apps based on remote motion and environmental sensor data, regardless of expertise level.
Full press release here: https://eu.mouser.com/newsroom/publicrelations-stmicroelectronics-authorized-distributor-2021final/
New eBook– Together with Bourns, Mouser Explores the Design Challenges in Surge Protection Technology
Developed in collaboration with Bourns, the new eBook entitled: How to Choose the Right Surge Protection Technology helps answer some of the most common questions regarding surge protection. It features several charts and tables to help define and clarify the different types of surge protection technology with articles linking to crucial Bourns surge protection products.
Full press release here: https://eu.mouser.com/newsroom/publicrelations-bourns-surge-protection-ebook-2021final/
To see more new products and Mouser news, go to https://eu.mouser.com/pressroom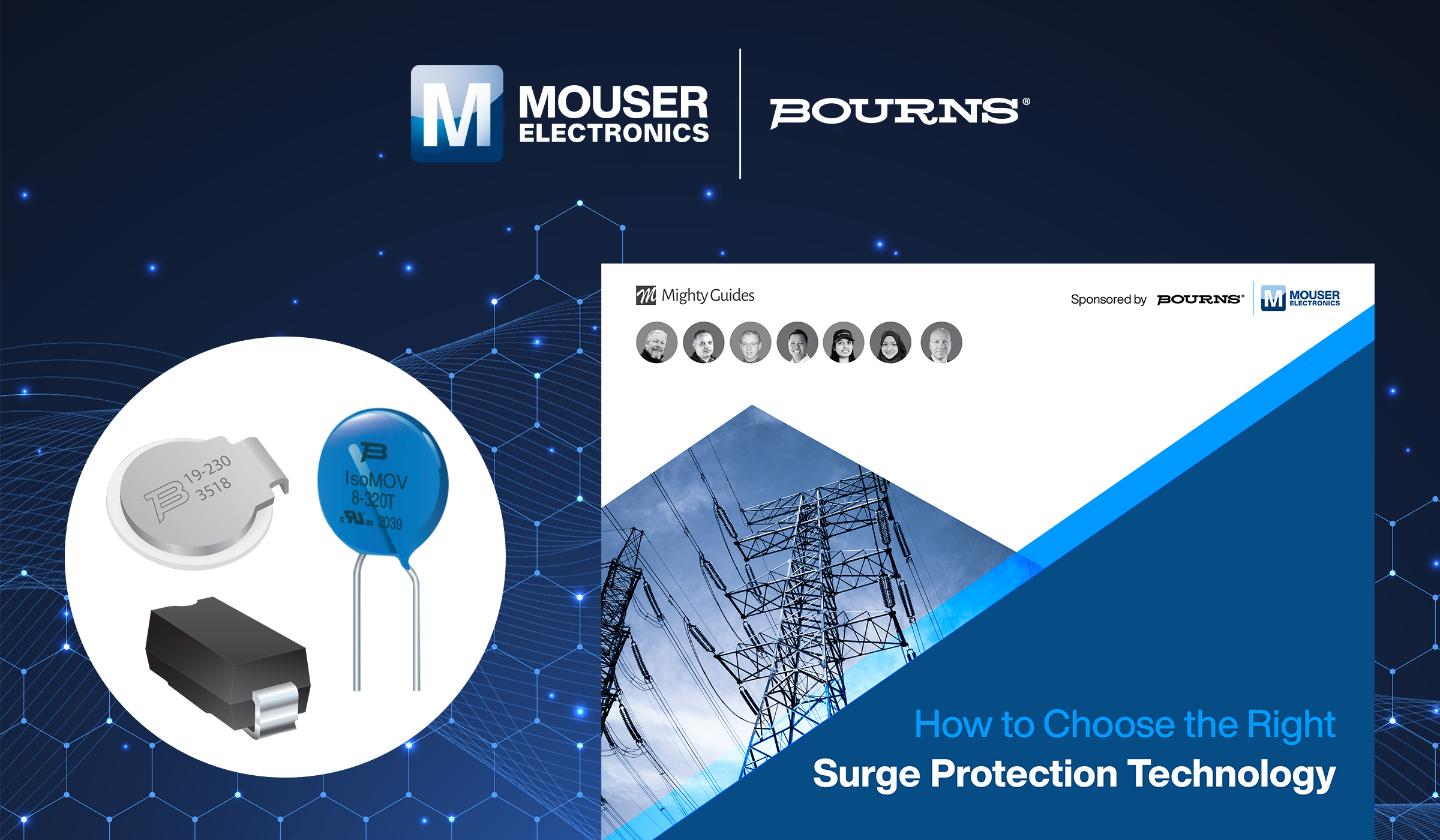 About Mouser Electronics
Mouser Electronics, a Berkshire Hathaway company, is an authorised semiconductor and electronic component distributor focused on New Product Introductions from its leading manufacturer partners. Serving the global electronic design engineer and buyer community, the global distributor's website, mouser.com, is available in multiple languages and currencies and features more than 5 million products from over 1,100 manufacturer brands. Mouser offers 27 support locations worldwide to provide best-in-class customer service in local language, currency and time zone. The distributor ships to over 630,000 customers in 223 countries/territories from its 1 million-square-foot, state-of-the-art distribution facilities in the Dallas, Texas, metro area. For more information, visit http://www.mouser.com.