3. november 2021
The Latest News from Mouser Electronics
Mouser Electronics, Inc. is focused on supplying 100% certified, genuine products from its manufacturing partners for electronic design engineers and buyers. Mouser introduces hundreds of new products each month and supports innovation by supplying engineers with the newest products, technologies and resources.
The news highlights from Mouser this week are:
Contest Winning Innovation – Mouser Congratulates Winners of Create the Future Design Contest
Mouser joins fellow sponsors, Intel® and Analog Devices, Inc, in recognising the 2021 Create the Future Design Contest winners. Together with COMSOL and SAE Media Group, Mouser will award the $25,000 grand prize to a team from the University of California Berkeley and Intropic Materials, who created 'Self-Destructing Plastics'. The winning design embeds enzymes in plastics that can be triggered to cause the plastics to degrade entirely within days.
Full press release here: https://eu.mouser.com/newsroom/publicrelations-create-the-future-winners-2021final/
New Products – Renesas Air Velocity Sensor Modules Now Shipping from Mouser
The FS1015 and FS3000 air velocity sensor modules from Renesas Electronics are now available from Mouser. The vertical-mount FS1015 and the surface-mount FS3000 provide precision airflow monitoring for detecting air handling, gas monitoring and HVAC system failures.
Full press release here: https://eu.mouser.com/newsroom/publicrelations-renesas-fs3000-fs1015-2021final/
New EIT Episode – Latest Empowering Innovation Together Episode Surveys RF & Wireless Applications
The sixth installment of the year's Empowering Innovation Together™ program investigates emerging trends and applications that use radio frequency (RF) and wireless technologies. In addition to a blog and an infographic, there is a new episode of The Tech Between Us podcast hosted by Mouser's Director of Technical Content, Raymond Yin. In the podcast, Yin and Jason Tollefson, Worldwide Wireless Marketing Manager for Microchip Technology, delve into the differences between LoRa and LoRaWAN and discuss LoRa network components.
Full press release here: https://eu.mouser.com/newsroom/publicrelations-eit-episode6-rf-wireless-2021final/
New Supplier – Mouser and Teledyne FLIR Lepton Sign Distribution Deal
Through the new distribution agreement with Teledyne FLIR Mouser will now stock the FLIR Lepton® micro thermal camera modules. These revolutionary longwave infrared (LWIR) imager modules are small enough to fit inside a smartphone and are one-tenth the cost of traditional IR cameras, making them a perfect thermal camera module for compact and mobile devices.
Full press release here: https://eu.mouser.com/newsroom/publicrelations-teledyne-flir-lepton-new-manufacturer-2021final/
New Products – Skyworks Solutions' Technical Ceramics Band Pass Filters Now Available from Mouser
Technical ceramics band pass filters from Skyworks Solutions are now shipping from Mouser. The ultra-small, surface-mount ceramic filters are available with frequencies ranging from 200 MHz to 8 GHz. They offer high power-handling ability up to 10 W (continuous wave) and support L1-L2 band, C-band, L-band, S-band, and TCAS-band applications.
Full press release here: https://eu.mouser.com/newsroom/publicrelations-skyworks-technical-ceramic-bandpass-filters-2021final/
New Products – Skyworks Mixed Signal Solutions Product Line Now Shipping from Mouser
Mouser now offers an expanded product line from Skyworks Solutions following its recent acquisition of the Infrastructure & Automotive business of Silicon Labs. The new product line complements Skyworks' connectivity portfolio, targeting electric vehicles (EVs) and hybrid electric vehicles (HEVs), industrial and motor control, power supply, and 5G wireless infrastructure.
Full press release here: https://eu.mouser.com/newsroom/publicrelations-skyworks-mixed-signal-solutions-2021final/
To see more new products and Mouser news, go to https://eu.mouser.com/pressroom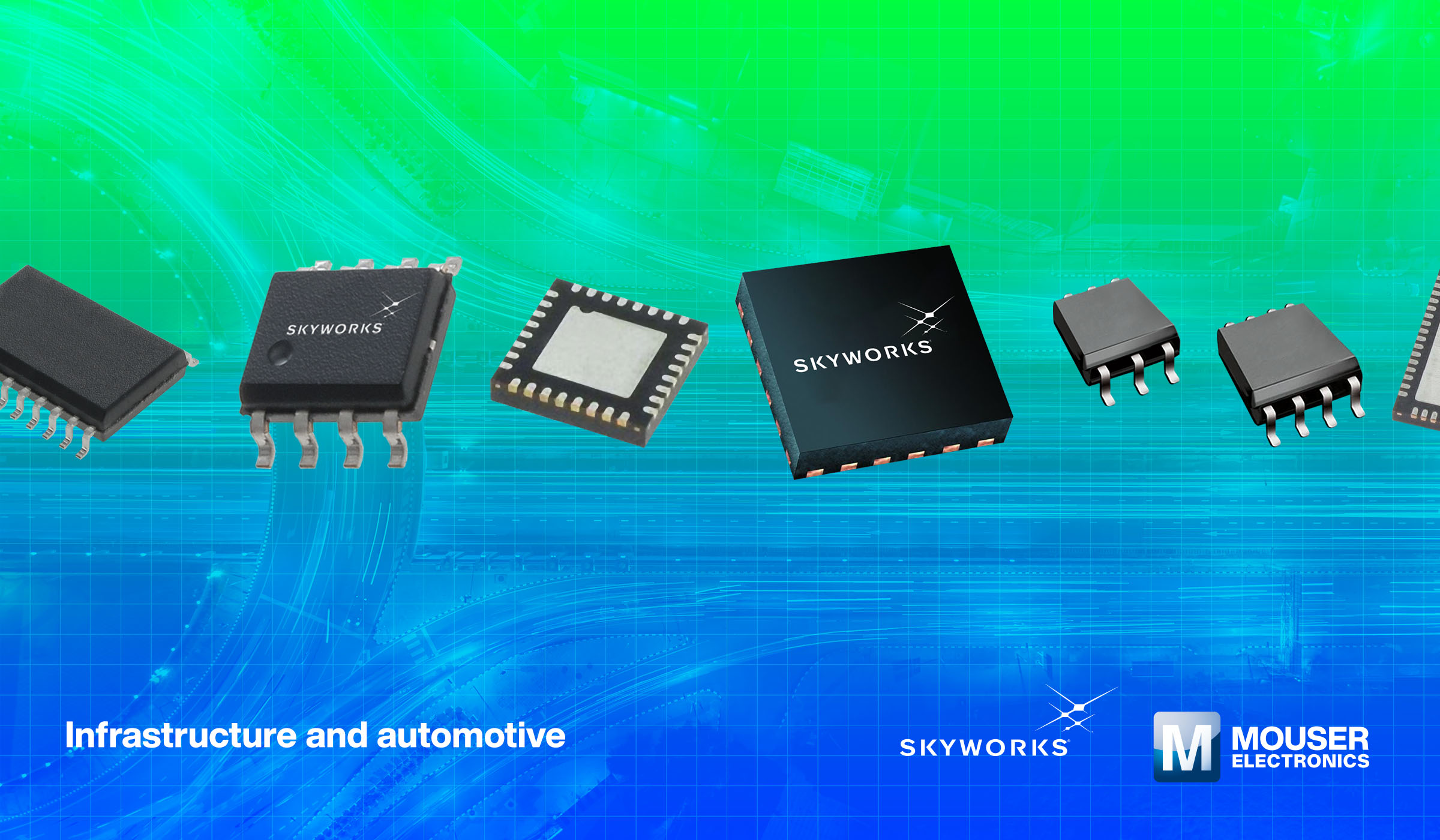 About Mouser Electronics
Mouser Electronics, a Berkshire Hathaway company, is an authorised semiconductor and electronic component distributor focused on New Product Introductions from its leading manufacturer partners. Serving the global electronic design engineer and buyer community, the global distributor's website, mouser.com, is available in multiple languages and currencies and features more than 5 million products from over 1,100 manufacturer brands. Mouser offers 27 support locations worldwide to provide best-in-class customer service in local language, currency and time zone. The distributor ships to over 630,000 customers in 223 countries/territories from its 1 million-square-foot, state-of-the-art distribution facilities in the Dallas, Texas, metro area. For more information, visit http://www.mouser.com.