22. oktober 2021
The Latest News from Mouser Electronics
Mouser Electronics, Inc. is focused on supplying 100% certified, genuine products from its manufacturing partners for electronic design engineers and buyers. Mouser introduces hundreds of new products each month and supports innovation by supplying engineers with the newest products, technologies and resources.
The news highlights from Mouser this week are:
New Products – Analog Devices LTC2688 16-Channel DAC for Optical Networking, Automation and Telecoms Applications
The LTC2688 from Analog Devices is a 16-channel, 16-bit digital-to-analog converter (DAC) with integrated precision reference to improve the accuracy of the outputs. It features independently programmable channels, with five outputs, ranging from 0V to ±15V. The LTC2688 is guaranteed monotonic and has built-in rail-to-rail output buffers that can source or sink up to 20mA. The LTC2688 is supported by the DC2873A-B evaluation board, also available from Mouser.
Full press release here: https://eu.mouser.com/newsroom/publicrelations-analog-devices-ltc2688-dac-2021final/
New Product – Introducing the DT-XT Sealed Connector System from TE Connectivity for Demanding Commercial Vehicle Applications
TE Connectivity's DT-XT sealed connector system uses advanced seal materials featuring a covalent bond, providing high flexibility, durability, and improved tear resistance for commercial vehicles operating in harsh environments. The integrated locking system provides secure mating and electrical connection to the vehicle. Part of TE's DEUSTCHconnector portfolio, the IP69K-rated and J2030 power-wash-tested connectors are available in a broad range of colours and custom options, enhancing error proofing and removing the need for labeling of wires.
Full press release here: https://eu.mouser.com/newsroom/publicrelations-te-connectivity-dt-xt-connectors-2021final/
New Award – RECOM names Mouser Catalog Distributor of the Year
Mouser has been named 2020 Catalog Distributor of the Year by RECOM Power, Inc. for its commitment to New Product Introductions (NPIs) and global customer growth. Receiving the award, Tom Busher, Vice President of Supplier Management at Mouser Electronics, said: "We have enjoyed many successes together, and we look forward to many more in the future."
Full press release here: https://eu.mouser.com/newsroom/publicrelations-recom-catalog-doy-award-2021final/
New Product – Renesas' high-performance FemtoClock2 synthesisers for programmable fibre optic modules
The FemtoClock2 clock-frequency synthesisers from Renesas Electronics feature jitter as low as 64fs RMS maximum. The devices are designed to be placed adjacent to a switch, ASIC, FPGA, or PHY that requires several reference clocks with less than 100fs maximum jitter performance. They can also be used as an adjustable OTN clock reference for OTU3/OTU4 mappers, as well as a reference clock for programmable fibre optic modules. The FemtoClock2 synthesisers are supported by the RC22504A evaluation kit.
Full press release here: https://eu.mouser.com/newsroom/publicrelations-renesas-rc22504a-rc32054a-femtoclock2-2021final/
To see more new products and Mouser news, go to https://eu.mouser.com/newsroom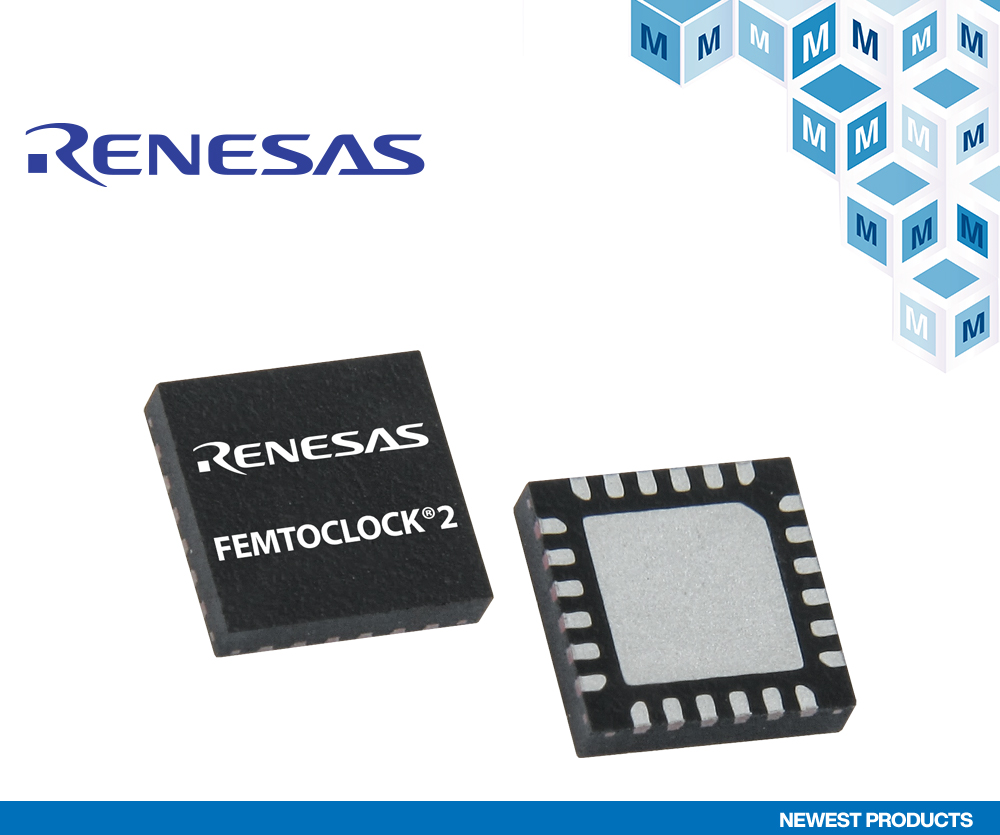 About Mouser Electronics
Mouser Electronics, a Berkshire Hathaway company, is an authorised semiconductor and electronic component distributor focused on New Product Introductions from its leading manufacturer partners. Serving the global electronic design engineer and buyer community, the global distributor's website, mouser.com, is available in multiple languages and currencies and features more than 5 million products from over 1,100 manufacturer brands. Mouser offers 27 support locations worldwide to provide best-in-class customer service in local language, currency and time zone. The distributor ships to over 630,000 customers in 223 countries/territories from its 1 million-square-foot, state-of-the-art distribution facilities in the Dallas, Texas, metro area. For more information, visit http://www.mouser.com.