30. august 2021
The Latest News from Mouser Electronics
Mouser Electronics, Inc. is focused on supplying 100% certified, genuine products from its manufacturing partners for electronic design engineers and buyers. Mouser introduces hundreds of new products each month and supports innovation by supplying engineers with the newest products, technologies and resources.
The news highlights from Mouser this week are:
New Product – Qorvo QPD0011 GaN-on-SiC HEMT for 4G & 5G Communications
The QPD0011 high-electron mobility transistor (HEMT) from Qorvo® is based on gallium nitride-on-silicon carbide (GaN-on-SiC) technology. Rated for variable power inputs from 30 W to 60 W and drain voltages of +48 V, the QPD0011 delivers power (up to 90 W) and performance for cellular base station and RF applications in 5G massive MIMO, LTE, and WCDMA systems. The QPD0011EVB1 Evaluation Board allows rapid prototyping when incorporated into existing designs.
Full press release here: https://eu.mouser.com/newsroom/publicrelations-qorvo-qpd0011-2021final/
New Product – Now Stocking the TMD2712 ALS and Proximity Sensor from ams
The TMD2712 sensor from ams incorporates an infrared (IR) VCSEL and factory-calibrated VCSEL driver in an extremely small 1mm x 2mm module. Applications for the sensor include mobile phone display, proximity management, user proximity detection and ambient light measurement for wearables.
Full press release here: https://eu.mouser.com/newsroom/ams-tmd2712-sensor/
New Series – Fourth Instalment of 2021 EIT Series Explores Sensors
The fourth instalment of the 2021 series of its award-winning Empowering Innovation Together™ program examines the wide range of sensor types and applications. In the latest episode of The Tech Between Us podcast, Dr. Jay Esfandyari, Director of Global Marketing Strategy for STMicroelectronics, joins Mouser's Raymond Yin to discuss the crucial role sensors play in the industrial and IoT sectors and how they'll shape the future of these markets.
Full press release here: https://eu.mouser.com/newsroom/publicrelations-eit-episode4-sensors-2021final/
New Site – Single-Pair Ethernet Site from Texas Instruments and Phoenix Contact
Together with Texas Instruments (TI) and Phoenix Contact, Mouser presents a new solutions page dedicated to single-pair Ethernet (SPE) technology. The page provides an assortment of videos, blog posts, and an on-demand webinar, supplemented by information on key TI and Phoenix Contact products.
Full press release here: https://eu.mouser.com/newsroom/publicrelations-ti-phoenix-contact-spe-2021final/
To see more new products and Mouser news, go to https://eu.mouser.com/pressroom/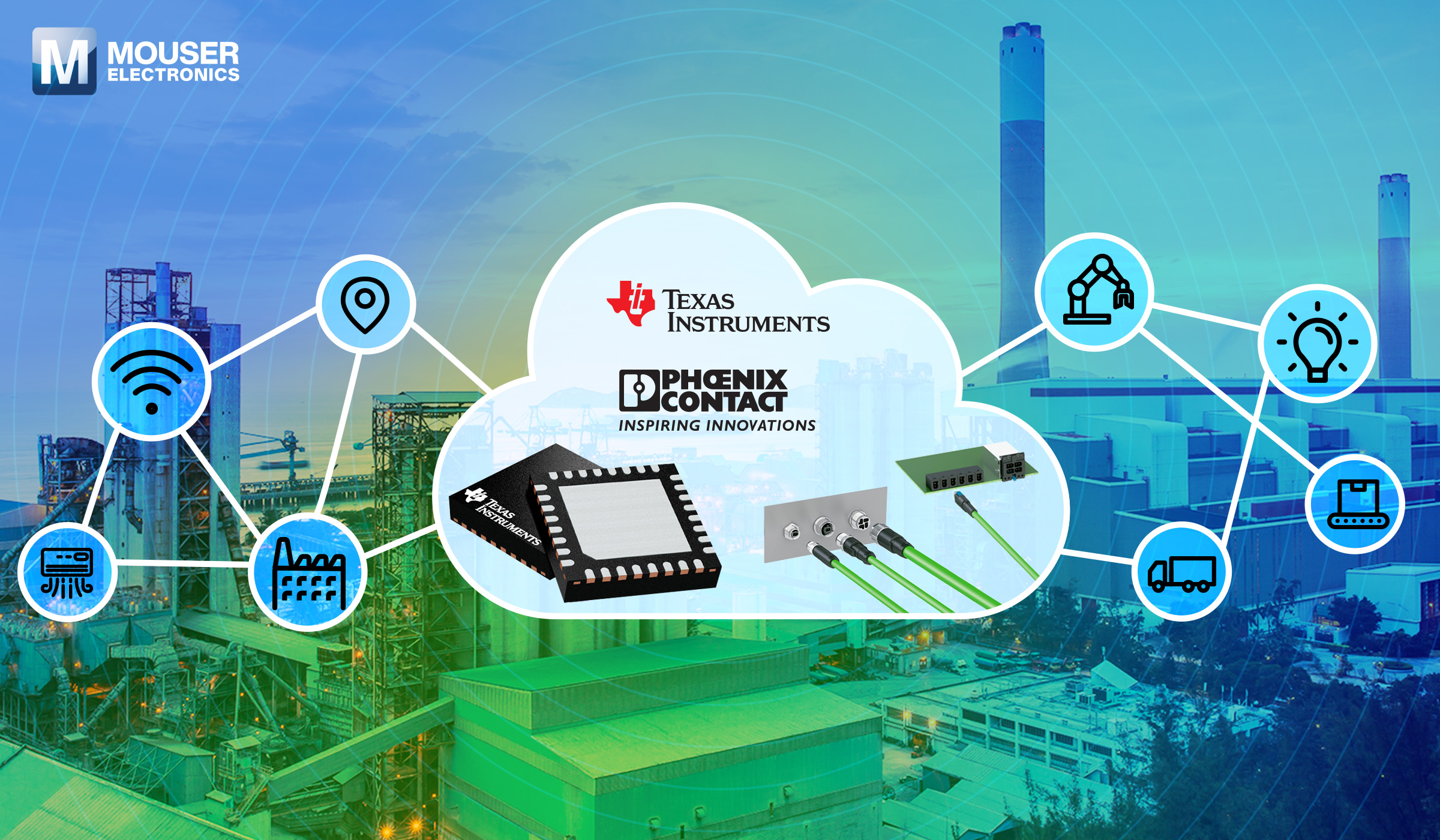 About Mouser Electronics
Mouser Electronics, a Berkshire Hathaway company, is an authorised semiconductor and electronic component distributor focused on New Product Introductions from its leading manufacturer partners. Serving the global electronic design engineer and buyer community, the global distributor's website, mouser.com, is available in multiple languages and currencies and features more than 5 million products from over 1,100 manufacturer brands. Mouser offers 27 support locations worldwide to provide best-in-class customer service in local language, currency and time zone. The distributor ships to over 630,000 customers in 223 countries/territories from its 1 million-square-foot, state-of-the-art distribution facilities in the Dallas, Texas, metro area. For more information, visit http://www.mouser.com.