18. august 2021
The Latest News from Mouser Electronics
Mouser Electronics, Inc. is focused on supplying 100% certified, genuine products from its manufacturing partners for electronic design engineers and buyers. Mouser introduces hundreds of new products each month and supports innovation by supplying engineers with the newest products, technologies and resources.
The news highlights from Mouser this week are:
New Product – Renesas RX23W BLE Module for IoT System Control
The  RX23W module from Renesas Electronics with built-in antenna and oscillator offers full Bluetooth® 5.0 Low Energy support. The compact 6.1 mm × 9.5 mm module includes long-range and 2 Mbps data throughput and a reception sensitivity level of −105 dBm at 125 kbps. Target applications include healthcare, smart home appliances, building automation, and PC and smartphone peripherals, as well as industrial and Internet of Things (IoT) designs.
Full press release here: https://www.mouser.com/newsroom/publicrelations-renesas-rx23w-module-2021final/
New Stock – Now Shipping Wide Variety of Microchip Technology Products
With over 22,400 Microchip parts in stock — including 1,342 development kits — Mouser offers an ever-broadening selection of the newest solutions from  Microchip Technology. A few of the popular solutions include:
Full press release here: https://www.mouser.com/newsroom/publicrelations-microchip-authorized-distributor-2021final/
New Suppliers – 62 New Manufacturers added to line card in First Half of 2021
Mouser continues to expand its line card by adding 62 new manufacturers to date in 2021.
Among the new manufacturer partners Mouser has added in 2021 are:
To see Mouser's newest manufacturer partners, visit https://www.mouser.com/new-manufacturer/.
Full press release here: https://www.mouser.com/newsroom/publicrelations-62-new-manufacturers-2021final/
New Supplier – New Global Distribution Agreement with LightWare LiDAR
A new global distribution agreement with LightWare LiDAR LLC, a leading manufacturer of light detection and ranging (lidar) technology, offers Mouser customers LightWare's range of microLiDAR sensors for use on unmanned ground vehicles (UGV), unmanned aerial vehicles (UAV), and robotics and in Internet of Things (IoT) applications.
To learn more, visit https://www.mouser.com/manufacturer/lightware-lidar/.
Full press release here: https://www.mouser.com/newsroom/publicrelations-lightware-newmanfuacturer-2021final/
New Product – ON Semiconductor Content Platform Explores Newest Products and Insights Surrounding BLDC Motor Control
Mouser and ON Semiconductor have partnered to create a new content platform devoted to the newest brushless DC (BLDC) motor control resources, products, and technical insights. As the industry leader in MOSFETs and other power, sensing, and protection devices, ON Semiconductor has decades of experience in the industrial BLDC market. Designers and engineers can access the platform by visiting https://manufacturers.mouser.com/on-semiconductor-brushless-dc-motor-control-solutions.
Full press release here: https://www.mouser.com/newsroom/publicrelations-onsemi-bldc-content-stream-2021final/
To see more new products and Mouser news, go to https://eu.mouser.com/pressroom/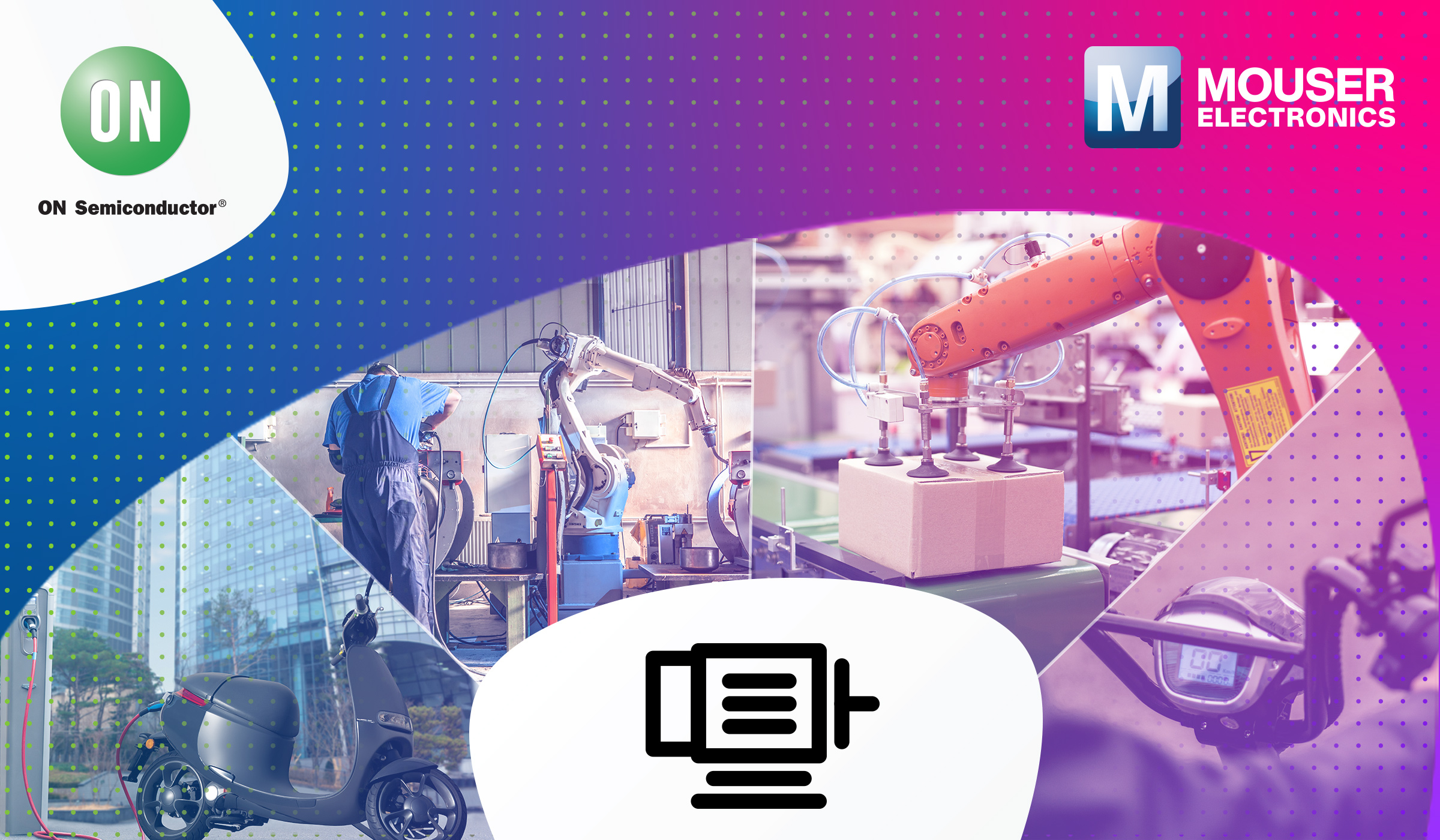 About Mouser Electronics
Mouser Electronics, a Berkshire Hathaway company, is an authorised semiconductor and electronic component distributor focused on New Product Introductions from its leading manufacturer partners. Serving the global electronic design engineer and buyer community, the global distributor's website, mouser.com, is available in multiple languages and currencies and features more than 5 million products from over 1,100 manufacturer brands. Mouser offers 27 support locations worldwide to provide best-in-class customer service in local language, currency and time zone. The distributor ships to over 630,000 customers in 223 countries/territories from its 1 million-square-foot, state-of-the-art distribution facilities in the Dallas, Texas, metro area. For more information, visit http://www.mouser.com.